How high online traffic can crash your website
How does high traffic actually crash an ecommerce website or app? Most people know high traffic can crash a site. But few understand why, or how crashes can be avoided. Discover the mechanics behind a website crash, common situations where traffic brings ecommerce sites down, and 6 steps you can take to avoid website failure.
Surging online traffic is a dream for any ecommerce director. More traffic means more customers and more sales.
But website traffic can be too much of a good thing. You can become a victim of your own success.
If you don't take proactive steps to address performance, peaks in online traffic can cause websites or apps to slow down and ultimately crash.
And the costs of these website crashes and slowed load speeds are staggering: 
91% of enterprises report downtime costs exceeding $300,000 per hour
60% of customers are unlikely to return to a site if they encounter an error
2 out of 3 customers bounce if a site takes more than 6 seconds to load
Imagine running a store where the front doors haphazardly lock and unlock, the lights flicker on and off, and products on the shelves appear and reappear at random.
That's what it's like for shoppers when an ecommerce site fails. That's what you'll avoid by preventing traffic-induced issues on your site.
In this article, you'll discover how high online traffic crashes websites, common high traffic situations in ecommerce, website crash examples, and expert advice on how to prevent website crashes and slowdowns caused by high traffic.


Table of contents
There are many reasons a website can crash. Most are within your control and preventable, but some are out of your hands. Causes of website crashes include:
Of all these potential causes, a website crash from high traffic is the most frustrating and costly.
Website crashes caused by high traffic stem from doing your job too well.
Imagine the frustration at Coinbase when their Super Bowl ad was so successful it crashed their site. That one-minute ad put them in front of their biggest audience yet, likely cost them upwards of $10 million, and when customers went to their site they saw… well, this: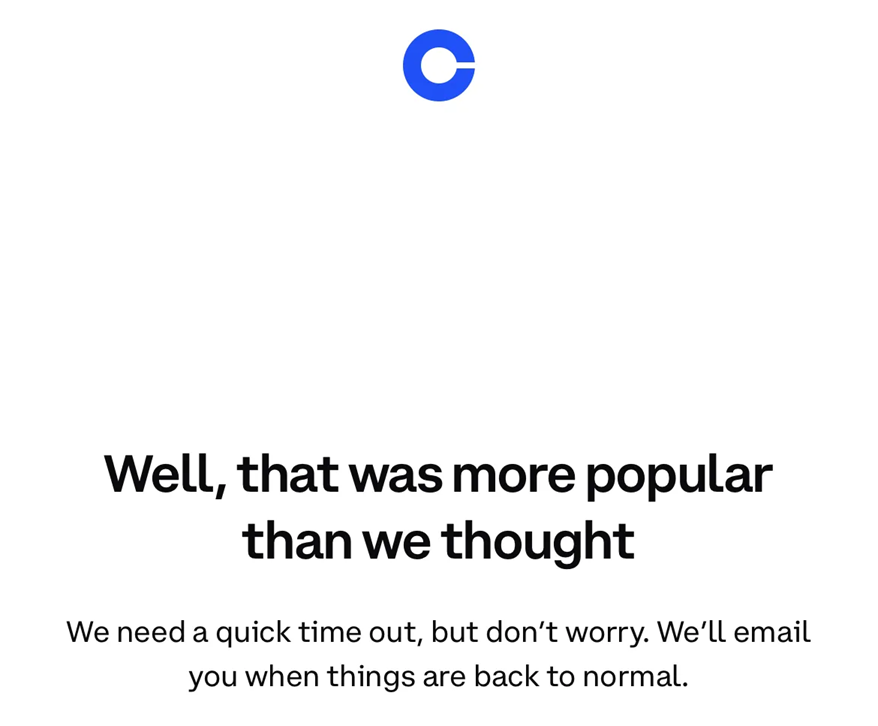 RELATED: How to Ensure Website Performance When You Increase Ecommerce Traffic


This is an all-too-common story for ecommerce sites. Website crashes due to high traffic occur during big sales, product drops, PR appearances, and successful marketing campaigns.
In short, high traffic crashes occur on (and ruin) your biggest days. They let down the most customers, lose the most sales, and, worst of all, are the most preventable.
Let's look at how these crashes happen.


Get peace of mind on your busiest days with your free guide to managing ecommerce traffic peaks