23 best practices to send effective ecommerce email newsletters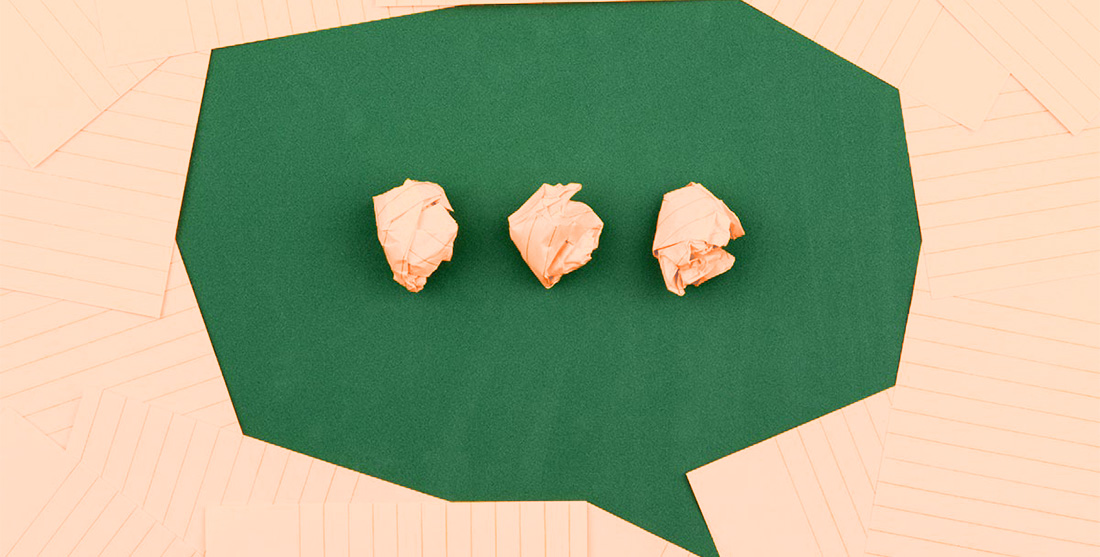 Email might have been around a while, but email newsletters are still one of the most effective sales generation tools in ecommerce. You're competing with other retailers on inbox space and consumer attention, so you need to be sure your newsletter stands out. But how? Dig in and discover 23 rules for sending effective ecommerce newsletters (everyone forgets #17).
Let's face it. In 2020, email is not some sexy new technology. With all the new marketing tools out there, retailers often ask if email newsletters are still effective and worth the effort. Do newsletters even work?
The answer is a resounding yes. Email marketing, including newsletters, has a proven track record in driving ecommerce results and is fundamental for both customer acquisition and retention.
Don't believe it? Consider the following jaw-dropping statistics:
But with over 300 billion emails sent every day, your customers' inboxes are brimming with bank statements, messages from friends, and marketing from your competitors.
Providing value is key in cutting through the noise and reaching your customers in ways that they'll keep choosing to open your email newsletters.
To help you in this vital task, we've compiled a list of 23 ecommerce newsletter best practices. Some are pulled from the industry's biggest players, and some you won't find anywhere else (we haven't found a single article that mentions #17).
To make your life easier, the email newsletter best practices are grouped in the following topics. Bon courage!  
Planning Your Newsletter
1.  Set aside enough time
48.6% of marketers report spending 2 weeks or more to create a single promotional email.
Yes, this sounds like just the sort of statistic to support the stereotype that all marketers do is send a few emails, write a couple Tweets, and call it day.
But there's good reason the product cycle lasts as long as it does, as you'll see if you follow the best practices outlined here. To create effective email newsletters, you need to invest the necessary time.
What's the goal of the email? Who is it going to? How will it be designed? Does the email render well across devices? Have you finished your website landing page and prepared it for the traffic? And how does it fit into your overall strategy?
It takes time to answer each of these questions and complete the tasks associated with each answer. What you put in is what you get out.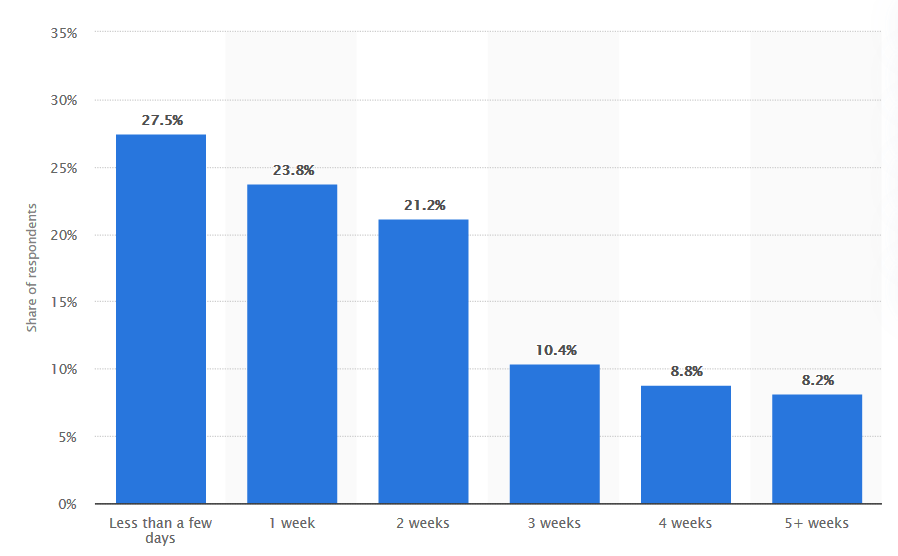 Time spent producing a marketing email according to 2,670 industry professionals worldwide as of January 2018 (Source)
2. Have a clear audience & goal for the newsletter
The first step is to understand what you're communicating and to whom.
Are you running a flash sale and want to drive purchases of a specific product? Are you announcing an influencer marketing collaboration? Are you introducing a seasonal sale? Are you sending a reminder for a limited-time offer?
The target audience and type of message you're sending should dictate the design and copy of your email newsletter, as well as your reporting after the fact. What defines success? Clicks on your main CTA? On any product? Or is it an informational newsletter, where you want to focus especially on open rates?
You know how the saying goes: If you don't define success, you are setting yourself up for failure.
3. Ensure you're offering value
Remember that customers have given you the privilege to get into their inboxes. It's a privilege they can easily revoke by clicking "Unsubscribe".
Before you send your newsletter, put yourself in your customers' shoes. Ask yourself: What's in it for me?
The fact is, 60% of customers share their email address with online retailers to get promotional messages and deals. This helps explain why a full 70% of ecommerce newsletter subscribers open your emails looking for a discount or special deal, with percentage off discounts (35%) and free shipping (20%) being offers consumers want the most.
Discounts aren't the only thing your ecommerce newsletter can contain. Only pushing your products can be a turn-off for customers. In addition to promoting products and offering discounts, you can:
Send tips & tricks content to help customers use your products optimally
Share compelling and entertaining videos or stories that give your brand personality
Communicate product innovations like new features
CampaignMonitor and MailJet have some good examples of newsletter content, and ReallyGoodEmails is a fantastic place to be inspired by other brands' emails.
Whatever you send, don't fall into the trap of sending a newsletter for the sake of sending a newsletter. Only 14% of email subscribers feel that more than half the emails they receive are useful to them.
Sending a newsletter with real value to your subscribers is a terrific way to stand out from the crowd.
4. Know where this newsletter fits into others you've sent
Sending a single email blast to every address you have in your email list is so 2000. You can do better.
It's 2020, and we've moved beyond ad-hoc blasts to email marketing campaigns. In comparison to an email blast, an email campaign is segmented, targeted, predictable, clear, and relevant. Understand the logic behind the email progression and how this one fits into others you've sent and those you plan to send.
If you're segmenting your audience well, you also are differentiating new signups from people who have been subscribed for years. You might be tempted to send a flurry of emails when subscribers first sign up, but that can quickly feel like spam and lead them to unsubscribe. You might want to front-load the value and give new subscribers a reason to stick around, or you might want to save the better deals for your most loyal subscribers.
Crafting Your Email
5. Personalize your newsletter
Personalization is hard.
It's hard to collect and connect the relevant data to your newsletters (name, age, interests, purchase history).
But it pays off. Studies show personalized email messages increase click-through rates and conversions by 14% and 10%, respectively. The best email newsletters are all personalized.
Imagine you own an online store for pet supplies. Let's say you could send all your dog owners an email with dog imagery and dog-related products or content, and all your cat owners an email with cat imagery and cat-related products or content. Or, if you're using an advanced email marketing platform (see Best Practice #18), you can send one email that dynamic adjusts the content based on subscribers' information.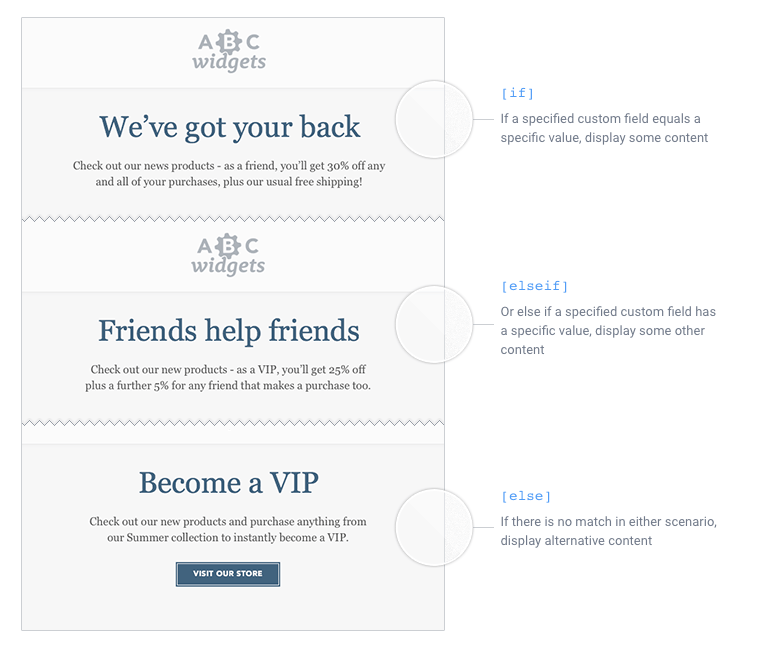 From Campaign Monitor.
You can probably see how personalization would help boost the effectiveness of that email newsletters. Personalization helps your customers feel important and assures them your emails contain value, so they won't waste their time in opening them.
6. Optimize your email subject lines
Subject lines are your email's first impression. They matter.
46% of email recipients open email based on sender and 34% based on the subject line alone.
First, try to make your email feel like it's sent from a real person (e.g. Pat at Widgets Inc.) instead of a generic company address (e.g. marketing@widgets.inc). Even if you must send from a generic company address, most email marketing platforms let you enter a display name separate from your email address. You can also include an image of the person sending the newsletter, literally putting a face to the name.
Second, front-load your email subject line to ensure the key message isn't cut off. When you test your email's responsiveness across devices (see Best Practice #14) you can see when it will be cut off and can optimize accordingly.
Third, don't make the mistake of using the same subject line every time. Switch things up.
Finally, the subject line is a fantastic place to conduct A/B testing, again easily configurable in most major email marketing tools. Try adding the recipient's first name in the subject line. Experiment with emojis and CAPITAL letters. When you review the results of your newsletter (see Best Practice #23), you can figure out what worked and what didn't, iterating for future send-outs.
7. Make the most of preheader text
According to ReturnPath's 2019 Hidden Metrics of Email Deliverability, on average 16% of all emails are deleted without ever being read. That means nearly 1 in 6 emails are deleted based on the sender name, subject line, and preheader text alone.
Preheader (or preview) text is what recipients see in the preview pane and is a critical piece of how your email will be received.
Common preheader text mistakes include displaying unoptimized text, code, placeholder text, unsupported characters, or broken personalization.
Instead, use preheader text to your advantage by transforming it into a "pitch" to open the email. Some ideas for preheader text include teasing a sale or offer, personalizing the message, including a fun joke, or elaborating on your subject line.
Most email marketing platforms have a dedicated field for the preheader text. If you're not using an email marketing platform, there are resources online that will give you HTML code to insert into your email.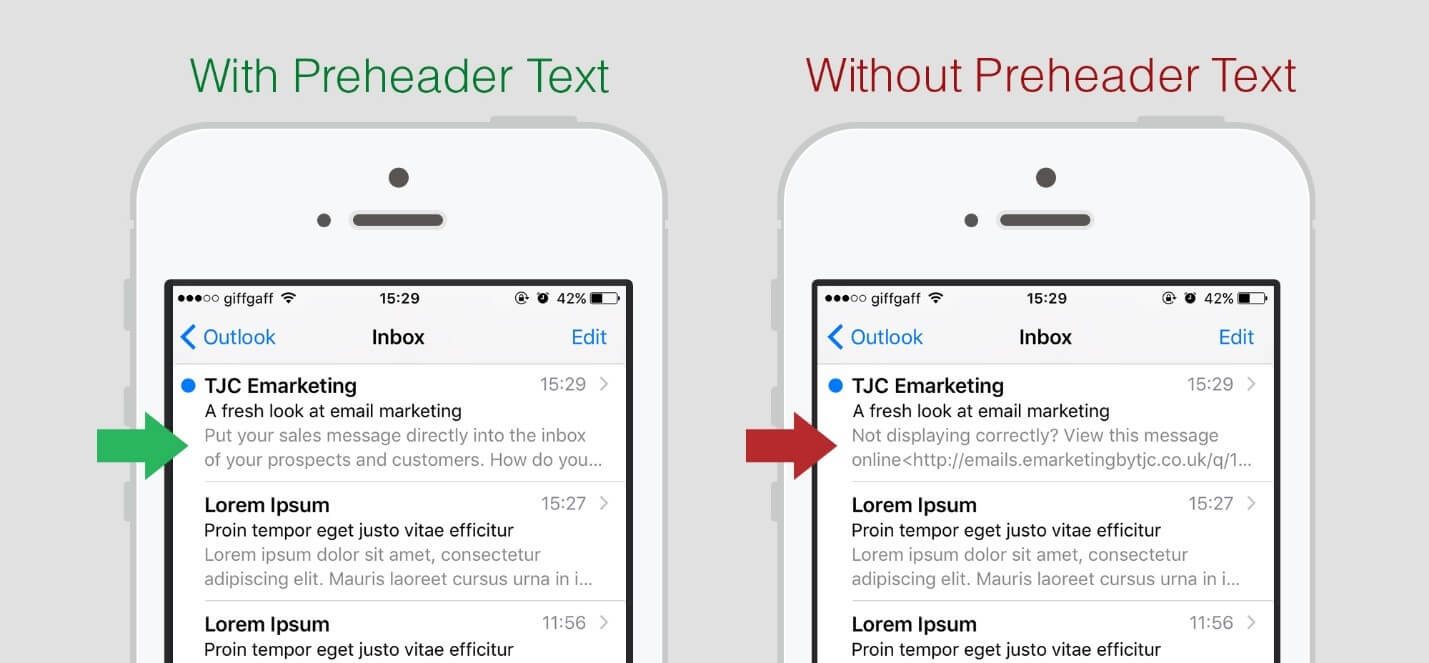 8. Feature main content prominently
Your email newsletter's design is incredibly important to its success. You want it to be visually interesting and contain compelling copy.
Break your email into sections, with the most important at the top, to help guide your subscribers and let them take the most important action first. Make it easy to skim by grouping information with clear bold section headings, easy-to-read copy, lists or bullet points, and images.
Images are key—in fact two-thirds of subscribers prefer emails that are mostly images—but remember that images don't always render correctly. 43% of people don't see images in their emails, either because their email client has blocked them, or they've chosen to do so. A general rule of thumb for the image-to-text ratio is 60% text – 40% images. And remember that images need to have alt texts in case they're not shown.
Leveraging contrast and whitespace is a fantastic way of making your main content pop, while simultaneously making your email feel easy to read. These emails all contain a nice balance in their newsletter design.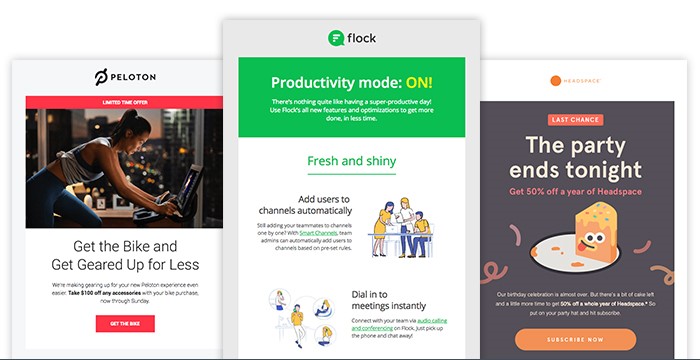 From AWeber.
There's no one-size-fits-all email template, but one format that Campaign Monitor has found success with is the inverted pyramid model. It involves having a visually prominent header or image, followed by supporting images or text, followed by a call-to-action.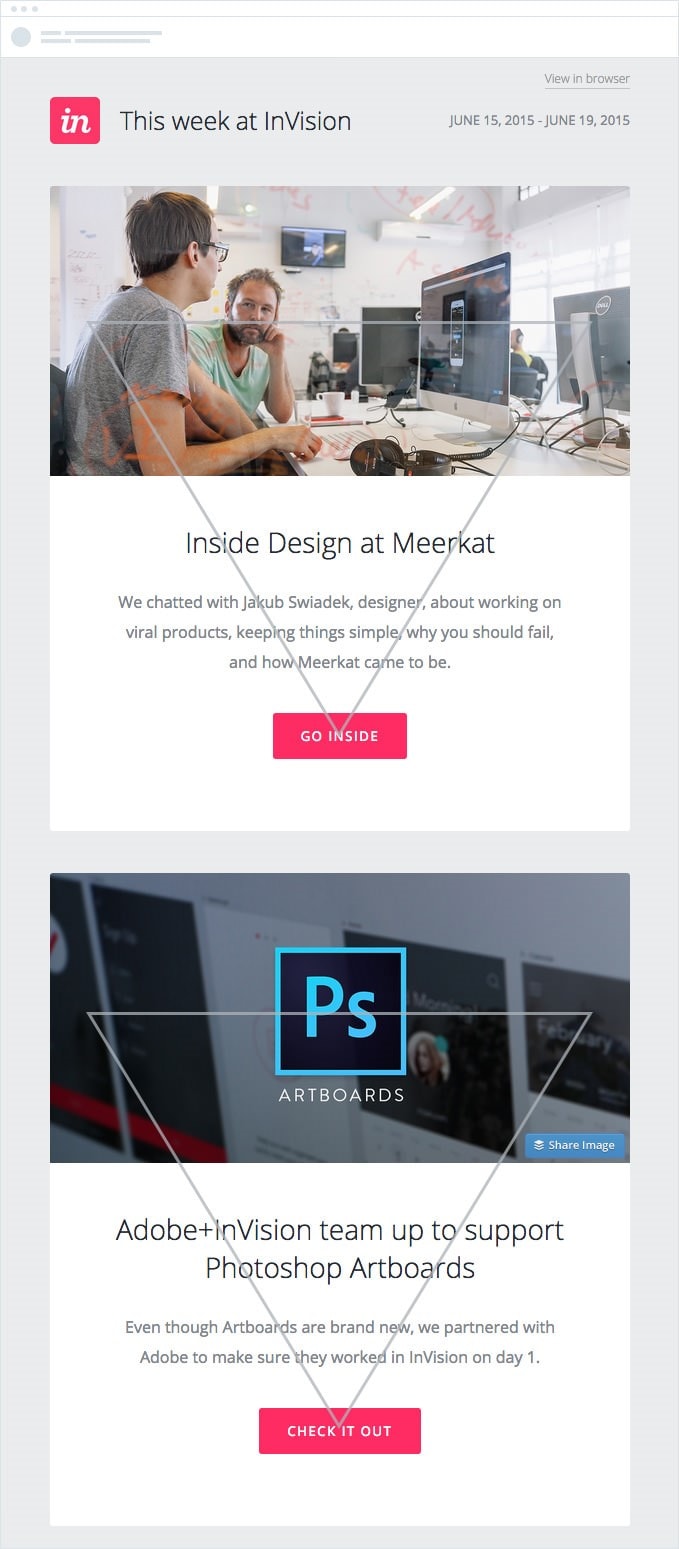 Fossil followed a similar structure for a newsletter on watches with animal print bands (and props to a solid Tiger King reference to boot!)
We know that our brains think with our eyes. Studies have shown that, all things equal, we tend to gravitate towards the horizontal center in something known as the "central gaze cascade effect". At the very least, if you're looking for ideas, the inverted pyramid model could be something to test out on your next ecommerce newsletter.
9. Have a clear call-to-action (CTA)
If you've sent an email newsletter to your subscribers, it's because you want them to act (if not, consider re-reading Best Practice #2 and #3). It could be buying a flash sale product, entering a sweepstakes, or referring a friend in exchange for a discount. Your email needs to make it crystal clear what that action is, and how your subscribers can complete that action.
Your email will be just one of 120+ emails people receive every day. Many are quickly scrolling through their inboxes while they wait in line for their morning coffee or are riding the subway home.
Don't bury your most important CTA. Have it featured prominently (see the previous best practice) and make sure your subscribers know exactly what they're getting when they take that action.
10. Add social media links
Email is a terrific opportunity to boost your social media following. Why exclude social media from your emails?
A small part of your subscribers will be true fans of your brand, eager to read everything you send out and share it with your friends. Make sure you include links to your social channels in your newsletter to facilitate connection with your true fans and everyone else on more than one channel.
11. Link to relevant practical information
The bottom of a newsletter is prime real estate to give readers easy access to practical information or other campaigns you're running.
If you have physical store locations, consider including store opening hours or a store locator. If you have a customer support phone number, include it here. Have an app you're wanting customers to download? This is also a great spot to support that initiative.
This email from Outback Steakhouse features a great combination of the latest newsletter best practices: an email divided into three clear sections, with imagery supporting the copy and featuring clear CTAs. The bottom section includes links to social channels and practical information like the menu and links to download their app.

From OptInMonster.
12. Include a plain & obvious "Unsubscribe" option
This is a must. The "Unsubscribe" option isn't just standardly accepted email courtesy—it's backed up by law.
In the U.S., the CAN-SPAM Act of 2003 requires that all commercial emails "must include a clear and conspicuous explanation of how the recipient can opt out of getting email from you in the future." Similarly, in the E.U. the General Data Protection Regulation (GDPR) of 2016 requires that consumers can opt out of marketing communications, with an "option to unsubscribe in every communication."
Just because you need to include a full "unsubscribe" option, though, doesn't mean you can't give recipients other, less permanent options. Maybe your subscribers just don't want a specific type of email but are fine with your weekly newsletter. That's why the best email newsletters also allow recipients to manage their preferences in a more tailored way than only including the all-or-nothing unsubscribe option.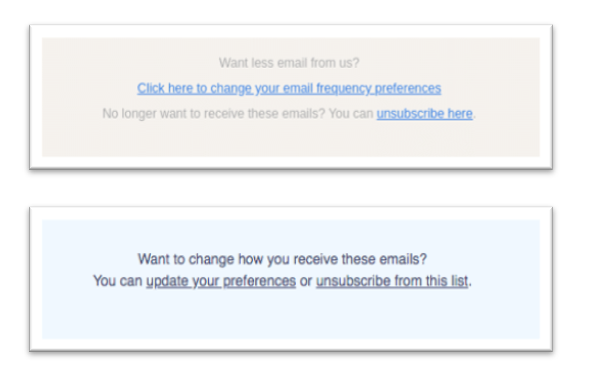 Each email contains the option to fully unsubscribe or update preferences (first and second source)
Reviewing Your Email
13. Check your content for typos
It can be easy to neglect, but even the best professionals make typos. Don't be the one who sends them out to the whole mailing list.
Every basic word processor has a spell check, as do most browsers nowadays. There are dedicated programs like Grammarly to check spelling, and great solutions like ProWritingAid to go a step beyond and help make your writing crisper and more compelling.
But even the best tools will overlook a misspelling in your brand name, or a typo that replaces one common word with another. Take a few minutes and thoroughly read over your email copy. Better yet, get a fresh pair of eyes by asking a colleague to review it. It takes just a few minutes and is well worth the effort.
14. Test how your email looks across devices
Skipping the email test can lead to disastrous results for your ecommerce newsletter. Because there are no universal standards across email clients, how your email displays can differ greatly from person to person and device to device.
We know mcommerce is a crucial revenue stream for retailers. With 42% of all emails in 2019 and 67% of ecommerce emails opened on a mobile device, optimizing for mobile is especially crucial. In fact, 42% of consumers say they'd simply delete an email they received on their smartphone if it wasn't optimized for mobile.   
At Queue-it, we run our newsletters through Litmus. It's a handy tool to show how our emails look across the devices we specify in our test. There are several alternatives out there, and many email campaign platforms include preview functionality.
Previewing your newsletter lets you be 100% sure your email design is responsive across clients and is delivered exactly how you expect, regardless of how your subscribers access it.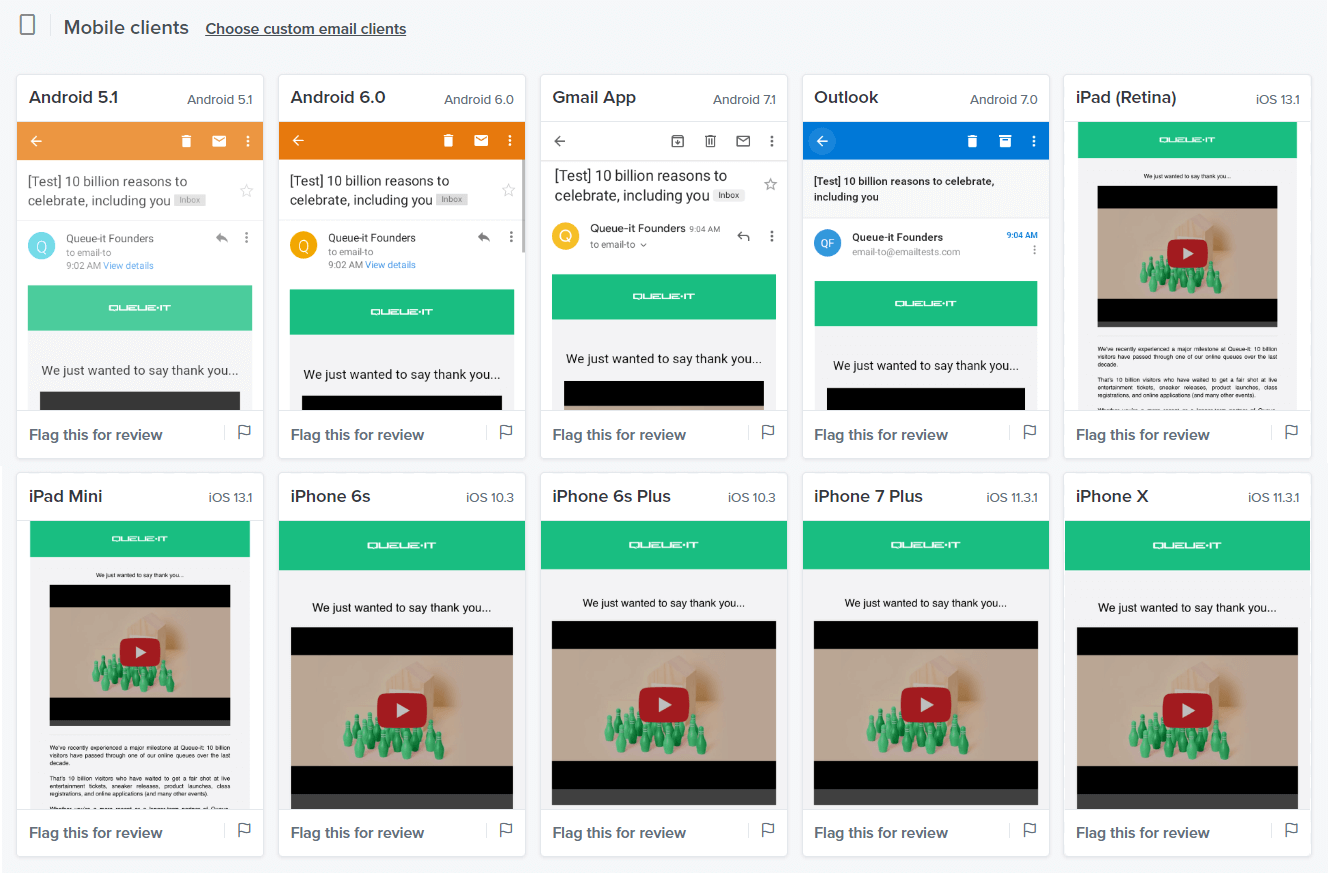 15. Run spam tests
About 9% of emails in 2019 never made it to subscriber's inboxes because they were flagged as spam.
Remember, your email newsletters are an extension of your brand, so deceiving or manipulating your customers is a no-go.
But there are many other reasons your ecommerce newsletter might end up in spam, some you might not be aware of.
Subject lines that overuse CAPS, spammy words (winner, dear friend), or unnecessary punctuation ("This one trick will save your busine$$") can flag an email as spam.
Emails coming from "no-reply" or "do-not-reply" addresses also frequently harm deliverability. As are emails that don't contain an unsubscribe option.
Most email marketing platforms have spam tests, and there are free tools like ISnotSPAM and MailTester to check your email for spaminess. Both OptInMonster and MailChimp have solid articles on spam triggers and how to avoid them.
Preparing Your Website
16. Publish your product & landing pages
What does this have to do with your email newsletter, you say?
Well, your ecommerce newsletter will be driving traffic to your website, right? Maybe it's a dedicated landing page for a special campaign. Or maybe it's your newest seasonal collection. Wherever you plan to send your visitors, those pages need to be live, updated, and ready before you press "send".
You likely already have a checklist for publishing your ecommerce content. Regardless, it's always a good idea to make sure the pricing and inventory information is correct, product description is typo-free, analytics is set up on the page and, if it makes sense in the context of your offer, the page is indexed so customers can find it easily again.
17. Ensure your website can handle the email traffic
Remember, your email newsletter is driving traffic to your website. For the newsletter to be successful in generating sales, your site needs to manage the traffic your email will generate.
Surging traffic is an ecommerce manager's dream. But if your site isn't prepared, it can be too much of a good thing.

Traffic spike generated from an email newsletter. (Source)
Traffic spikes crash even the world's biggest retailers every year. Flash sales. Product launches. Black Friday sales. All involve email announcements to funnel traffic to your site.
Traffic spikes put strain on your infrastructure and typically overwhelm one of two ecommerce bottlenecks: your payment gateway or your transactional database. When these weak links in your system start to overheat, your site begins to slow and may ultimately crash.



There are many myths of how ecommerce sites can handle the traffic sent their way.
For instance, while scaling your servers is a great first step, you may not be able to auto-scale your way out of traffic peaks. One reason is because not all parts of a web application can scale. Another is because the traffic peak created by ecommerce newsletters is so steep and sudden, auto-scaling can't react fast enough.  
To give a concrete example, we just spoke to a U.S.-based retailer using email newsletters to run flash sales. Their site can usually handle 200 concurrent visitors, but email was driving 3,000-4,000 visitors in just 5 minutes. The website could not cope.
So, how do you handle the traffic from ecommerce newsletters? You need website traffic management.
You could build performance into your web application (there's always something to be optimized), and hope this improves your website capacity. But it doesn't actually manage the traffic coming from email.
Another option is to coordinate marketing campaigns, such that you send out your email in batches. The concurrent users metric is misleading, but by combining your knowledge from past sales and your typical email open rate, you can create a rough estimate of how many emails should be included in each batch.
A third option is to precisely control traffic to your website with a virtual waiting room. When traffic exceeds your site's capacity, visitors are offloaded from your infrastructure to an online queue and then redirected to your website or app in a controlled first-come, first-served order.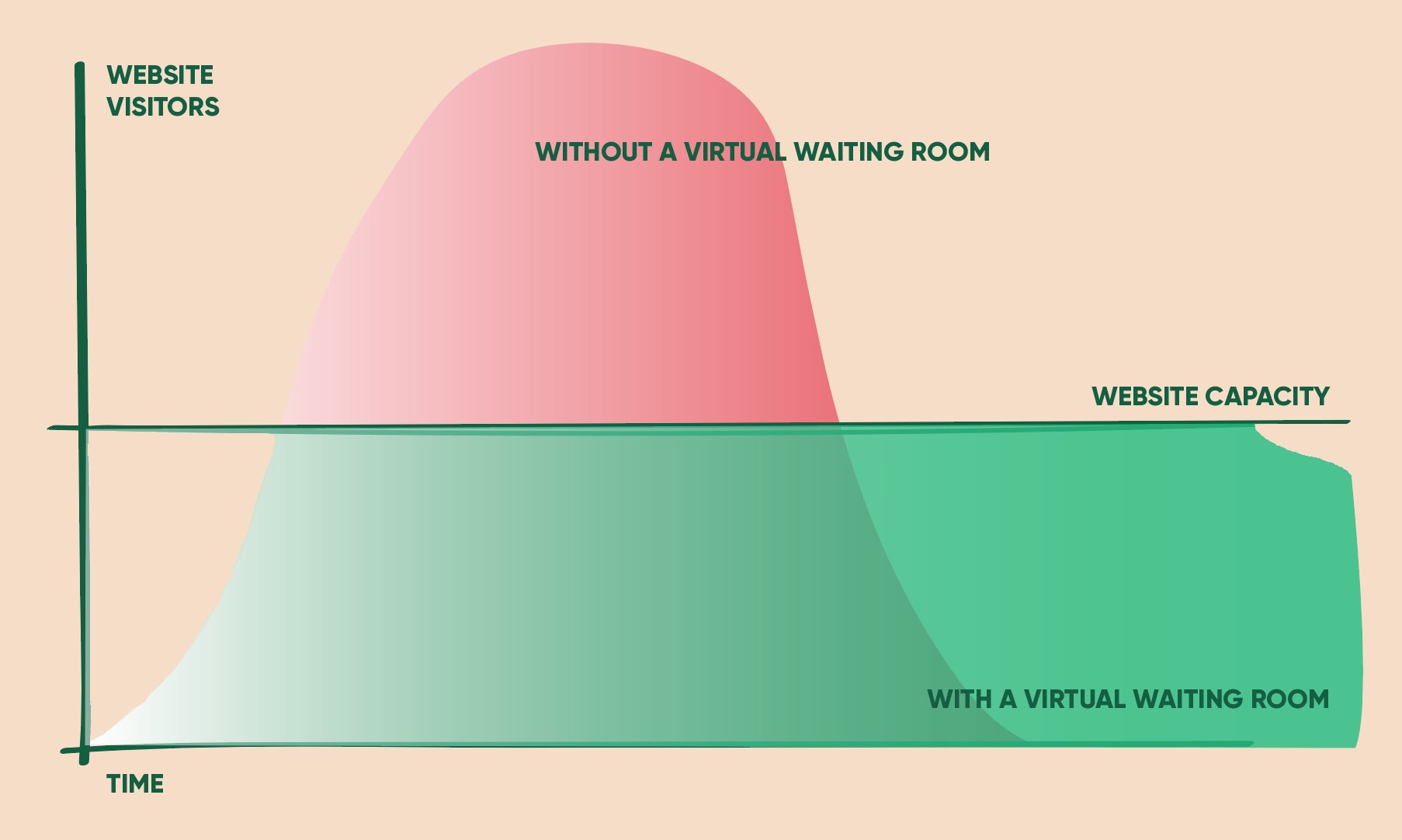 Sending Your Newsletter
18. Use an email marketing platform
Sending your ecommerce newsletter from Outlook or Gmail is technically possible, but it's not best practice. A proper email marketing platform is a crucial tool in your ecommerce toolkit.
An email marketing platform serves as your hub for everything related to your email campaign. It consolidates many of the tools already mentioned in this blog post, like customizing your email preheader text, adjusting the sender information, personalizing subject lines, A/B testing messages, creating visually appealing content, and testing email responsiveness across devices. Many contain newsletter templates, so you don't have to start from scratch.
Your email marketing solution also vastly simplifies list management. It tracks hard bounces, soft bounces, and unsubscribe requests. And it gives you the analytics to report on open rate, clicks, and other metrics to determine if your campaign was a success.
Finally, using a professional email marketing platform helps prevent your emails from landing in the spam folder. When you send bulk emails from a single IP address—like you would if you were manually using Gmail or Outlook—your emails are more likely to be flagged as spam. If someone reports your email as spam, email firewalls could block all emails from your account. The email service providers help their clients avoid spamming, ensuring their platforms maintain strong email address reputations and messages sent through the platforms aren't rejected.
There are many fantastic platforms out there. And the best part? Most offer a free plan. There's no reason to risk sub-par emails and spam filters by trying to manually do things on your own.
At Queue-it we use MailChimp, but there are many fantastic email marketing solutions for ecommerce. Here are just a few:
19. Send your newsletters on a consistent basis
As mentioned in Best Practice #4, an email newsletter is more than a one-off email blast. There should be a rhyme and reason to the newsletter. It needs to offer value and be sent at a frequency that makes sense.
How often should you send an email newsletter? Should it be a monthly newsletter? Weekly? Daily?
Most statistics on ecommerce newsletter frequency show a wide spread. For instance a MarketingSherpa report found 86% of consumers want to receive a promotional email at least once per month. But the same report showed just 15% wanted to receive them daily.
The key here is that your true fans will want more emails than your less interested customers. If you're following Best Practice #18 and using an email marketing platform, you'll have access to detailed analytics about subscriber engagement. How often does a given person open your email newsletter? How about click on email content? This information will prove invaluable in understanding your email newsletter cadence.
Ideally, you can deliver more email to your most engaged customers and less to those less interested. If not, look at industry standards.
For instance, in 2018 SendGrid found retailers in aggregate sent 6.5 emails per month, while the median retailer sent 2 emails per month. The difference between the two shows there is a wide difference among retailers, so it's always better to see how your own email subscribers react to your email cadence.
Remember, though, that even your most loyal customers can suffer email fatigue. ReturnPath has found diminishing returns the more emails you send, especially if you exceed 5 per week.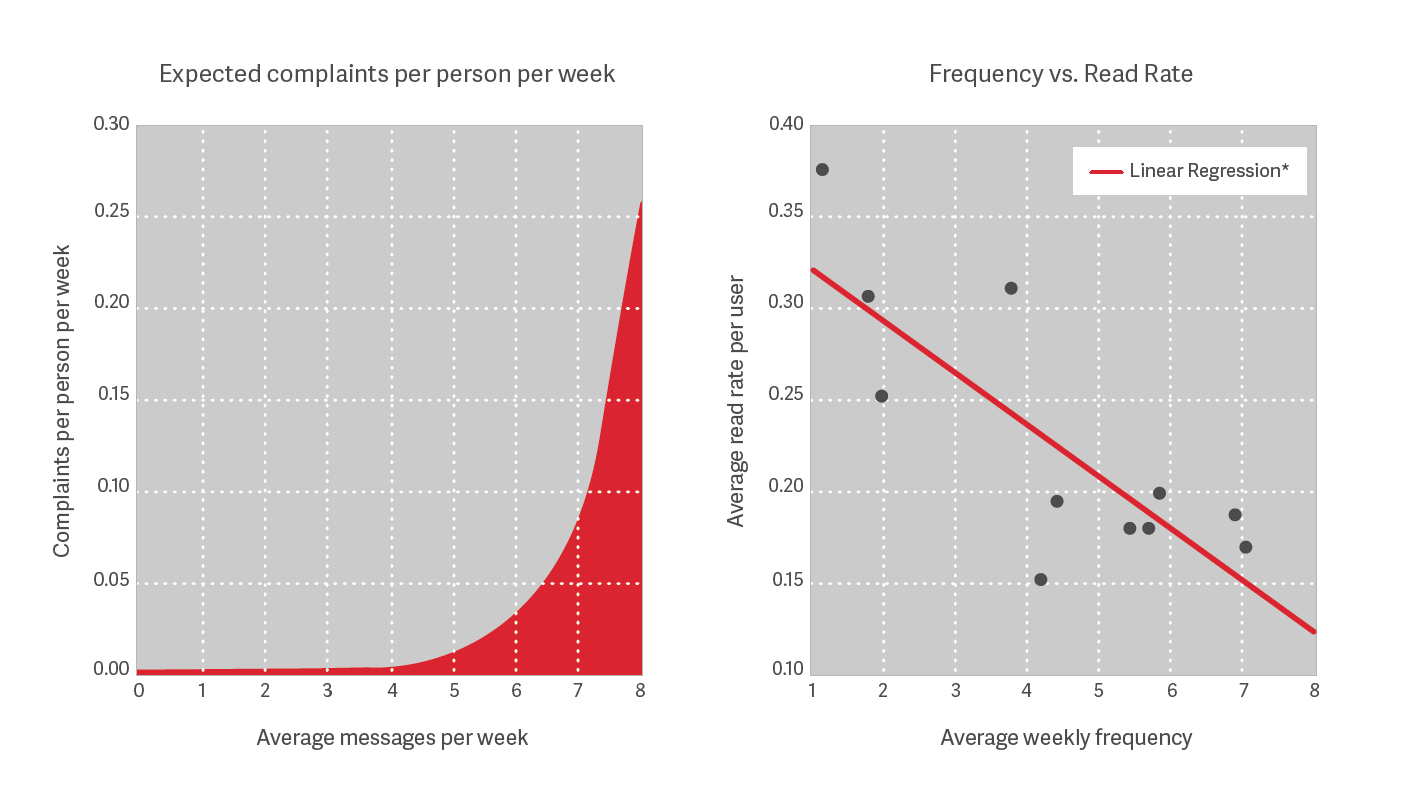 20. Promote your newsletter
Remember that your newsletter is only valuable if consumers read it. As the saying goes, the money's in the list. That's why when you send your ecommerce newsletter, you should also be thinking about how to promote it and expand your email list subscribers.
You can place popups on your website, offering a coupon in exchange for signing up for your newsletter. You can promote it on your social media channels, include it on the "Thank You" page or email when someone buys a product, and encourage your subscribers to forward the newsletter.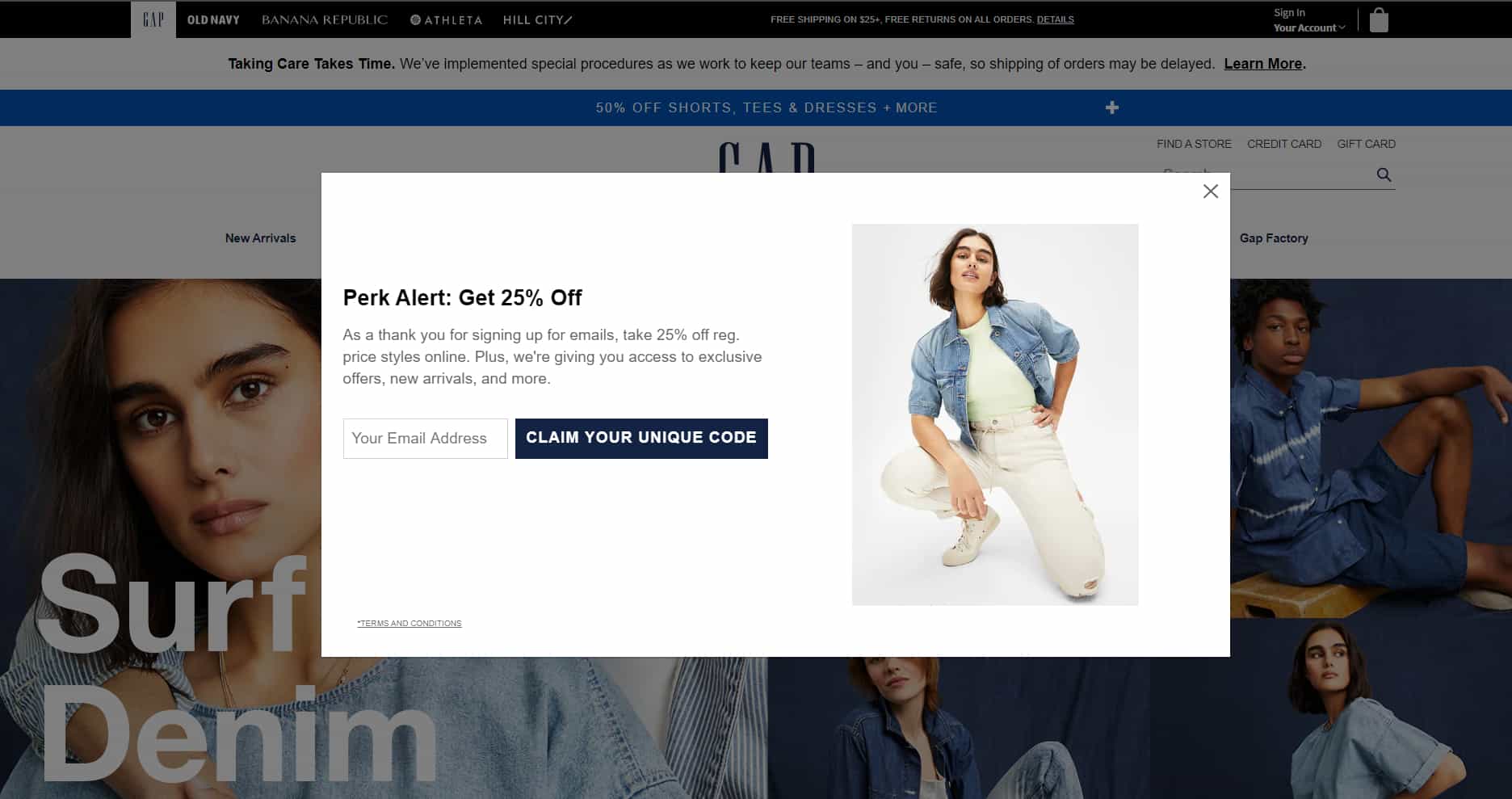 A popup on GAP's website that offers a discount for signing up to their email list.
If it makes sense for your business and the type of content in your newsletter, most email marketing platforms let you create an email campaign archive. This allows you and your customers to reference the newsletters later on your website.
Reassessing Your Newsletter
21. Determine if a re-send is in order
This of course depends on factors like what your newsletter was about and how frequently you send it. If the email you sent was for a one-day sale that took place yesterday, that obviously doesn't make sense to re-send. If you send an email once a day already, it also likely doesn't make sense to re-send.
But in many cases, re-sending can make sense. Remember, the average open rate for retail emails is only 13.90%. That means you have over 86% of your subscriber list who never saw the contents of that email.
You worked hard on creating that initial email. The quality of the content is still there. If you wait a couple days and tweak the subject line, you can essentially re-use the first email. Work smarter, not harder, right?
As an example, Omnisend found that their "campaign booster" (their term for resending the original email 48 hours later with a tweaked subject line to your un-opens) led to 45% more opens, 42% more clicks, and 35% more conversions, on average.
22. Clean your email list
Keeping your email list healthy is critical because it helps boost engagement rates, keep spam reports down, and it helps you home in on your core supporters.
Up to 30% of subscribers change email addresses annually. Some might just lose interest in your offering. And that's okay. In the average list, up to 40% of subscribers can be classified as zombies—those who haven't opened and or clicked on any email in the past year. It may seem tempting to keep those zombies on the list "just in case", but they're really just weighing down your email marketing.
In ecommerce, a solid strategy is to send a targeted email offering a promotion or other way to win back the customer. Here's an example from meal-kit company Blue Apron.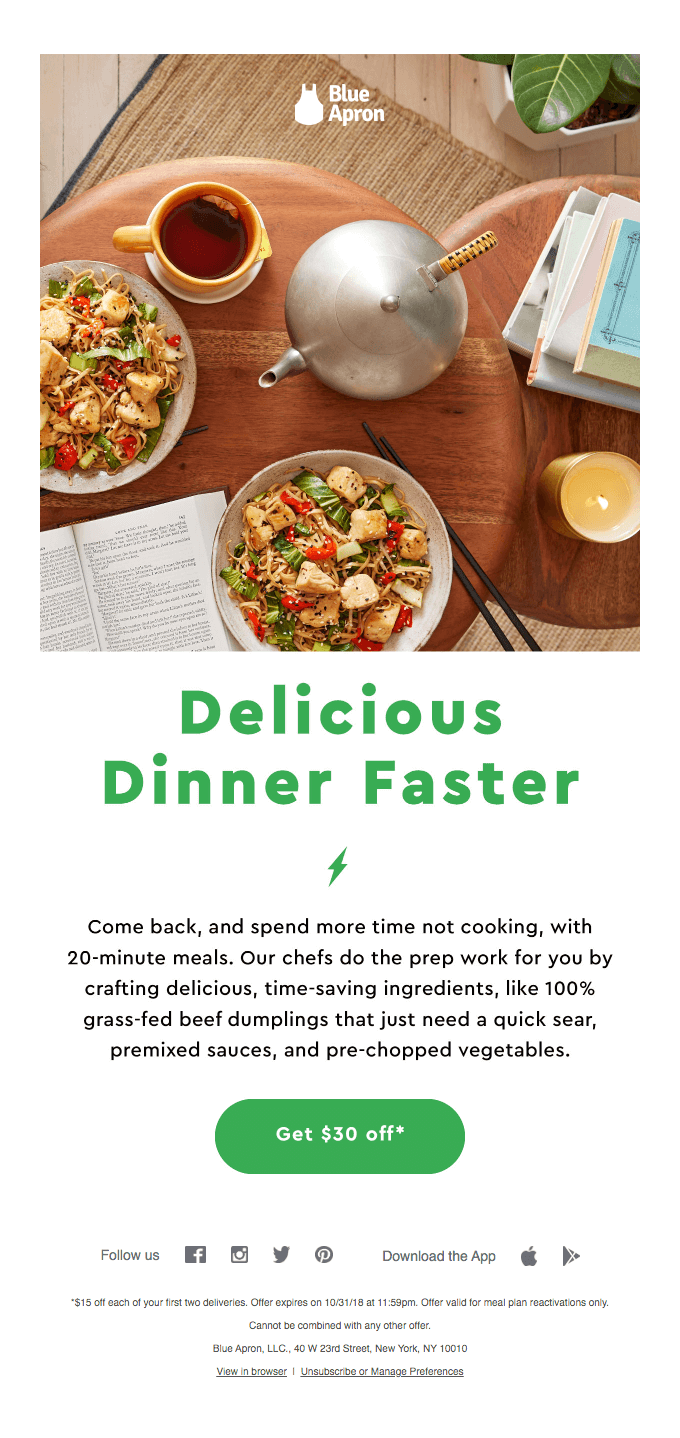 If an offer doesn't entice the subscriber back, it's good to follow up with a direct email giving the subscriber a quick and easy option to unsubscribe. That's what Framebridge did in their email:
23. Report on your newsletter
Remember those goals you created way back under Best Practice #2? Well, now is the time to see how your latest ecommerce newsletter measured up!
How many subscribers opened your email? What about clicked a link? Which links did they click? How many times did unique subscribers open the newsletter? What were the results of any A/B tests you ran?
Then, in sync with a website reporting tool like Google Analytics, you can start to assign a dollar value to the campaign. How many conversions were there? What was the average order size?
Finally, compare these numbers to industry benchmarks or, better yet, your own company benchmarks. Then use your results to improve your ecommerce newsletters over time.
Summary
With its 45-to-1 return on investment, email marketing in ecommerce is impossible to ignore. Build that email list and then send out effective ecommerce newsletters to drive sales. Before you send out your next ecommerce email campaign, make sure to review these newsletter best practices as a checklist.
Have you thoroughly planned your ecommerce newsletter send out? Have you crafted an engaging, personalized, and action-oriented message? Have you tested your email to ensure what you see is what your subscribers get? Have you prepared your website to manage the traffic you're about to throw at it? Have you used an email marketing platform to send and re-send your newsletter? Have you cleaned your email list and learned from the newsletter performance?
Follow this list of email newsletter best practices and you'll be primed to drive the sales and marketing outcomes you've hoped for.