7 surprising benefits of online queuing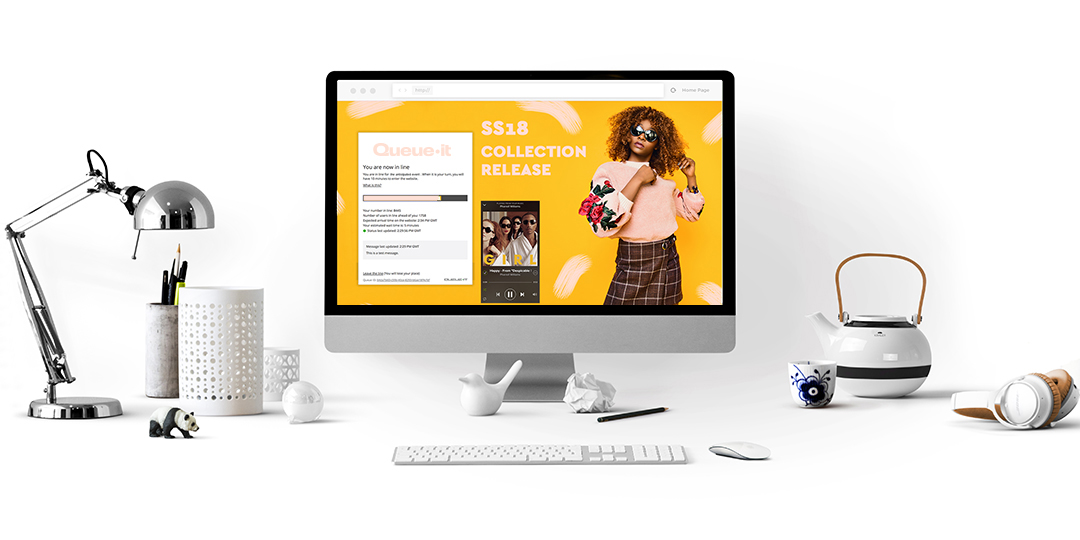 At Queue-it, we have years of experience working with companies to make waiting a positive experience. Are you aware of these surprising benefits of online queuing?
"But my customers would never want to wait."
"My customers need to access my website at all times! It's a risk putting them in a virtual waiting room."
These are some of the statements we've heard before. And we get where they're coming from. We can all remember a time when we had an unexpected wait, where we received little information about what was going on. These are the waits we too prefer to avoid.
Having been on the market for nearly a decade, Queue-it has worked with many clients big and small to make waiting a positive experience, applying the six rules of queuing psychology to create a quality customer journey.
But there's more to virtual waiting rooms than just waiting and preventing websites from crashing under the load of traffic surges (although we admit, it's a major selling point). Here are seven additional benefits of online queuing. Any of them surprise you?  
RELATED: How Do Virtual Waiting Rooms Turn Queuing Into a Positive User Experience?
1. It gives customers a fair experience
Emotions run high during popular sales events. Any sign of unfairness and there's a chance these feelings will boil over on social media or other channels. Placing your customers in a virtual waiting room when your website is under traffic load means all visitors are given a fair opportunity to access your website.
For many in-demand sales, our customers use a pre-queue to capture early visitors and neutralize bot speed advantage. As soon as the event starts, all customers waiting in the pre-queue are randomly assigned a place in line. People who arrive after the sale starts get a first-come, first-served place in line. That way, every shopper has an equal shot.
When it comes to ticketing and live entertainment, Sean Hanly, CEO of Ticketsolve, understands the importance of a solution that supported the emotive onsale experience. "People have a connection to the product. Very often, it's something they have been planning to buy and waiting for the onsale to happen," he says. "Our customers needed to ensure it's a fair buying process for those who want tickets."
2. It supports your brand experience
You've put time and effort in creating your brand reputation. A virtual waiting room can support all your hard work.
The virtual waiting room is fully customizable to reflect your company values. You can also use it to promote future events, sell additional products, or even embed videos or games for the customers waiting to enter your website. Your advertising is more effective in the virtual waiting room environment because you've captured an audience already interested in what you're selling.
Do you prefer all the details include just your company name? The virtual waiting room can be hosted on your domain and the page itself can be white labeled, an unbranded product where you can put your own label. Whatever you need to support your brand story.
As LiveGlam, a cruelty-free makeup company, found: "Queue-it is one of the best vendors we've ever worked with because they are as dedicated to our brand as much as we are."
3. It's a powerful form of social proof
Chances are you've found yourself walking around an area and spotted a group of people lined up for an event. You probably stopped and asked one of the waiting individuals what the fuss was about. If you had some time to spare, you might have even joined the line. Ever wonder about the psychology behind that choice?
Humans are social creatures. We're susceptible to what others think and how they act. A virtual waiting room generates hype around events because it draws on the wisdom of the crowd.
Waiting in a virtual waiting room also compels many shoppers to buy when they finally get access to a site. It enhances their feelings of commitment in the buying experience. As a result, many of our customers see increased conversion rates during their biggest sales.
During Black Friday sales, Joost van der Veer, CEO of Winkelstraat.nl noticed, "because there was a queue, we saw an enormous increase in conversion rates. . . People think, 'Now that I'm on the site, I really need to buy something.'"
4. It allows transparent communication with customers
During high traffic online events, your website visitors are directed to a virtual waiting room that displays real-time communication about the event they want to access. This information includes expected waiting time, place in the line, reasons why there might be delays, etc.
Studies show that how people feel when they wait in line matters more than how long they wait. Removing uncertainty and anxiety from the waiting process by showing personal wait information and pushing real-time messages is key to managing visitor expectations. This can also reduce the number of customer complaints, especially phone calls or emails, which can be extremely resource consuming.
Using the virtual waiting room for the New York Film Festival allowed the Film Society of Lincoln Center to provide customers with a smooth experience. "We enjoyed that we could be a little bit more interactive with the customers so they could see that they were not just sitting in front of technology," says Database Manager Matt D'Silva, "We could communicate to them what was selling out and when."
5. On a technical level, it's easy to implement 
We do the hard work on our end to make technical integration easier for our customers.
Because our clients come from diverse industries and companies, flexibility is important. The virtual waiting room can be implemented on at the site level and/or on specific pages. We also have four integration options to fit varied business requirements.
Pass visitors to the queue with a direct link, client-side JavaScript, server-side integration, or edge implementation. Our Connectors also support integrations with native mobile apps and leading CDN, load balancer, tag management, ticketing, and ecommerce platforms in all major programming languages.
The ease of implementation was a major selling point for DeinDeal's CTO/CIO Alexandre Branquart, "Queue-it is the most consistent and flexible solution. It can adapt to our use cases. Other solutions need you to adapt your use cases to the solution…But, the Queue-it system was able to meet all our requirements."
6. It can block bad actors
While it's important to remember that a virtual waiting room is not a substitute for a bot mitigation solution, it has features in place to ensure websites serve genuine customers, not bots.
The pre-queue is designed to neutralize bots that use speed to get ahead of real visitors. To fight more sophisticated bots, we have Queue-it's Proof-of-Work challenge, Google's reCAPTCHA, or limiting queue numbers to one per validated user. Suspicious traffic like scalper bots or DDoS attacks can be challenged until websites can determine whether it is legitimate.
StubHub APAC found that the high demand K-pop concert tickets they sold brought traffic surges to their website, some of it bot traffic. "In order to be fair to all the users and avoid website overload, we decided to implement Queue-it for all K-pop shows...There is nothing like the demand for K-pop," recalls Winnie Tam, Project Manager - Partnerships APAC.
7. It helps you sell at your full capacity
Just because you're using a virtual waiting room, doesn't mean every visitor that wants to access your site will see it. In fact, for many of our clients, only a small fraction of visitors actually see a queue page.
Rather, the virtual waiting room acts as a safety net, protecting your infrastructure against sudden traffic spikes 24/7. It constantly monitors your traffic levels. All while your website continues to run and sell at full capacity and speed. The queue is only activated when traffic exceeds the thresholds you configure.
"Nobody builds a website to handle hundreds of thousands of people just for a limited amount of time. Throughout the day it's different, but having that major peak is insane," says Robert Williams, Digital Manager at SNIPES, "Queue-it is a great solution that saves the day and it works flawlessly."