Queue-it Celebrates 10-Year Anniversary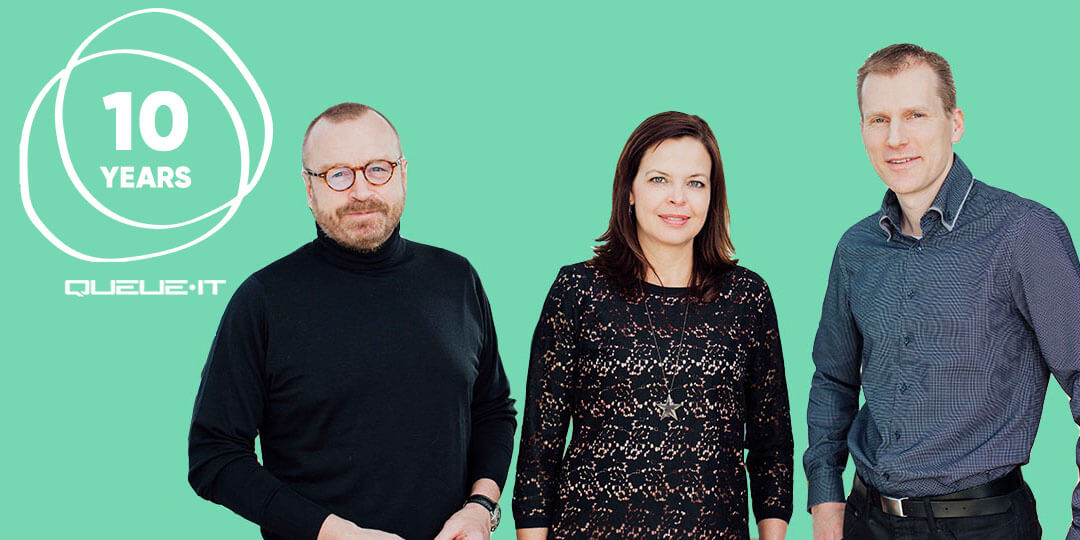 On July 1, 2020, virtual waiting room company Queue-it reached its 10-year anniversary, just as accelerated movement towards online commerce has skyrocketed interest in virtual waiting room technology.
The anniversary comes three months after a majority-stake investment from private equity fund GRO Capital, whose portfolio focuses on mature B2B software companies with strong growth prospects.
Queue-it's virtual waiting room Software-as-a-Service helps keep websites and apps online during demand surges by placing visitors in an online queue. The company was founded in 2010 in Copenhagen, Denmark by CEO Niels Henrik Sodemann, CCO Camilla Ley Valentin, and CTO Martin Pronk.
"Among all Danish companies founded in 2010, statistics show only 43% made it to the 5-year mark. At Queue-it, we're thrilled to hit the 10-year mark with the wind at our backs, not just surviving but truly thriving," said CEO Niels Henrik Sodemann. "It's a testament both to the distinct value our product brings to the B2B market and to the dedication of our fantastic global team."
Queue-it's first customer was a government agency, and the company quickly expanded globally into the ticketing, online retail, education, and financial sectors. Its customer base includes the likes of Ticketmaster, Fabletics, Dixons Carphone, Cathay Pacific, The Royal Danish Theatre and Crocs. 
As one of Queue-it's oldest customers, The Royal Danish Theatre has years of experience of using Queue-it's virtual waiting room to run successful ticket sales since 2011. "Cloud computing, autoscaling, and the like has come a long way since 2011, but Queue-it still solves the risk of crashing from traffic peaks in a unique and powerful way that no other technology we've found can," said Web Manager Peter B. Schaufuss. "Even with the best preparation, unexpected things can happen during an onsale. Queue-it has been a great insurance against the unexpected throughout the years."
As more activities move online, more companies are encountering the technical complexity of dealing with sudden spikes in online traffic. Recent shifts in global consumer behavior have only accelerated the push to online, causing surges in traffic to industries unused to sudden spikes in demand. Queue-it fits uniquely into the modern ecommerce toolkit, and in 2020 has helped organizations control online demand for online groceries; home improvement; pharmacy supplies; online courses; and government relief programs, among others.
In the U.S., Crocs has a strong partnership with Queue-it, using its waiting room technology for strategic product launches over the past few years. In March 2020, as a response to COVID-19, Crocs launched the "Sharing a Free Pair for Healthcare" program, an ambitious initiative to provide free shoes to healthcare heroes. Running a daily event over multiple months, Crocs provided over 860,000 free pairs of shoes globally to workers on the frontline.  "The Queue-it team played a big role in the execution of our 'Sharing a Free Pair for Healthcare' initiative. The technology platform that Queue-it provides allowed us to quickly build, test and launch this unique experience.  Beyond that, though, the Queue-it team showed up for us, every day and each step of the way.  Their commitment and incredible support directly contributed to this program's success," said Brianne Calandra, VP Digital Applications & Integrations.
The number of visitors passing through the company's virtual waiting room gives revealing insight into Queue-it's growth trajectory. After taking 6 years to reach 1 billion visitors, Queue-it saw over 1 billion visitors in Q1 of 2020 alone. The company hit the 1 billion visitor landmark in 2016, followed by 2 billion visitors in 2017, 4 billion in 2018, and 10 billion in 2020. The company expects to hit the 20 billion visitor mark already in 2021.
Several record-setting online queues, each with over 2 million simultaneous users at their peak, helped drive the growth. As a result, Queue-it's queuing domain queue-it.net was one of the top 1,000 most-visited websites in the world in April 2020, ranking #869 according to analytics from SimilarWeb. 
As of its 10-year anniversary, the company has 98 employees spread across its Copenhagen, Denmark; Minneapolis, U.S.; and Sydney, Australia offices. The Minneapolis office opened in 2017, and the Sydney office in 2019, due to robust growth in the North American and APAC markets, respectively.
About Queue-it
Queue-it is the leading developer of virtual waiting room services to control website and app traffic surges by offloading visitors to an online queue. Its powerful SaaS platform enables online ticket vendors, ecommerce companies, educational institutions, and public sector services around the globe to keep their systems online and visitors informed, capturing key sales and online activity on their most business-critical days. The use of Queue-it has ensured online fairness during high-demand situations for billions of consumers worldwide. The company has presences in Denmark, the U.S., and Australia. For more information, please visit queue-it.com. The Queue-it press kit is available at https://queue-it.com/press/. 
Media contact
Camilla Ley Valentin
Co-founder & CCO
+45 53 35 36 37
ley@queue-it.com