Your influencer marketing strategy for product launches in 6 simple steps
Crafting an influencer marketing strategy can seem intimidating. But if done well, the payoff can be huge. Follow these six tips and you'll be prepared to run a successful influencer marketing campaign for your next product launch.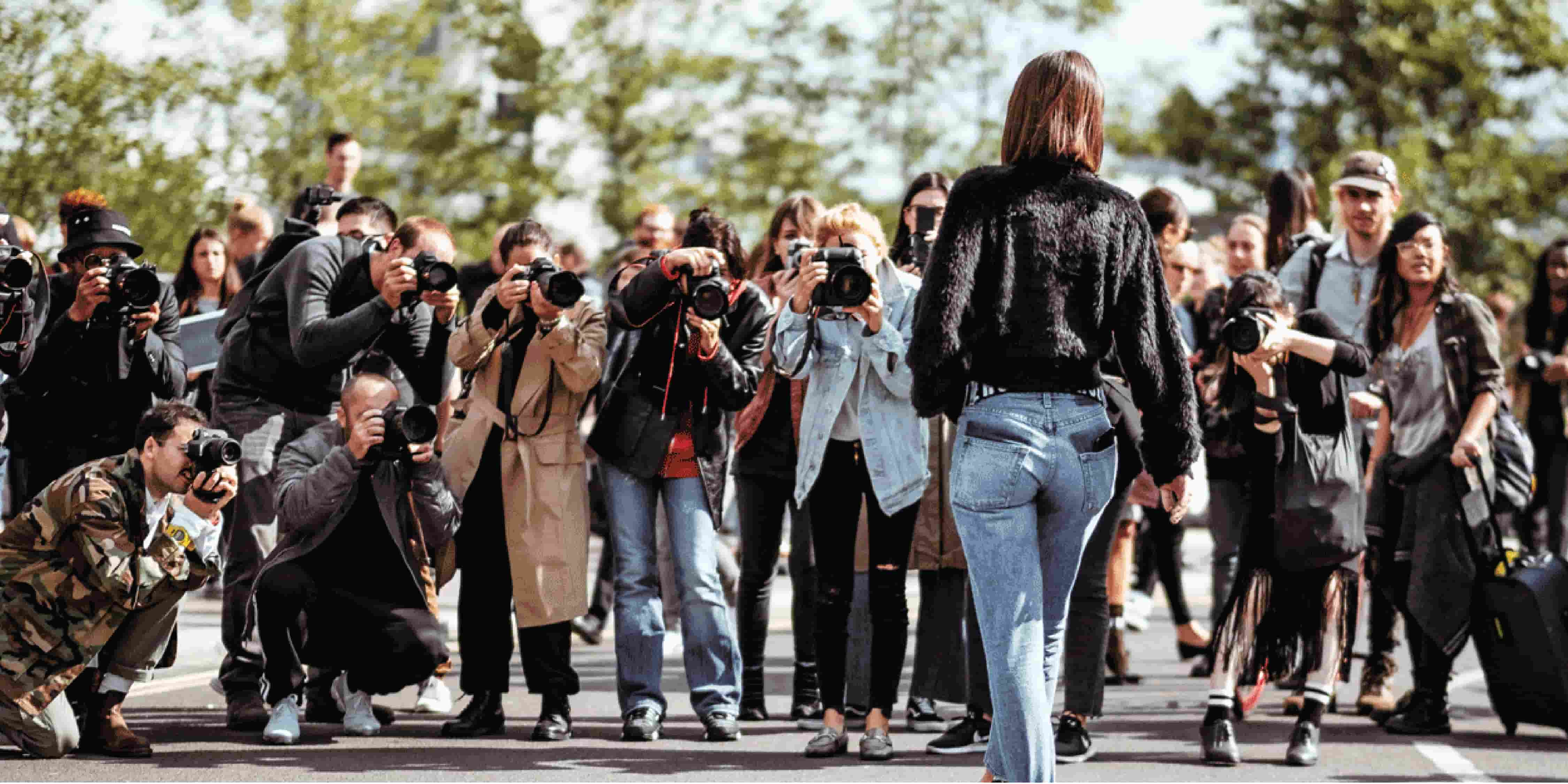 In today's day and age, there's no denying the popularity of influencer marketing. A recommendation from an esteemed source is perhaps the best way to market your brand to your target audience.
How successful is influencer marketing?
89% of marketers say return-on-investment from influencer marketing is as good or better than other marketing channels, according to a report from MediaKix. Indeed, businesses earn about $5.20 for every dollar spent on influencer marketing. So it's no surprise. 71 percent of marketers today strongly believe in influencer partnerships and the positive impact they have on businesses.
This is exactly why brands choose to work with social influencers when they areabout to release a new product or service.
Regardless of whether you sell online or have a brick-and-mortar store, the launch of a new product is an exciting time for any business.
Influencer marketing not only adds an additional degree of marketing to your product, but it also helps increase awareness about your product and improves its target audience. By promoting your product to their community of staunch followers, endorsements from influencers truly hold the potential to make or break your product launch.
Here's what you should focus on to make the most out of your influencer marketing strategy:
Apart from having a top-notch product, perhaps the best way to convince influencers to work with you is to provide them a sneak peek into the product that's about to go to market.
Allowing the influencer a chance to be one of the first people to try the product and share the product details with their followers ensures they'll have ample time to review it and answer any questions their followers may raise at any Q&A sessions.
Additionally, this generates much-needed buzz and creates excitement and engagement about the product launch, allowing consumers to know beforehand what they're purchasing and where they can purchase it.
Of course, you don't want influencers to reveal all the exciting parts of your product, which can potentially hinder the momentum. The ideal time to start creating buzz through influencers is two to three weeks which is enough time to generate interest without it wearing out.
There are many potential influencers. Everyone is a type of influencer on some level, in that they have influence over their small social circle.
But modern technology means the social media influencers who've built a loyal following through their online content creation now have reach magnitudes larger than anything possible before. A post on Instagram can reach more people than an average person would meet in a lifetime.
These social media influencers are quite experienced in describing products in a way that resonates with the audience. Regardless of whether it's a travel destination or a new skincare product, influencers can create stories that resonate with the audience and convince readers to want the same lifestyle.
The trick is to find the right influencers who naturally click with your brand.
When it boils down to informing your target audience about your product, the influencers you choose should be representative of the lifestyle and demographics of your brand.
Let's consider the example of Pepsi Canada. To increase sales, the brand launched limited edition packaging along with the hashtag, #SayItWithPepsi, and targeted millennials through social media engagement.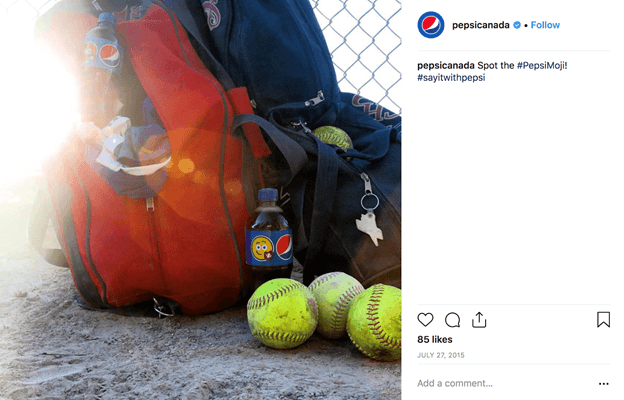 Pepsi got influencers on board to develop organic content around the 200 Pepsi emojis, who then promoted the content to their millennial followers on social media platforms. The range of content shared included videos, blog posts, and photos.
It's no secret that email marketing can prove to be a useful tool to convert large audiences into loyal customers. However, many brands aren't aware of the effect influencers have on their email marketing efforts.
Influencers invest a lot of time and effort to build relationships with their audience and, thus, have extensive email lists. These email lists are usually filled with the kind of people you want to promote your product to. With such a relevant audience, an email blast done right can generate immense value. It's critical to ask influencers to leverage their email marketing, not only their social media profiles.
When you're opting for email marketing, don't just use a generic template. Use personalized emails to ensure the content caters to the influencer's target audience. It should match their normal tone, style, and length in every way possible.
Your influencers can easily incorporate your content, such as a blog post or an unboxing video, as part of their regular newsletters. Just ensure they include a convincing call-to-action as well.
RELATED: 23 Best Practices to Send Effective Ecommerce Email Newsletters
Perhaps the biggest benefit influencer marketing offers is the creation of authentic and engaging content. At the end of the day, influencers are content creators who are experts at what they're doing. Hence, they have the ability to produce captivating imagery, engaging videos, and convincing testimonials based on their expertise.
Once influencers create content related to your product and brand, you can use it as part of your brand's internal and external marketing. Whether it's something technical as an Instagram picture's dimensions or something basic as the length of a blog post, influencer marketers definitely know their way around.
An excellent way to promote your new product is by hosting contests and giveaways. There's no point hosting a contest if a large audience isn't signing up for it, which is where an influencer comes into play, so you can spread the news to people who'd be interested in your contest.
In 2015, Fossil announced a contest on Instagram where followers were encouraged to post pictures with the hashtag, #FossilStyle.
The grand prize?
A trip to New York Fashion Week, along with two tickets to the show. There were additional prizes for weekly winners of the contest. Fossil collaborated with influencers, such as @lifesjules to create hype and get the word out.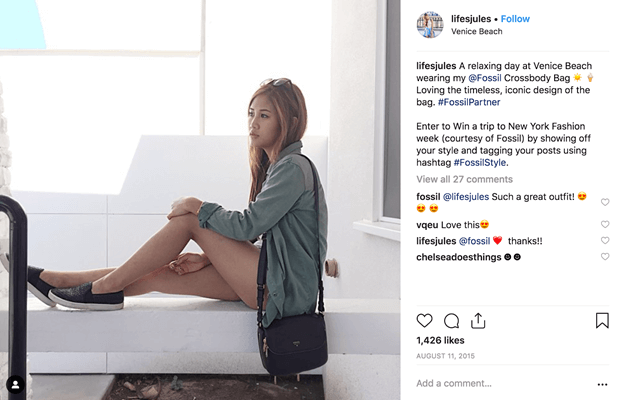 What eventually makes or breaks your influencer marketing strategy is the compatibility of your product and influencer. Without a strong link between the two, your efforts are extremely likely to go to waste. Ask yourself, would a football player be more suited to promoting shoes by Nike or drinks by Coca Cola?
Any influencer you eventually choose to go for must not deviate from your brand values. An influencer spends all their time creating a digital story and a lifestyle their followers would want. This lifestyle needs to fall in line with what you promote.
Aim for a campaign that's not only unique but also, inherently, feels like your brand. The influencers you partner with must be relevant to the product you're about to launch and should target your ideal audience.
Okay, so you've put in the legwork marketing your product launch. But the launch itself is an extension of the campaign. Influencer marketing campaigns have a high chance of generating viral interest. If people are energized by your marketing campaigns and you're overwhelmed by the hype, they'll leave frustrated—and likely will be lost as future customers.
Take the case of Sunny Co Clothing, a California-based retailer that uses several influencers to popularize its products. In May 2017, the company launched an Instagram campaign to give away a free $65 Baywatch-inspired swimsuit.
The campaign attracted immense interest—who doesn't like free? But the company was unprepared to deliver on its promise. The website wasn't correctly set up for the promotion, and the overwhelming attention led the company to change the rules of the giveaway midway through, making shoppers furious.
For an example of better advance planning for influencer campaigns, take Easho, a U.K.-based online wholesale club. Their influencer partner's Instagram following had ballooned from 20,000 to nearly 1 million. So they knew they had to prepare to be flooded with visitors to their online store.
To increase the hype and provide a smooth customer experience, Easho placed shoppers in a first-in, first-out waiting room. Their website was able to convert eager customers while safeguarding the reputation of both their influencer partner and their brand.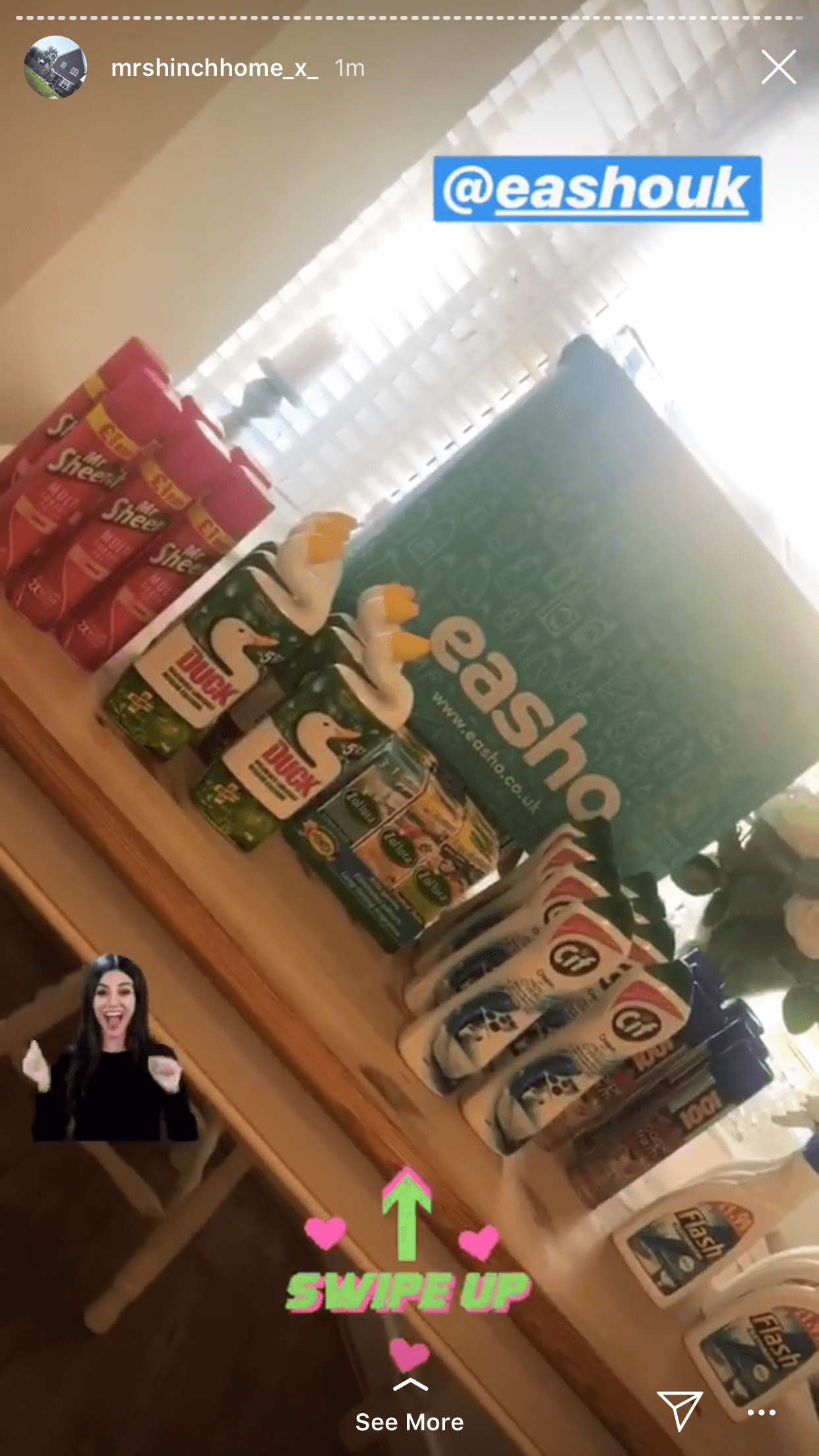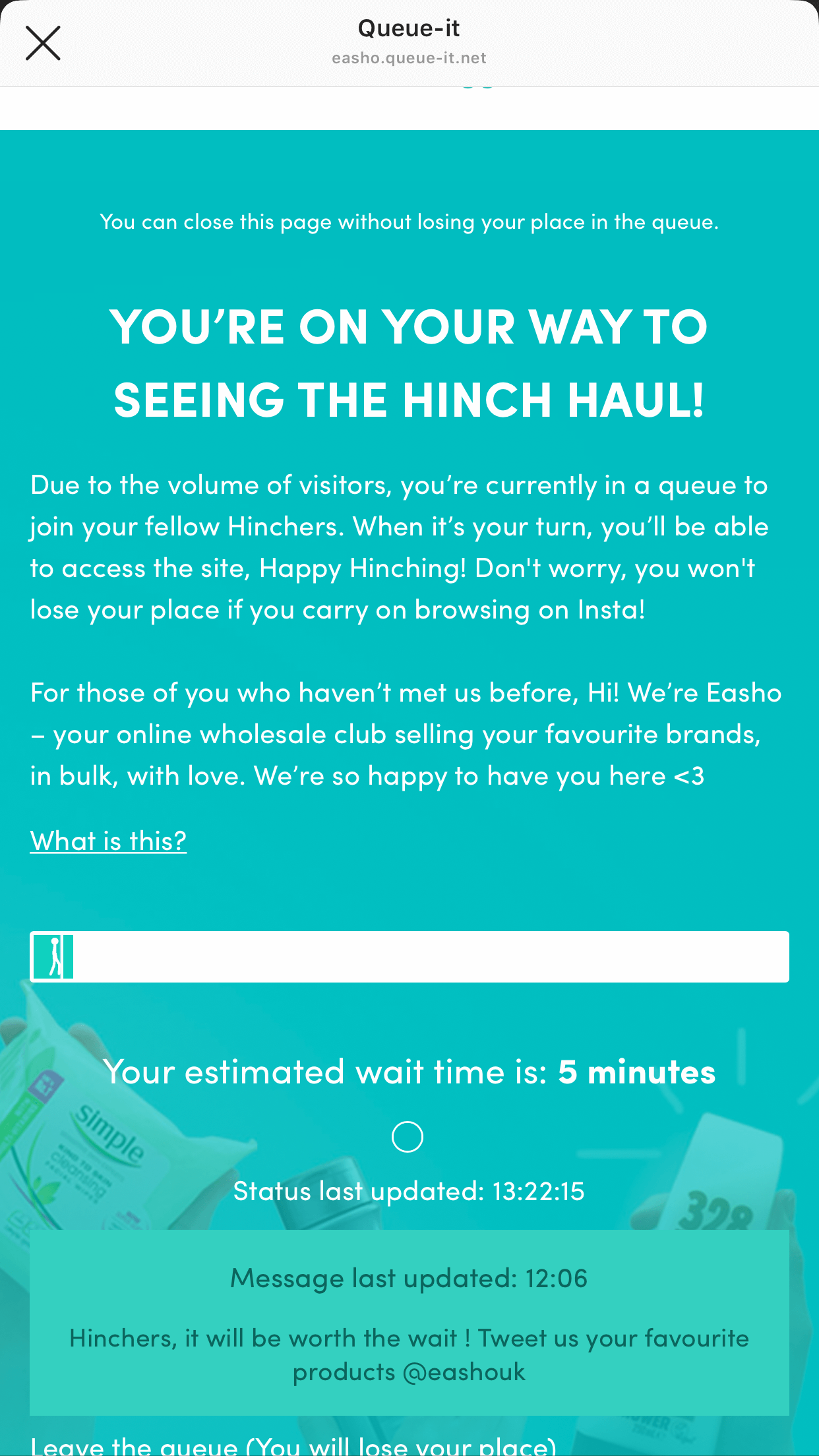 Nailing your influencer marketing strategy can feel like threading a needle. And it could take several attempts with different influencers and messaging to get it right. But if done well, the payoff in the end can be huge. Follow these six tips and you'll be prepared to run a successful influencer marketing campaign for your product launch.
Have you tried any of these influencer marketing tips before? Or do you have suggestions of your own? We'd love to hear the, tell us what you think on social media.
About the author
Dave Schneider is the founder of LessChurn, a churn reduction app. In 2012 he quit his job to travel the world, and has visited over 65 countries. In his spare time, he writes about SaaS and business at DaveSchneider.me.
(This post has been updated since it was originally written in 2019.)