How to send an email blast that drives results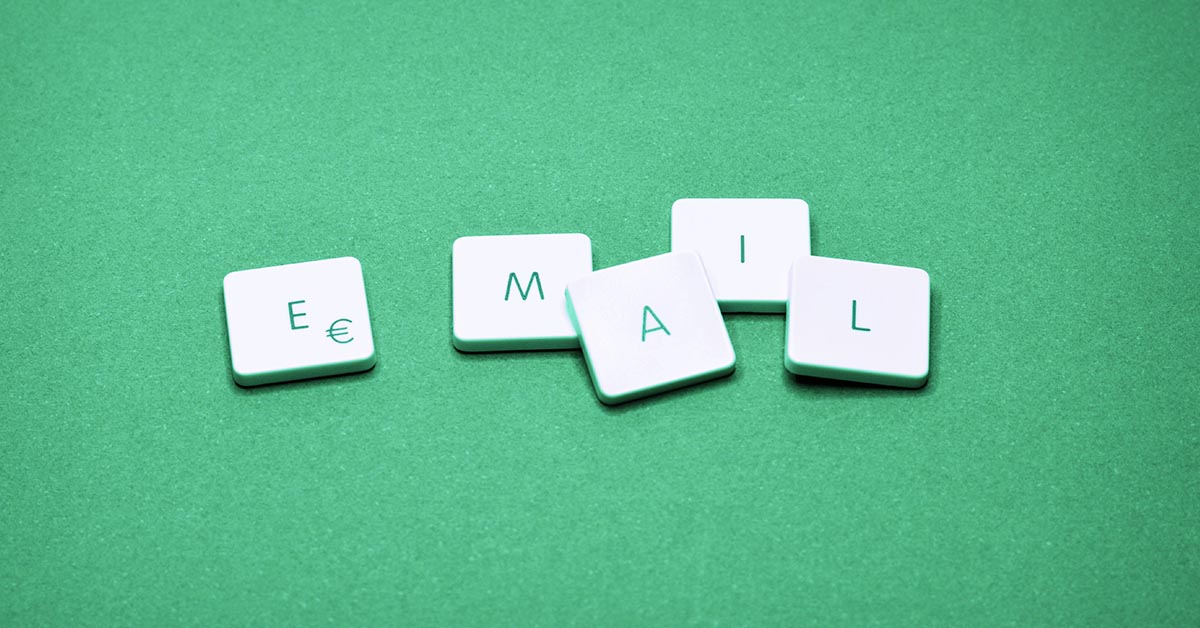 Email blasts have gotten a bad reputation in marketing. But if you learn from past mistakes and implement best practices, email blasts can be an incredibly effective tool in driving results for your business.
Email marketing is an incredibly powerful tool for online retailers.
A full 99% of consumers check their emails daily, which helps explain why research shows that email marketing delivers a 45-to-1 return on investment in ecommerce.
Collection releases. Flash sales. Product launches. Holiday sales. You name it, email should be a central component of your marketing campaign.
Email blasts have gotten a bad reputation in marketing because they've been done poorly in the past. But when done well, sending effective email blasts is one of the biggest drivers of your sales.
If you're in online retail, you need to learn everything about email blasts and how you can use them to generate strong sales and build lasting relationships with your customers. 
What is an email blast?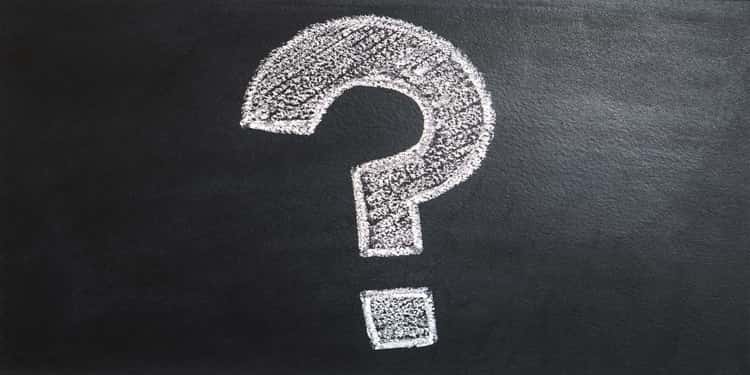 An email blast is an email message that someone sends to a large number of recipients at the same time. This is usually an entire email list or even multiple email lists.
These messages have many different names such as mass emails, mail merge, and bulk emails, but are best known as email blasts. The two most common purposes of email blasts are for sending email newsletters and promotional content.
Are email blasts effective?
One big misconception people have about email blasts is that they are an outdated form of communication, but that can't be farther from the truth.
While there were some reasons why email blasts were unpopular in the past, marketers have learned from their mistakes and improved the tactics they use.
As long as you know how to optimize the most important aspects of these emails, you can create a very effective email blast campaign and send mail merges to a high number of subscribers.
How to create a successful email blast campaign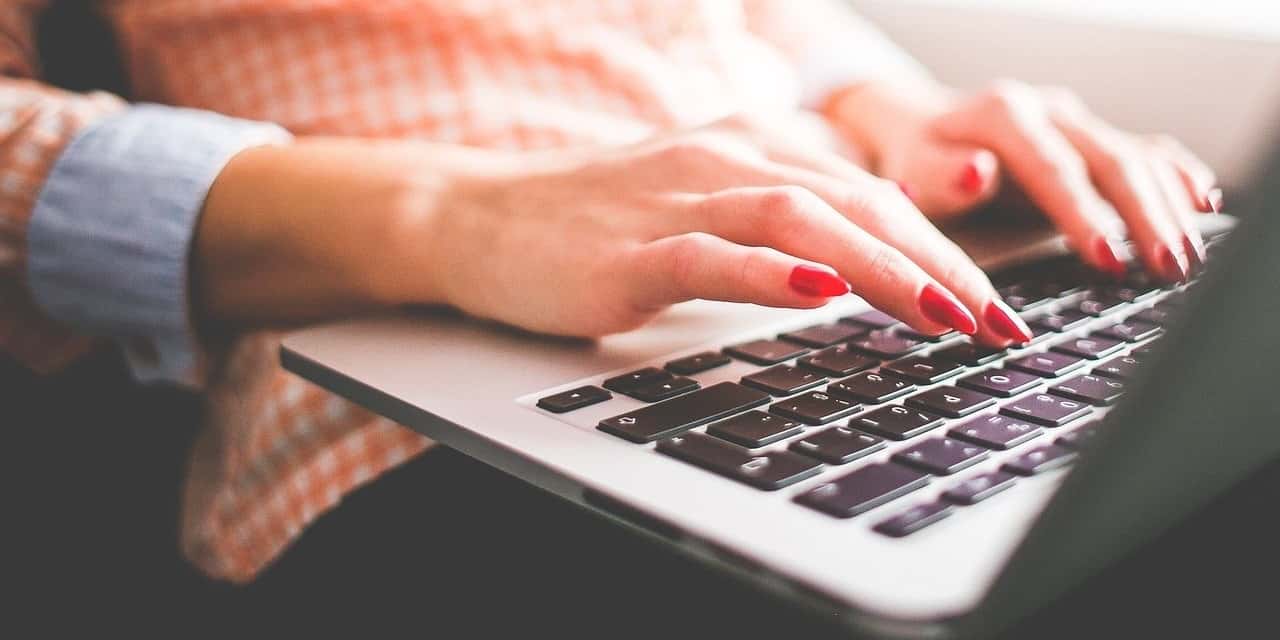 Email marketing is a great investment for any business. It's the most important customer acquisition and retention digital marketing tool for small and medium-sized businesses.
Email blast marketing can boost your bottom line, but only if you know how to create a successful email campaign.
Choose the best email service
Almost all of your success depends on the email service you choose, as you will never be able to send blast emails without a reliable email blast software that is making sure that all of those messages are getting delivered. However, with so many services in the market, it can be hard to decide on the best one.
Deciding which email marketing software is best for you depends on your specific needs and requirements. In the end, some choose a service that offers too many features that their company doesn't need and just end up wasting money.
Since you want to send email blasts, the service you choose needs to have the following features:
Option to send targeted and personalized emails without too much work
Easy contact management system and user segmentation
Performance tracking for all of your email marketing campaigns
Create and segment your email list
An email list, as the name suggests, is a list of email addresses to which you send an email blast. It contains email addresses of your customers, subscribers, and prospects. Your contact list will probably consist of a lot of different types of people, and that is why you need to segment it.
One of the main reasons why email blasts fail is because the marketers who sent them didn't segment their email list. Don't make the same mistake.
Segmenting is the process of dividing your subscribers into smaller groups to send them targeted emails based on criteria such as:
Gender and age
Geographical location
Personal interests and hobbies
Contact activity
Purchase history
For successful email marketing campaigns over longer periods of time, you need to constantly upgrade your email list. And you can actually do that with the help of your existing customers by giving them some incentive to refer their contacts.

However, to ensure a smooth referral process, you need to optimize your referral form by using a contact picker. That way, your customers won't have to type their friends' email addresses manually.
Include a powerful CTA
No email is complete without a powerful call-to-action (CTA). A CTA is usually deceptively simple and consists of a few words that are meant to intrigue the recipient. But writing the perfect CTA isn't easy.
There are a few steps you need to take to write a call-to-action that will do the job:
A/B test. It's not enough to come up with one CTA phrase and be done with it. You need to constantly test and optimize the CTAs you use to see which ones perform best. After enough testing, you will be able to weed out the good CTAs from the bad and have a higher success rate.
Make your commands actionable. The email recipient is much more likely to click on a CTA that is actionable and makes it clear what will happen next. Vague CTAs make people nervous and reluctant to click on them
Stick to one CTA. It's tempting to ask the email recipient to act on more than one CTA in an email, but this won't have the effect you're hoping for. When presented with two or more CTAs, people are more likely to go with neither than actually choose one.
Be realistic. Most of your leads probably aren't ready to make a big commitment to your company and that is why you need to be realistic with your CTAs and focus on small steps. Less committed CTAs make customers feel more comfortable and have a higher chance of succeeding.
Prepare your website
Your email blast has a well-crafted CTA, likely sending recipients to your website to make a purchase. You've updated product description, price, and inventory. And you've added flashy new images on your landing page to show your product in its best light. But is your website prepared to handle the sudden influx of traffic?
Imagine most customers open your email, you get a great click-through-rate, and visitor numbers overwhelm your site, losing you orders now and alienating potential future customers. Website crashes from high website traffic, like that created from email blasts, happens frequently even to the world's biggest businesses.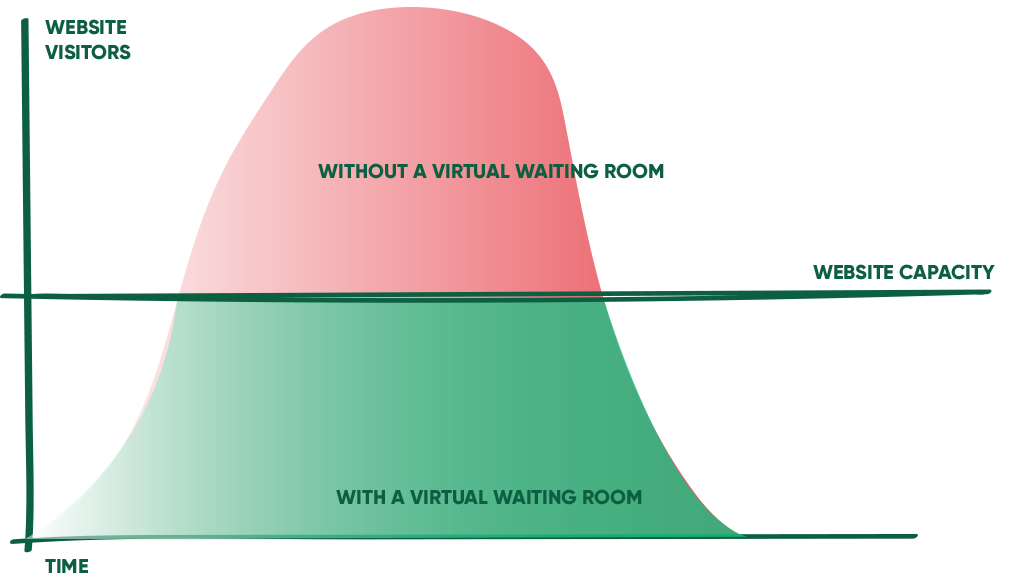 So how do you prepare?
Know what your site can handle
First, you'll need an idea of how much traffic your website can handle. Relying just on concurrent users from Google Analytics can leave you blindsided.The best way is to have run load tests in advance. At a minimum, you can use some back-of-the-napkin calculations to get a rough idea.
For instance, assume your average customer session lasts 5 minutes, and you've seen your website hold up fine with 200 visitors. That means your website should be able to handle an influx of about 40 visitors per minute.
With that knowledge, now combine your typical email blast open rates and click-through-rates (if you don't have enough of your own data, use industry benchmarks for open rate and click-through-rate as a start). You should now have an idea of roughly how much traffic you'll send to your website.
Have ways to manage website traffic
If you need to manage website traffic, you can consider sending your emails in batches, spread out by hours or days. It's not perfect, but will help you keep a huge spike in traffic from knocking out your site.
Another option is to implement a virtual waiting room to control your website traffic. You enter your website inflow capacity (e.g. 40 visitors per minute), and when traffic exceeds the threshold visitors are offloaded to an online queue. The online queue keeps users informed with information on wait times and number of people ahead in the virtual line. Once your website can handle them, they're redirected back to your site in a first-come, first-served order.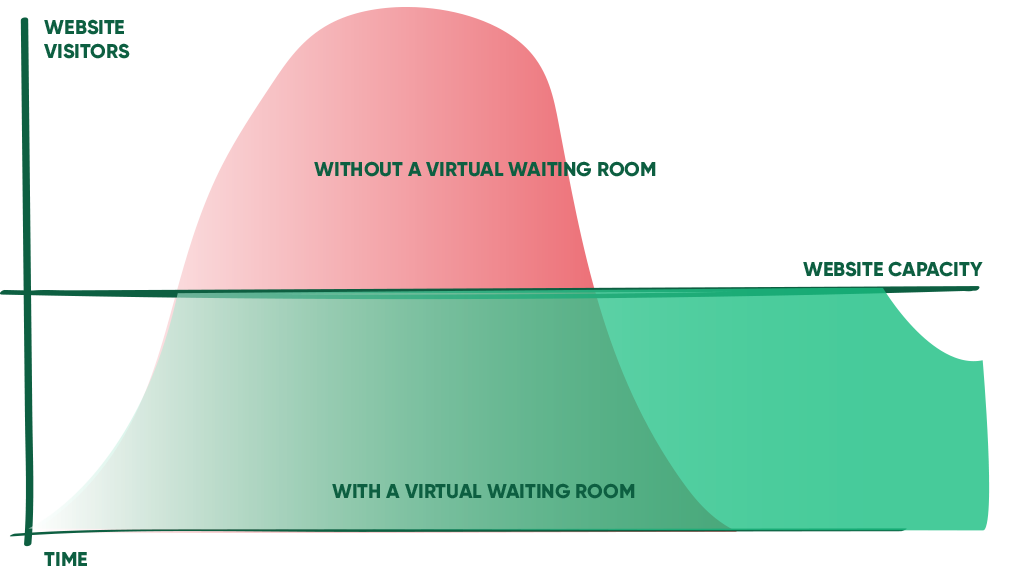 It could be your email blasts won't drive the visitor numbers that would require website traffic management. Or perhaps your website has more than enough capacity. Either way, run the numbers and make sure your site is prepared in advance.
Time your email blast correctly
There is no exact science that can tell us when the optimal time for sending email blasts is, but we do know that getting the timing right is important.
So what is the best day and time to send an email blast?
A lot of studies have been done to determine when you should send out marketing emails, and the findings are mixed.The timing depends on your subscribers and you need to figure out what works best for them. However, before you can test out different days and times, you need to start from somewhere, and that's where these studies can help.
According to a study by GetResponse, all weekdays are good for sending emails, and a report by HubSpot states that the best day for sending emails in terms of open rates is Tuesday. Emails that get sent during the weekends are the least popular and have the lowest open rates.
As for the ideal time, HubSpot's data shows that the ideal time for email opens starts at 11 a.m., while Intercom states that the best time to send emails is between 10 a.m. and 2 p.m.
All of these are great guidelines, but you won't know for sure what works best for your subscribers until you test out different days and times.
Measure results and adjust the email blast campaign
Your job isn't over after you've sent out an email blast. The next step is to measure results and see how your subscribers are interacting with your emails. Set goals you want to achieve with each email blast and then see how your results compare to those goals.
Some factors you need to track include:
Open rates
Email deliverability
Click-through rates
Hard bounces
Unsubscribe rates
If you notice that you're getting bad results on one or more of these factors, it's time to adjust your campaign to improve the stats you're seeing.
What are email blast best practices?

When it comes to a successful email blast marketing campaign, every detail matters. That's why you need to be careful about which email marketing best practices you use in your strategy.
Here are some of the best ones.
Show off your brand. Make sure your emails are recognizable right away by putting elements that mark your brand such as logos and color schemes. This will help your customers recognize your emails right away and it will stick in their memory more than a bland email. After all, people tend to remember images better than words.
Use the right words. Before you start composing your email blast, think about the person who will be reading that email. It's important to remember that your email is for your customers, not you., Use the type of language they use, and sound like a human – not a robot.
Use images. There's nothing less appealing to an email recipient than a plain block of text that doesn't even hold the reader's attention. Therefore, spice up your email blasts with sharp email design and images that can show off your products much better than written text.
Include links to your social media. It's important to stay connected with your subscribers in many different ways, and social media is the perfect way to keep that connection alive. Make profiles on various social media websites and ask your subscribers to follow you. One of the benefits of this is to engage your subscribers in social selling, which is one of the top ecommerce trends for 2020.
Clean out your email list regularly. If you notice an unexpected drop in your email metrics, it may be time to clean out your email list. Send re-engagement emails to subscribers who don't engage with your email blasts, and if that doesn't work, remove them from the mailing list.
Excellent email blast examples
When you take all of this information into consideration, you're ready to create the perfect email blast. However, information and theory can seem abstract.The best way to learn something is by example.
If you're looking for a good email blast example, check out these three examples:
SUAVS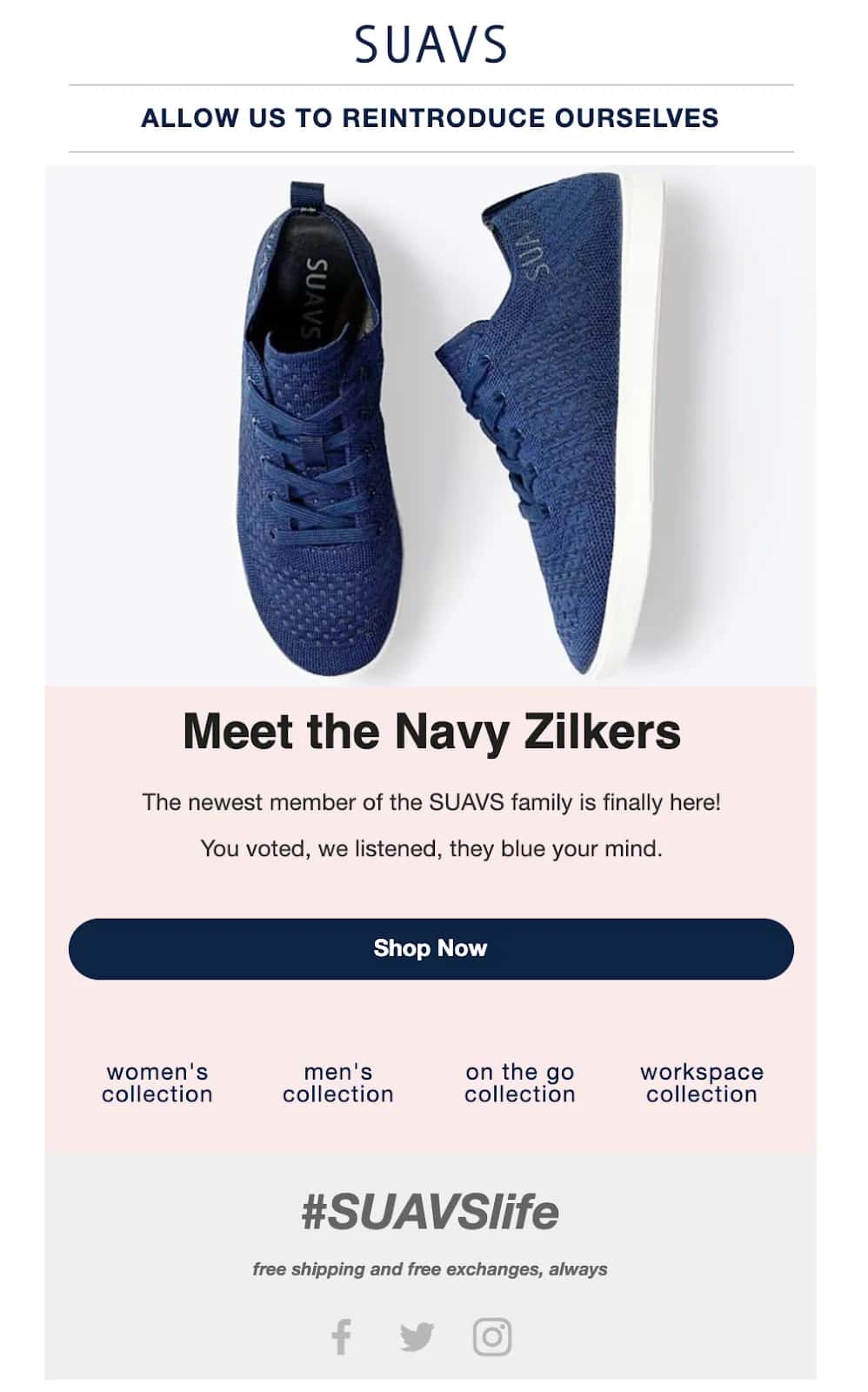 SUAVS email blast is an example of a clear CTA (Source)
This blast email was sent to announce the launch of a new product. it works well because it has a clear CTA and shows a picture of the offered product, piquing the recipient's interest. It has a casual and conversational tone and even uses a clever play on words.
Cuvée Cofee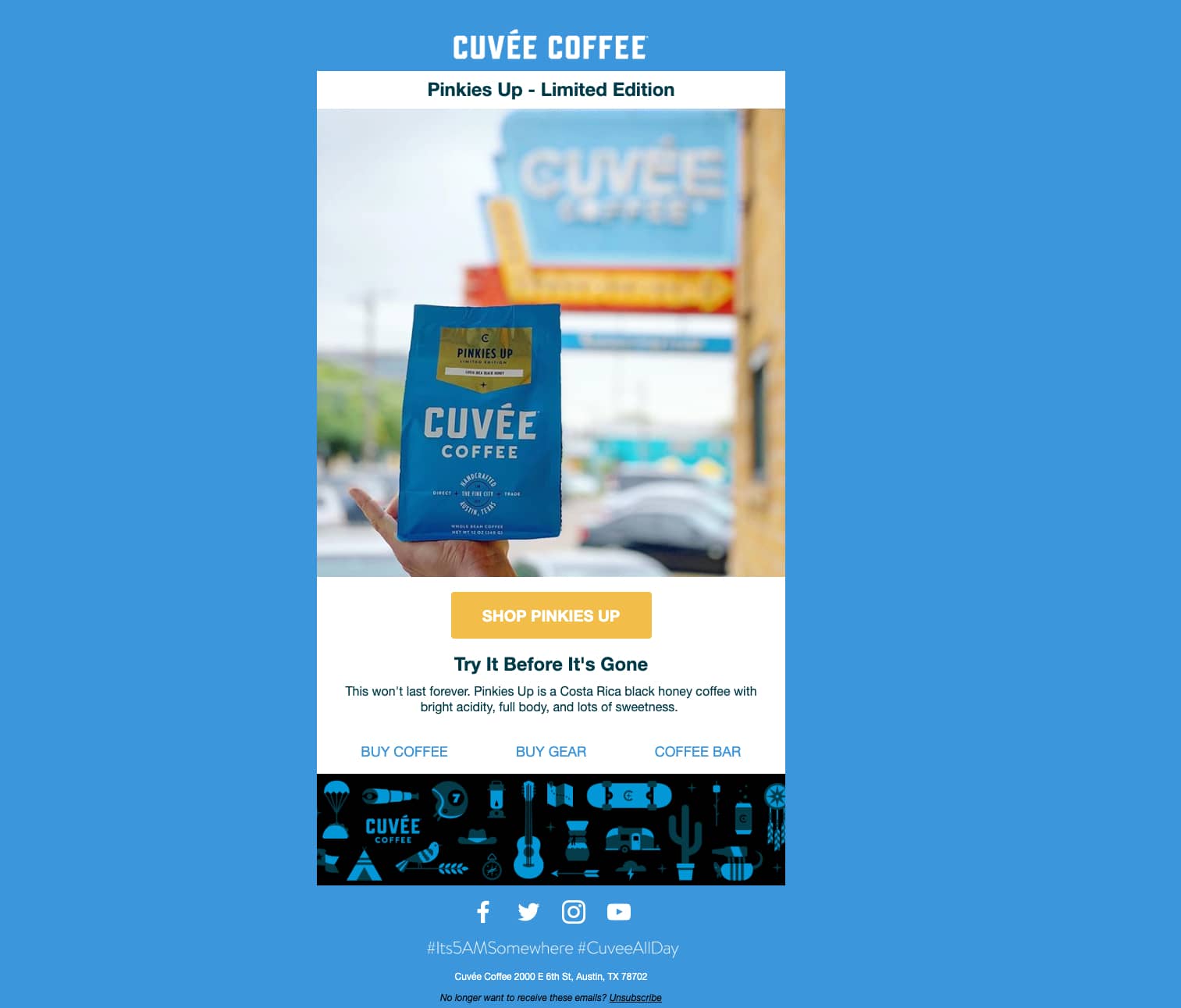 Cuvee Coffee's email blast using urgency (Source)
Here we see a message offering a limited edition product. It works great because it creates a sense of urgency to drive conversions while also promoting the product in just a few short words that will appeal to the recipient.
The color scheme of the email matches the color scheme of the product, and another great thing this email did is add the social media button at the bottom.
BPN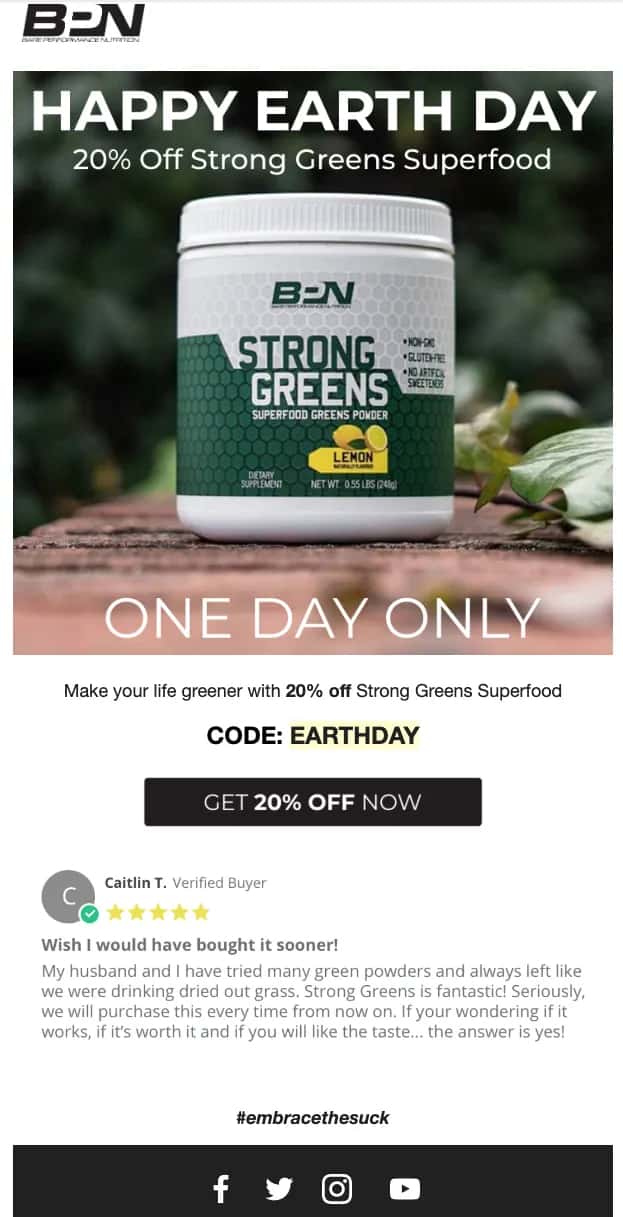 BPN's email design includes a nice touch of social proof (Source)
With the product in full display, this email blast captures the reader's attention more with its visuals than its text. The text is very limited but still used sufficiently, informing the reader of a sale. As an added bonus, there is a customer review at the bottom to add social proof.
Key takeaways
Email blast marketing may sound complicated.
But when you sit down and create your own email blast, you will see that it's nothing too difficult. Even though it will take some time and testing, once you find the perfect formula for blast emails, you will start creating one amazing email campaign after another.
Just remember that not all email blasts are created equal.
You need to start by getting a great email blast service and then continue your campaign by using best practices and always iterating to improve results based on your specific audience.