See more, act smarter: Your bots & abuse situation is more transparent than ever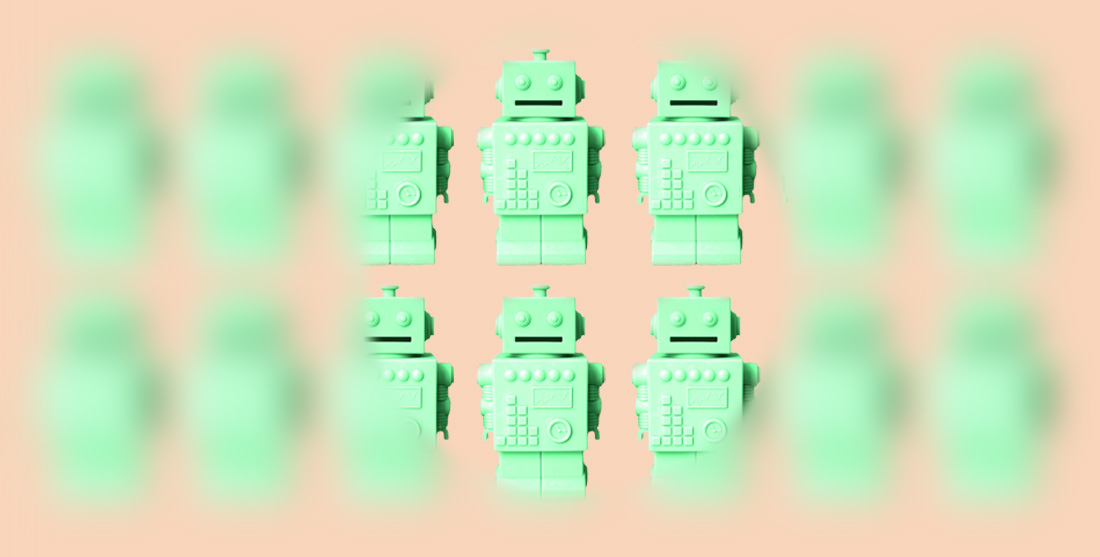 The first step in fighting for fairness is knowing how big your bots and abuse problem is. Queue-it now gives improved visibility into bots and abuse activities in your virtual waiting rooms, so you can strengthen your bot and abuse strategy and improve fairness for genuine customers.
Queue-it has been seeing an increase in bot and abuse activity in customers' waiting rooms, especially in limited-edition product sales (e.g., product drops and high-demand tickets). It's no surprise when anyone looking for an unfair advantage can buy off-the-shelf, all-in-one shopping bots. These bots have become so advanced it's extremely difficult to tell them apart from real and genuine visitors.
To make sure customers are not losing sales and registrations to the bad actors, they must use the right tools to win the fight. These include data center blocking, server-side or edge Connectors, Proof-of-Work challenges, CAPTCHA tests, queue tokens, invite-only waiting rooms, and more. And to choose the right tools, they need to know how big their problem is.
To help you know the extent of your bots and abuse situation, Queue-it has improved the detection and visibility of bots and abuse activity in your waiting rooms:
Enforced restrictions for suspicious visitors entering a waiting room and added new metrics to visualize challenged and hard-blocked requests.
Added a tab that shows bots and abuse metrics in real-time and an overview of fraudulent activities.
Enabled daily email summary of blocked requests.
We're dedicated to continuously improving bots and abuse visibility for you. Soon, you'll get a new bots and abuse dashboard in Traffic Insights. The dashboard will show detailed information on restricted requests and users prompted to solve CAPTCHA or Proof-of-Work challenges. You'll also see geographical data and request metadata that are helpful in identifying bot and abuse activity in waiting rooms. Stay tuned for that.
Challenged and hard-blocked requests
The new metrics introduced under the Statistics | Graph in GO Queue-it Platform now show:
Challenged requests – visitors who were asked to solve a CAPTCHA challenge
Hard-blocked requests – visitors who were denied access with a 403 HTTP status code
Visitors who were challenged and solved the CAPTCHA challenge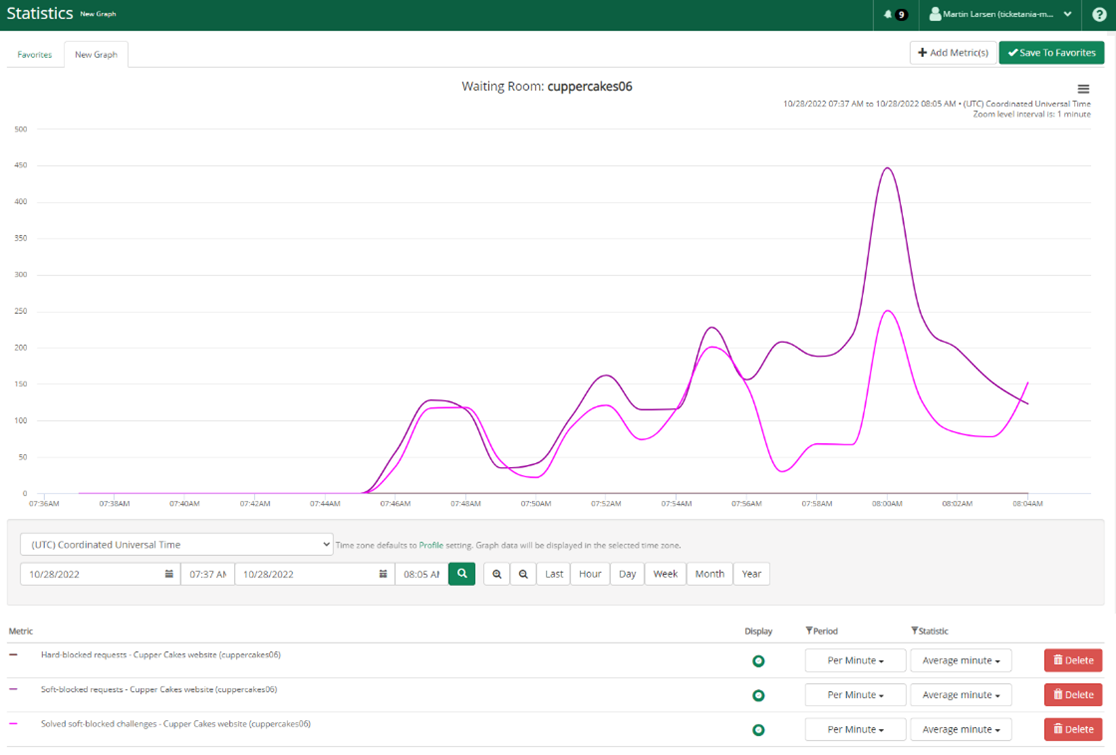 Bots and abuse and fraudulent activity overview in real-time
The Waiting Room Monitor page now features a new Bots & Abuse tab. It shows important bots and abuse metrics in real-time, both as summed totals and metrics per minute. You also get an overview of fraudulent activities, specifically the "rejected" metrics which show failed attempts to access your waiting rooms. The graph below summarizes data in a historical timeline.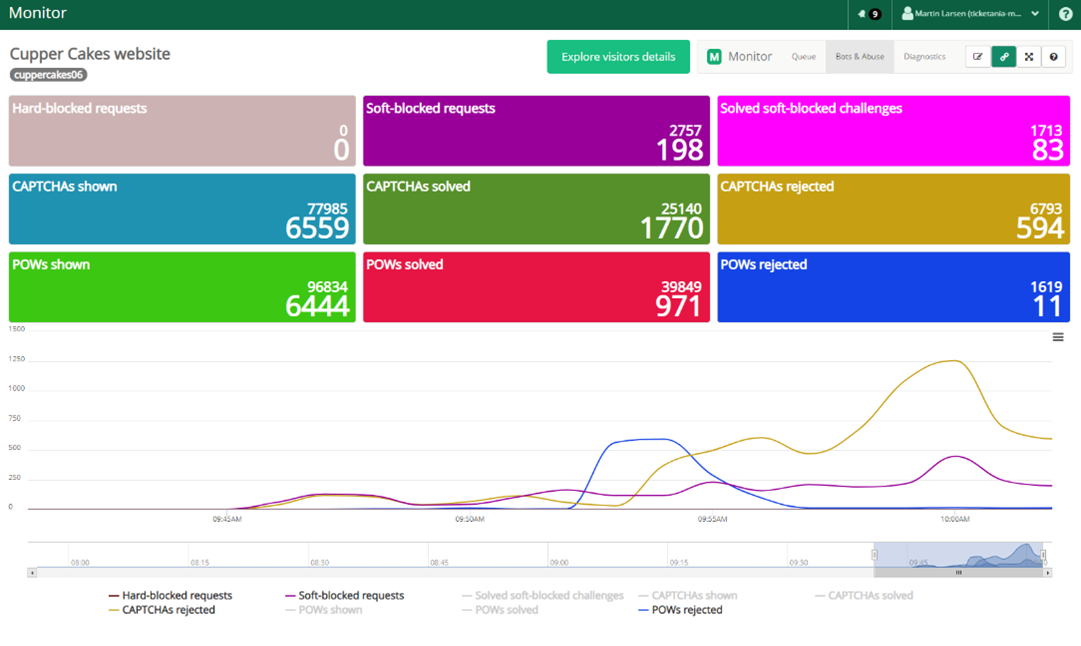 Daily email summary of blocked requests
You can choose to get a summary of the total number of hard-blocked and challenged requests across all your waiting rooms to your email address. The system will report daily with data from the past 24 hours and record the information in your change log.
To subscribe to the daily emails, enable Hard and softblock daily summary notifications under Account | Notification Groups on the GO Queue-it Platform, as shown in the image below. People in the assigned user group will receive the summary straight into their inboxes.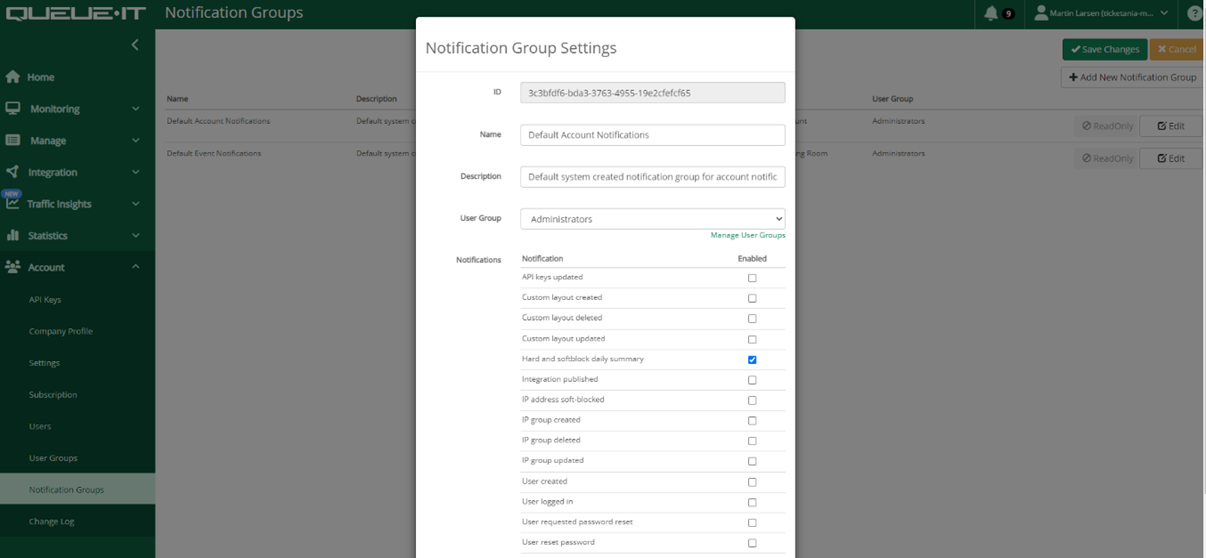 We are committed to continuously providing you with better knowledge and tools to increase fairness for all. Better visibility and understanding of the bots and abuse activities help you choose better tools to tackle malicious actors. That results in improved fairness and satisfaction for your genuine customers.
If you suspect you have bots and abuse challenges but don't know how serious these issues are, check out the new tools in the GO Queue-it Platform or reach out to your Queue-it support representative at support@queue-it.com.