Now available: Reward loyal customers with invite-only waiting rooms
Many businesses have loyal customers they like to reward with perks like presales or early access. Queue-it now offers an invite-only waiting room that lets you strictly manage access to your sales to reward loyal customers and prevent bots and abuse.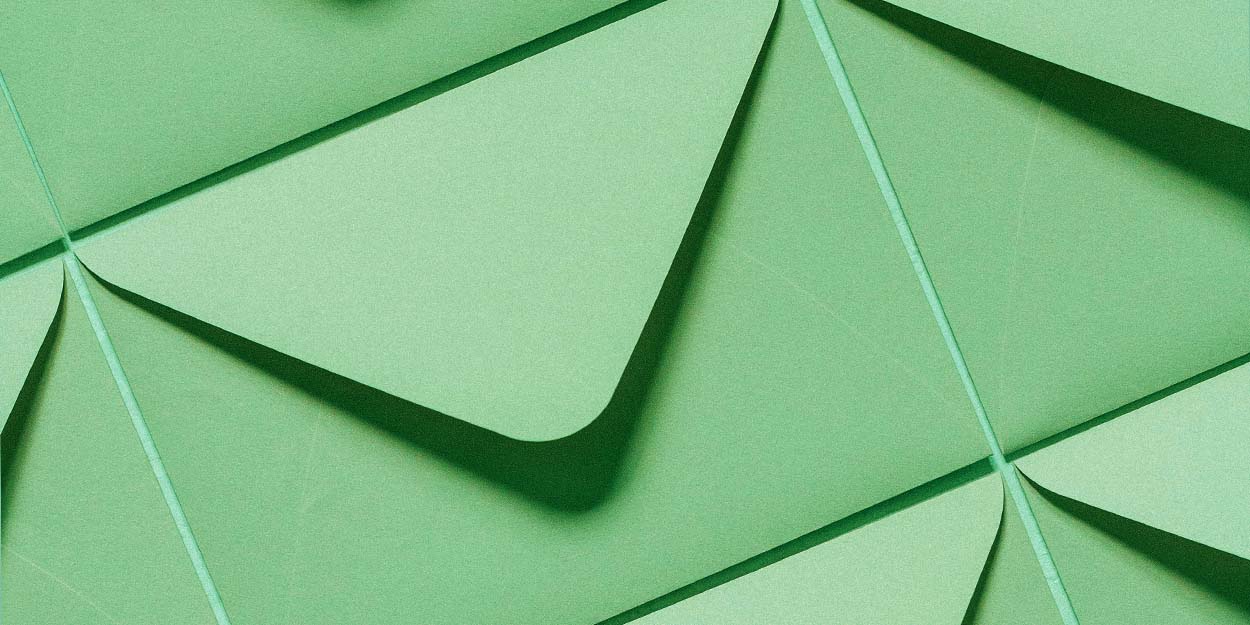 Many of the businesses we work with have high-value, member, or tiered customer levels. For example, a museum may have members who get early access to tickets. Bands may reward their most loyal fans with presales. Online retailers may have shoppers who pay annual subscriptions for perks like exclusive product releases. Financial institutions may want to only allow verified customers to transact on their platforms to satisfy regulatory requirements.
Behind these examples is a need to restrict access to an invited list of visitors. It's important that entry is limited to desired visitors and that bots or malicious users can't force their way through.
Additionally, with limited-inventory sales like concert tickets or product releases, many visitors wait in line without having the chance to buy what they want. Organizations could improve the customer experience by offering these visitors invite-only access to future sales.
To help you manage access to reward loyal customers and prevent bots and abuse, Queue-it has introduced the invite-only waiting room. The invite-only waiting room is a third, new type of waiting room offered alongside the "Scheduled" and "24/7 Visitor Peak Protected" waiting rooms.
You use a list of unique visitor identifiers – either email addresses, custom identifiers, or auto-generated random identifiers – to specify who should have access to your invite-only waiting room.
Visitors enter the waiting room with a secure access link that contains the encrypted and signed unique identifier included in the queue token. You can distribute these links via email or make the links available only once visitors have logged into their profiles. 
The invite-only waiting room offers several appealing benefits, letting you:


Reward loyal customers. You can run members-only or limited-access sales and reward customers who've participated in previous sales and registrations.
Strengthen bot and abuse defenses. You grant access to identified and verified visitors only, blocking bots and malicious users from disrupting your sale or registration.
Expand your email marketing lists. You can grow first-party marketing data and assess future demand by offering visitors access to future invite-only sales and registrations in exchange for their email address.
Improve the customer experience for customers who miss out. You increase customer satisfaction by offering visitors who waited but didn't get your product the chance to sign up for a future invite-only sale or registration.
Complete setup in minutes. You upload a list of who can enter the waiting room, generate unique access links, and choose the start time of your waiting room—that's it.
Plan with precise traffic levels in mind. You can prepare your infrastructure by knowing precisely how much load to expect through your systems.
You can learn more about the benefits of the invite-only waiting room in the webinar recording below.
You can set up the invite-only waiting room in minutes in the GO Queue-it Platform—no development resources are needed.
When you create a new waiting room in the GO Queue-it Platform, you'll be prompted to choose the waiting room type. If you have the "Invite-only waiting room" and "Server-side / CDN Workers Connectors" features as part of your subscription, you can create an invite-only waiting room by selecting "Invite-only waiting room".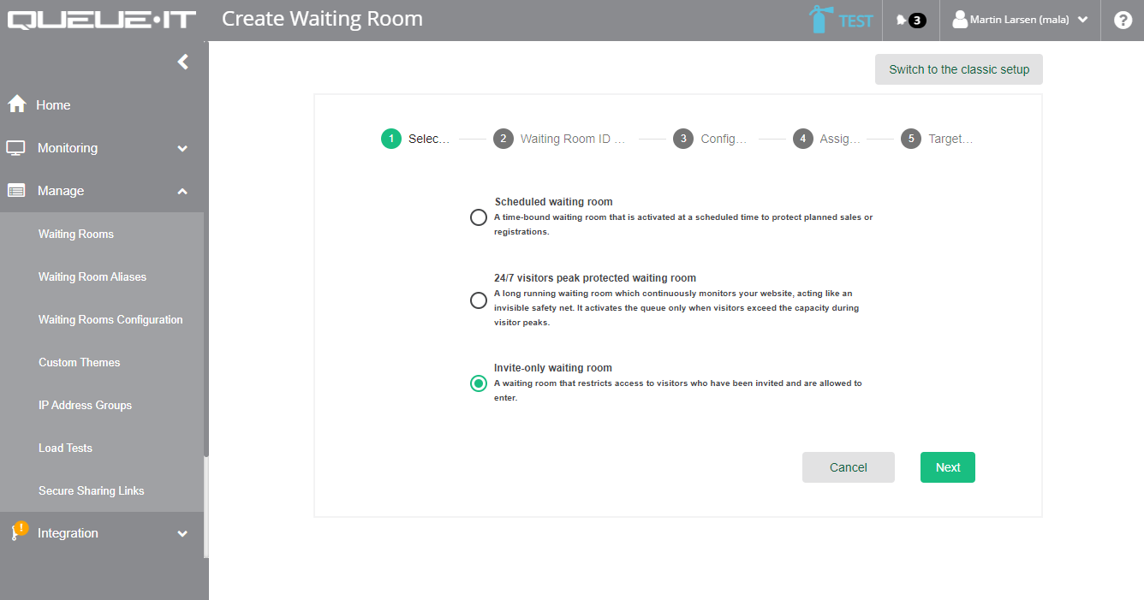 You'll then configure the start date and time and enter how many invites you'd like generated for the waiting room.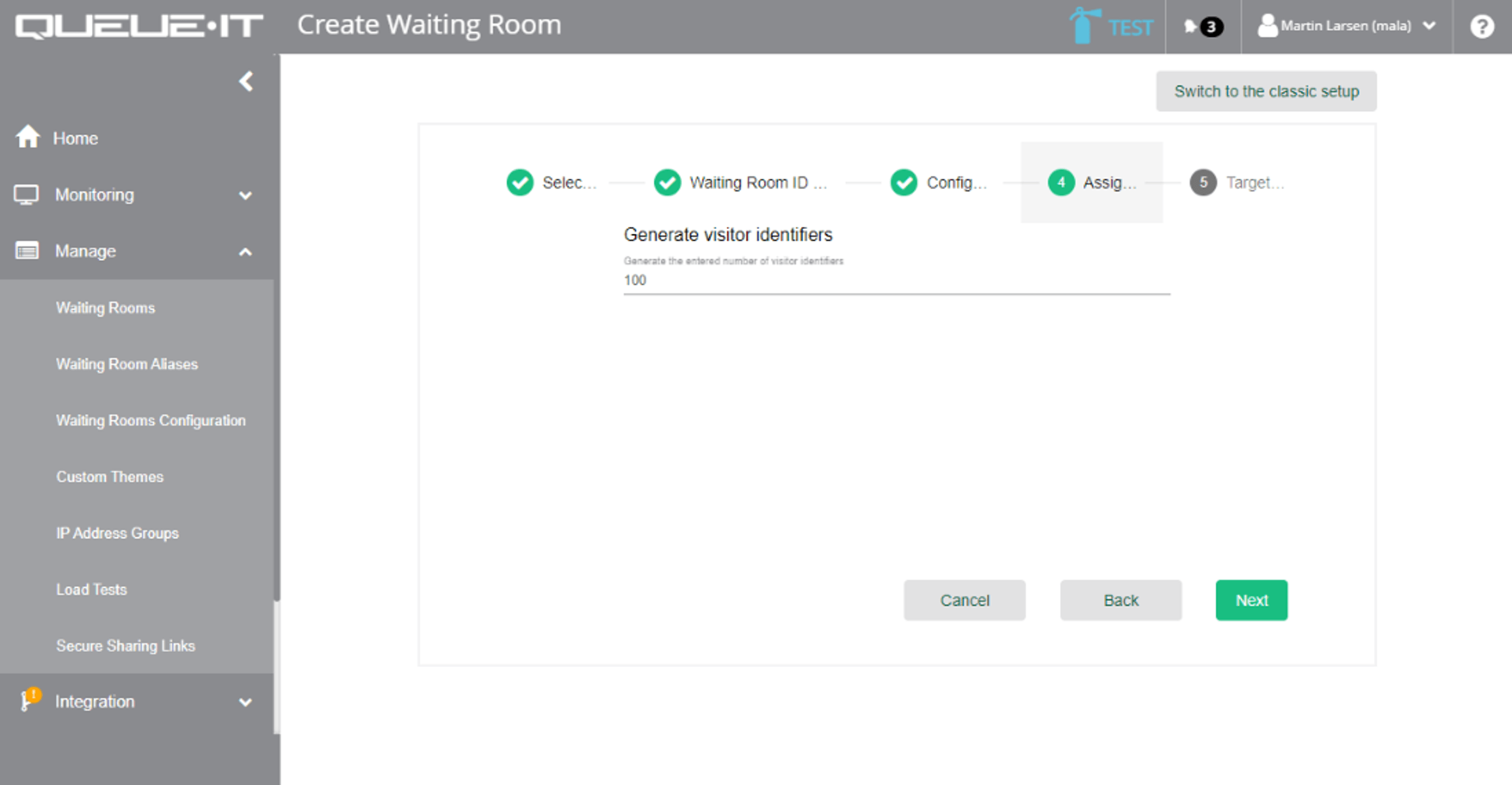 Next, in order to get the access links list, go to the Invite-only tab on the waiting room settings page. Click the Generate Links button.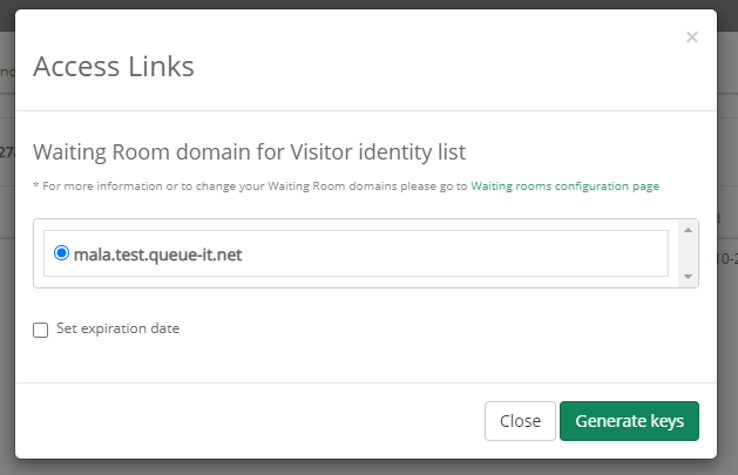 Select the domain name you want visitors to use when accessing the waiting room and generate the links. After a few seconds the links are generated and ready to be downloaded and distributed to the visitors.
The invite-only waiting room is a practical tool to let you reward your loyal customers and block bots and abuse. By offering signup for a future invite-only sale, you can both improve the user experience and identify and market to prospective customers. And knowing the max number of visitors arriving to your site can help you prep your infrastructure. All of this with just a few minutes of setup.
For more information on how you can start rewarding your loyal customers using an invite-only waiting room, contact your Queue-it support representative at support@queue-it.com.