Online ticket sales are complex and leave little room for error. Based on thousands of onsales with ticketing's leading organizations, here are 8 proven tips you can use to deliver fair, smooth and successful ticketing onsales.
We couldn't agree more with INTIX president Maureen Andersen when she said, "ticketing professionals make people's lives better through magically turning hours and hours of hard work into memorable events that are enjoyed by hundreds of thousands of people the world over."
But as you know, delivering magical events from start to finish is easier said than done. There are many moving parts to any event, but the ticketing onsale is undoubtedly one of the most high-profile and complex. 
Your brand is on the line every time. A mishandled onsale puts at risk the trust and valuable relationships you've worked so hard to build. Bad bots and traffic peaks are just a few of the challenges you face in running your onsales. And given how normal last-minute onsales are, there's often little room for error and not much time to prepare.
Over the past decade, we've worked with hundreds of ticketing organizations, running thousands of onsales, processing billions of website visitors. Based on that experience, here are 8 proven tips you can use to deliver smooth, fair, and successful ticketing onsales.
1. Communication, communication, communication
Internal communication
Remember: a human team runs your ticketing platform. Confirm that all departments are in sync before the onsale on its scope and timeline. You'll want to have contingency plans in place if the website starts to slow or fail, including technical steps to take as well as stakeholder communication. Ensure the plans include clear escalation paths and assign point-people to critical areas.
Depending on your role and organization, you could be dealing with several stakeholders: fans, artists, venues, promoters to name a few. You'll want to show everyone you're in control and over-prepared.
An industry recommendation is to create a log report as part of the communication plan, giving live updates every 10-15 minutes to the relevant stakeholders to show that everything is under control.  
External communication
We just can't say it enough. Be transparent as possible with fans about the process, both before and during the onsale. As Kristin Darrow, Senior VP of Product at Tessitura Networks, puts it: "After the hundreds of onsales we have hosted, the thing that comes up time and again is this simple truth of how transparency and clear communications build trust with the public."
If there are any changes to the procedure compared with previous onsales you've run, make that crystal clear ahead of time. Communicate all purchase limits and cart timeout duration in advance, as well as the best way for fans to get in touch if they experience issues.
During the sale, monitor social media and your relevant channels for complaints. If you're using a virtual waiting room, utilize its real-time communication functionality to keep fans updated on remaining tickets.
A perpetual point of confusion among fans is the difference between all tickets being reserved and all tickets being sold. If possible, consider modifying the error message your visitors see if all tickets are reserved, but not yet sold.
(We've extensively covered the "instant sellout" onsale myth in another blog post.)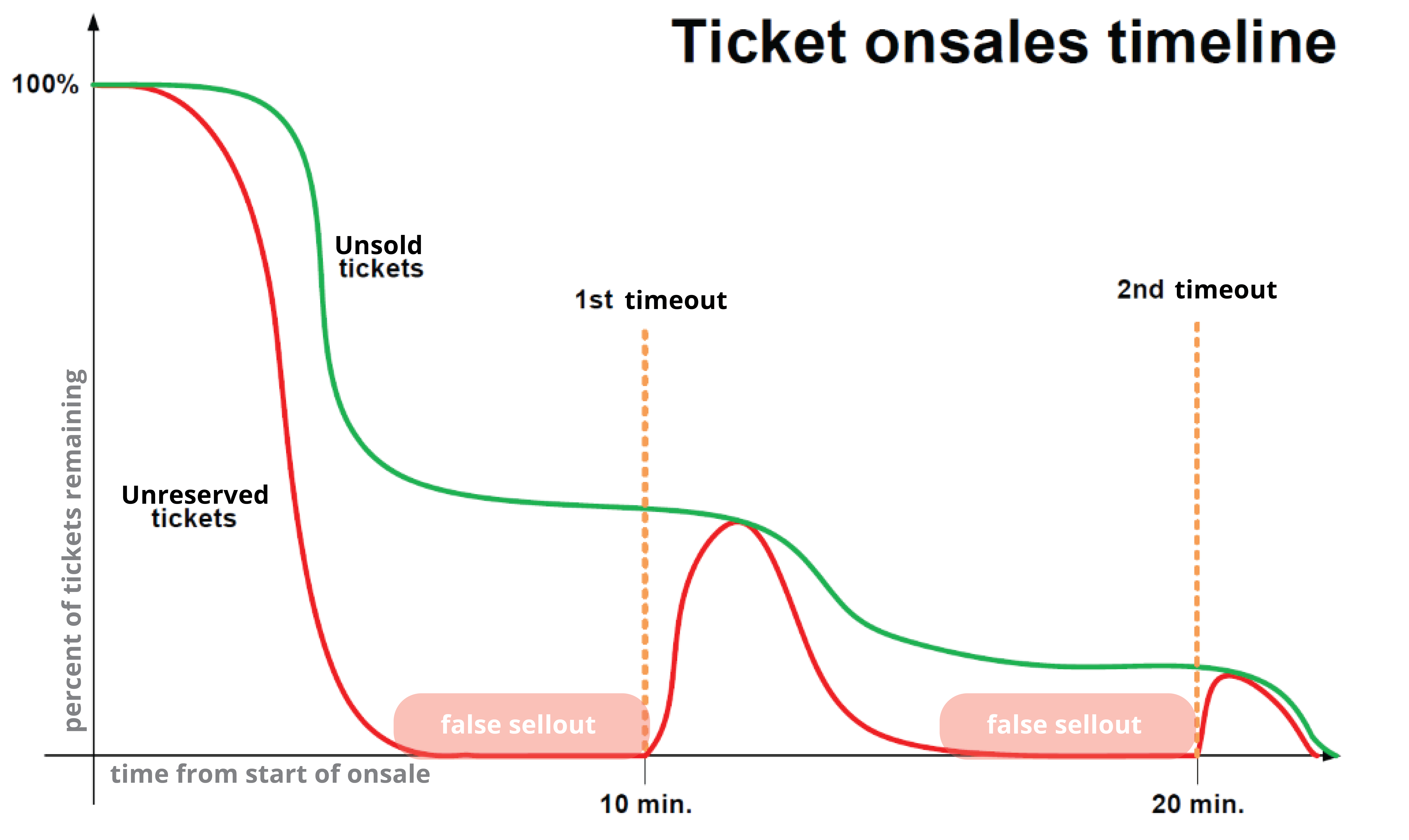 2. Understand what your website can handle
You'd be surprised at how many calls we have with prospects who have little to no idea how much traffic their websites can manage. Without knowing the visitor levels at which your site starts to fail, you're really going into the onsale blind.
While using data like Google Analytics' concurrent users is an okay starting point, it has some major flaws. Notably, it disregards the distribution of website visitors and how many visitors are hitting your website bottlenecks. An imperfect definition of capacity means your site could crash earlier than expected.
Load testing is one of the best preparations you can make ahead of a large online sale. Load testing is a type of performance testing that involves using simulated traffic to put demands on your website or app. Think of it as a dress rehearsal for your peak traffic periods.
Load testing provides data on the traffic levels your website or app can realistically handle. It lets you analyze website response time and robustness, highlighting when, where, and why your site begins to break down. By alerting you to bottlenecks in your customer flow, you know where to focus your website optimization efforts.
It's important to start this early. To get meaningful results, landing pages and other parts of the customer flow will need to be finalized before you can start testing. You'll also need to fix issues that come up. But if you make any code changes, the tests will need to be run again. That's why it's critical to allow enough time for several iterations of testing.
Luckily, there are several open source tools like Apache JMeter or Gatling that can be run inexpensively on the cloud with tools like Redline13.
Related: Load Testing – Getting Started with Gatling and RedLine13
Critically, load testing gets you to think of capacity in terms of website throughput (visitors per unit of time) as opposed to the static snapshot of concurrent users.
Our customers do this with our virtual waiting room, which manages all requests to the portions of your website that you protect. Our customers simply enter the throughput rate of their limiting bottleneck (e.g. 100 users per minute) in the admin platform, controlling the rate at which visitors redirect from the online queue.
If you don't have a virtual waiting room, you could try to coordinate marketing campaigns, for example by sending email blasts out in batches. This would help to avoid bringing everyone to your website at once, though there is nothing to control visitors coming from other sources.
At least, looking at the arrival rate of visitors to your website can help you predict whether you'll soon run into problems. If you see a sizable increase in the rate of arrival to your website, for example, you can start turning off performance intensive features that aren't critical to the customer journey.
3. Know how you will manage visitors arriving before the sale
If you're running a timed ticket sale, you'll likely accumulate visitors on your infrastructure before the start of the onsale. This build-up of visitors can strain your infrastructure and potentially crashes your site. If you're not deliberate about your strategy, you could fail right out of the gate.
If early visitors are landing on static pages, you could use a CDN to minimize the load on your servers, though this wouldn't help for dynamic pages.
Server scaling is another option. But because the traffic increase is difficult to estimate, and takes place in a compressed window of time, it's difficult to plan the scale up of your infrastructure. Alexandre Branquart, CTO of DeinDeal who runs ecommerce campaigns similar to timed ticketing onsales, describes the challenge like this: "Not all components of a technical stack can scale automatically, sometimes the tech part of some components cannot react as fast as the traffic is coming. We have campaigns that start at a precise hour…and in less than 10 seconds, you have all the traffic coming at the same time. Driving this kind of auto-scaling is not trivial."
If you use a virtual waiting room, you can leverage its pre-queue page to show visitors a countdown to the start of the onsale. Because the virtual waiting room takes the traffic hit instead of your infrastructure, it can be an effective tool to hold early visitors while ensuring they don't bring down your website or app.
4. Have a bot mitigation strategy in place
Ticketing was the first industry to suffer the plague of bad bots. And given the fortunes that successful bot operators can make, ticketing bots aren't going away anytime soon. In fact, 39.3% of all ticketing traffic is composed of bad bots, according to a 2019 report from Imperva.
If bots are targeting your onsales, you'll need to show you're taking measures to block them. With stakeholders from politicians to musicians to fan alliances clamoring for fairness in online ticketing, organizations that don't forcefully battle bots do so at their own peril. Indeed, artists are increasingly stipulating bot mitigation in ticketing contract requirements to help protect their relationships with fans.
Because there are so many types of ticket bots and attack vectors, there's not likely to be a silver bullet solution. When there is so much money in reselling tickets, scalpers have money and motivation to get around individual tools. It's a technology arms race. That's why it's crucial that your bot mitigation solutions work together as a cohesive whole.
On account creation, for example, tools like Imperva validate biometric data like mouse movements, mobile swipe, and accelerometer data to distinguish bots from real users, and then feed that data into machine learning algorithms. You can also block or enforce Google's reCAPTCHA on traffic from known bot hosting providers and outdated browsers typically used to run ticket bots.
During the onsale itself, you can target the speed and volume advantages that bots enjoy. A virtual waiting room can help neutralize both. Bots that arrive before the onsale starts are placed in a pre-queue together with legitimate users. When the event launches, everyone in the pre-queue is randomized. This eliminates any advantage in arriving early or hitting the web page milliseconds after the start of the sale. Ticketing organizations can require visitors to enter known data, such as a membership number, to enter the virtual waiting room. Combining known data like this makes impersonating real users exceptionally expensive and complex and is thus a powerful way of combating bots' volume advantage.
Finally, you can implement bot mitigation tactics on the ticket payment step similar to how you would on account creation to flag brute-force attacks like carding or card cracking. Stopping fraudulent account creation also helps prevent online card fraud.  
Related: [GUIDE] Beating Bad Bots & Restoring Fairness to Online Ticketing
5. Control traffic inflow to only let a realistic number of fans in
It's great if your site has high capacity. But if you open the flood gates and allow far more people than there are tickets, you're setting users up for disappointment.
Let's take an example. Assume the below scenario holds for your onsale:
Selling 20,000 tickets
Site can handle 1,000 users per minute
Average cart includes 4 purchased tickets
Cart timeout is 10 minutes
80% of tickets that are reserved end up being purchased
At 0—10 min of the onsale:
At 4 tickets per user, 5,000 users will reserve all 20,000 tickets
Over a 10min span, you only need to let in 500 users per minute—or 50% of your capacity—to achieve this
At 80% purchase rate, 4,000 tickets will be made available again
At 10—20 min of the onsale:
At 4 tickets per user, 1,000 users will reserve (and hopefully purchase) all remaining tickets
Over a 10min span, you only need to let in 100 users per minute—or 10% of your capacity—to achieve this
As Ticketsolve CEO Sean Hanly says, "tickets are emotive, people have a connection to the product. Very often, it's something they have been planning to buy and waiting for the onsale to happen." Anticipation among fans is high, so managing expectations becomes critical.
With a virtual waiting room, you can set the speed at which users enter the onsale process. Fans waiting in line don't have the same expectation of being able to purchase tickets as those who are already in the onsale flow. By controlling the inflow speed, you can create a linear flow in the onsale journey, and slowly reduce the inflow as fewer unsold tickets remain.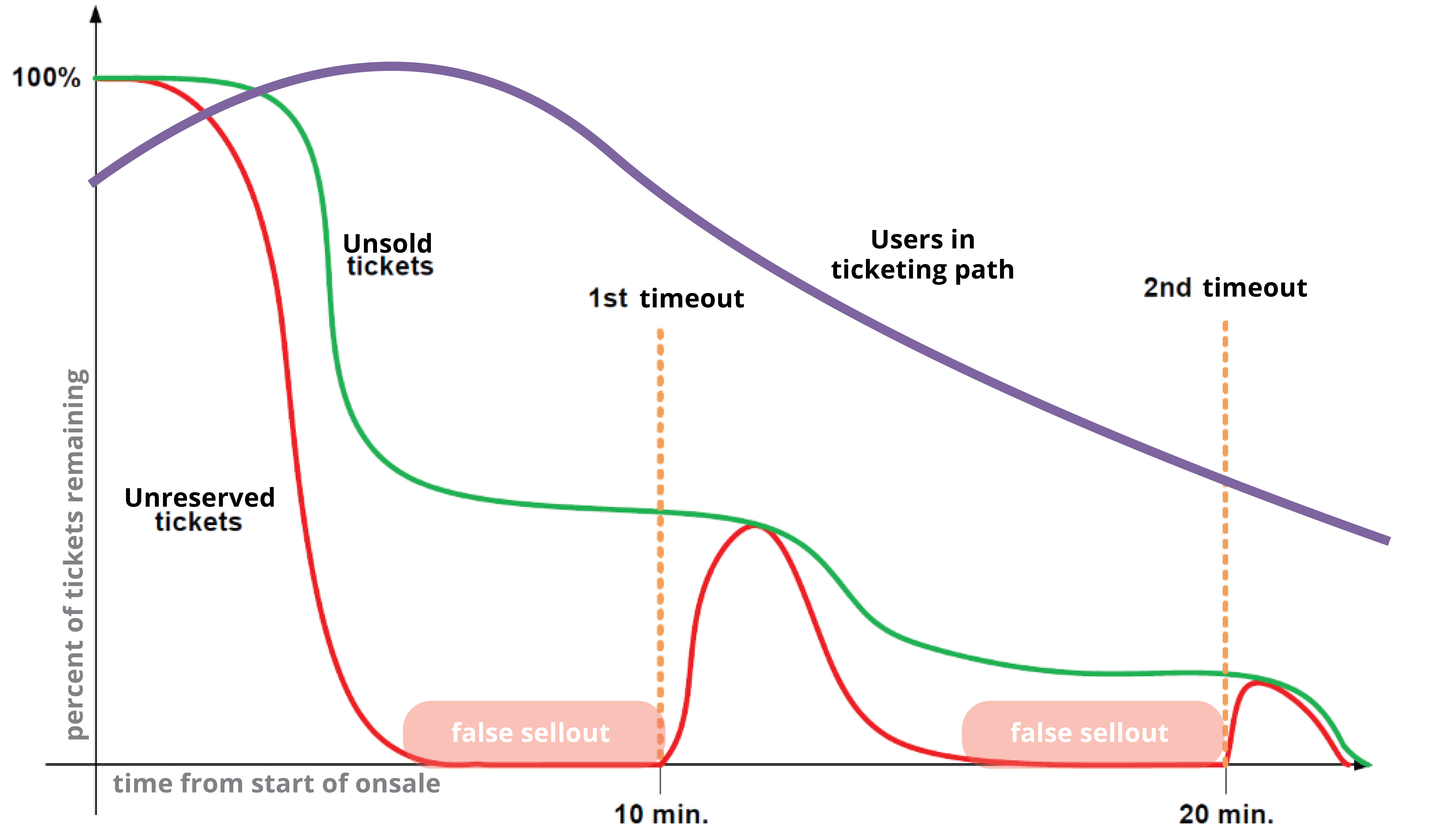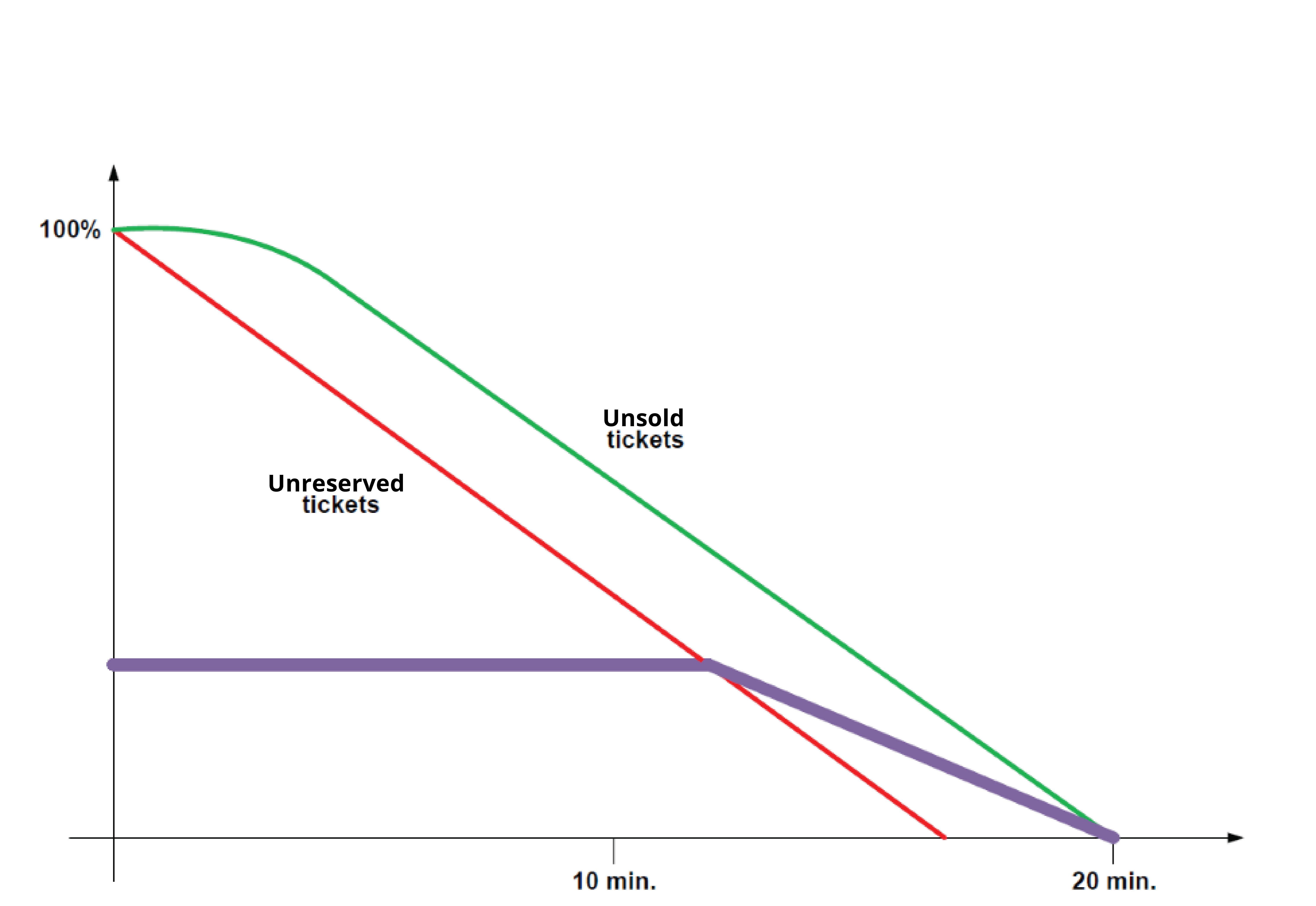 6. Set a reasonable cart timeout period
A 3-minute timeout period will stress your users out. Plus, it will result in lots of fans being kicked out of the ticketing flow before they even have their tickets.
But, a 20-minute timeout period is a lot more than users need. This would unnecessarily extend the onsale and would result in longer periods where all tickets are locked and thus unavailable for purchase.
The length of the total cart timeout will depend on the complexity of the ticket buying purchase. If the event only has general admission tickets, a normal user really shouldn't need more than a few minutes to complete the purchase. Ticket flows that require seating selection, on the other hand, will need a longer time to be completed.
Cart timeouts in the range of 5-10 minutes strike a good balance.
7. Consider implementing a two-tiered cart timeout
A two-tiered timeout function means there is an overall time limit during which the whole flow must happen (e.g. 7 minutes), but there are also timers for the different pages.
For example, there could be 3 minutes to select tickets, 5 minutes to enter personal information, 3 minutes to enter payment information.
Having a shorter overall timeout than the sum of the individual steps helps push people through the process. It also makes it harder to game the system by those who want to keep the tickets locked just so that other people can't purchase them. This is the attack vector Denial of Inventory ticket bots use.
By having several points at which the cart times out and locked tickets are released, it is less likely that there are temporary gaps in ticket availability. A huge block of tickets won't be released 10 minutes after the start of the onsale.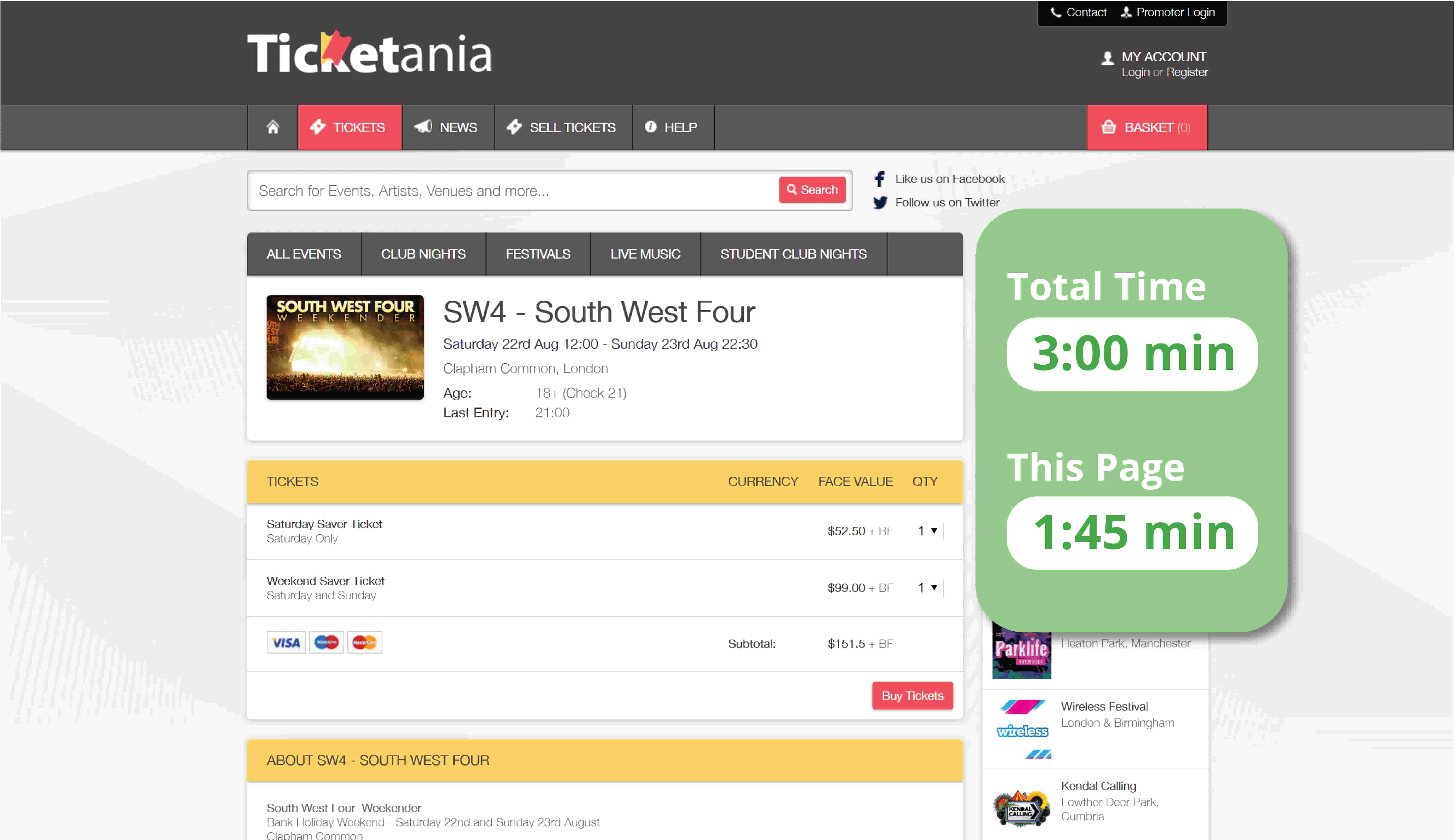 8. Decide how to handle fans who don't get tickets
If you're running a hyped onsale, there will be fans who leave the onsale empty handed. Even if you follow the above tips, it's hard to avoid.
Consider prompting visitors still in the customer journey to sign up for a waiting list. This will also help you get a better picture of the remaining demand, which for concerts can be helpful in discussions with the artist and/or promoter for planning a second show.
Or, use the opportunity to cross-sell related events, which you will be able to tailor based on the current onsale. You show fans you understand them and make them feel you're an ally.
Other ideas include getting fans to sign up for your newsletter or participate in a survey. The survey could for instance gauge interest in different types of future events to help you plan programming.
Whatever you do, ensure you're transparent in your communication. As Kristin Darrow of Tessitura Networks says, "what I notice during onsales is there is this culture that gets built that is like setting up camp, mentally. It's a mini-community that comes together around that moment and event.  And if you can keep ahead of that culture and nurture the good vibes, even if the customer doesn't get tickets, they still feel like they've participated.  That they were part of it." Communication is key to managing expectations and helping fans cope with no getting their hands on tickets.