2021 holiday shopping online retail traffic statistics: 2.54 billion visitors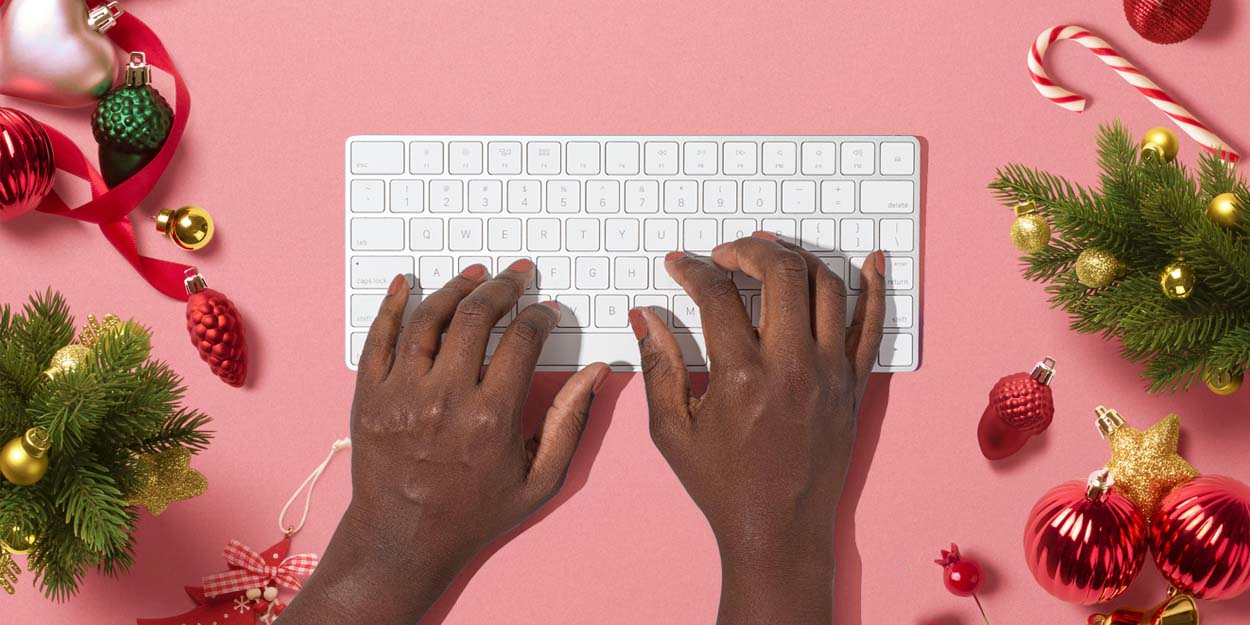 November sees month-long shopping surge. Electronics and Health & Beauty drive massive demand. Traffic spikes into December. Discover what 2.54 billion online visits reveal about the global 2021 holiday season. And find out what it means for online retailers going into 2022.
In the 2020 holiday season, ecommerce web traffic grew a massive 207% year-over-year (YoY) compared to 2019. Since then, there's been one question on every online retailer's mind: can these numbers repeat themselves in 2021?
With the 2021 holiday season behind us, we can finally answer this question, but it's not a simple yes or no.
At Queue-it we tracked 2.54 billion visitors across 97 retailers worldwide from Nov. 1 to Dec. 21 2021 to better understand changing consumer behavior and what retailers can expect going into 2022.
We provide retailers with a virtual waiting room to help control traffic surges to their websites and apps. Although visitors only see a waiting room page when a website or app experiences traffic overload, Queue-it has insight into all traffic requests while the virtual waiting room is in place.
Check out our 6 key findings from almost two months of holiday season shopping statistics and find out what this data teaches retailers preparing for 2022 holiday season sales.
1. Holiday season traffic grew 57% YoY in 2021
While COVID-19 lockdowns saw the fastest rise in ecommerce web traffic on record in 2020, the relaxing of restrictions didn't stop the rise of online shopping in 2021. In 2020, our virtual waiting room tracked 1.57 billion visitors from November 1st to December 21st. In 2021, our virtual waiting room tracked 2.54 billion visitors over the same period.
When normalizing for a larger retail sample, online retail traffic in 2021 grew 57% over 2020.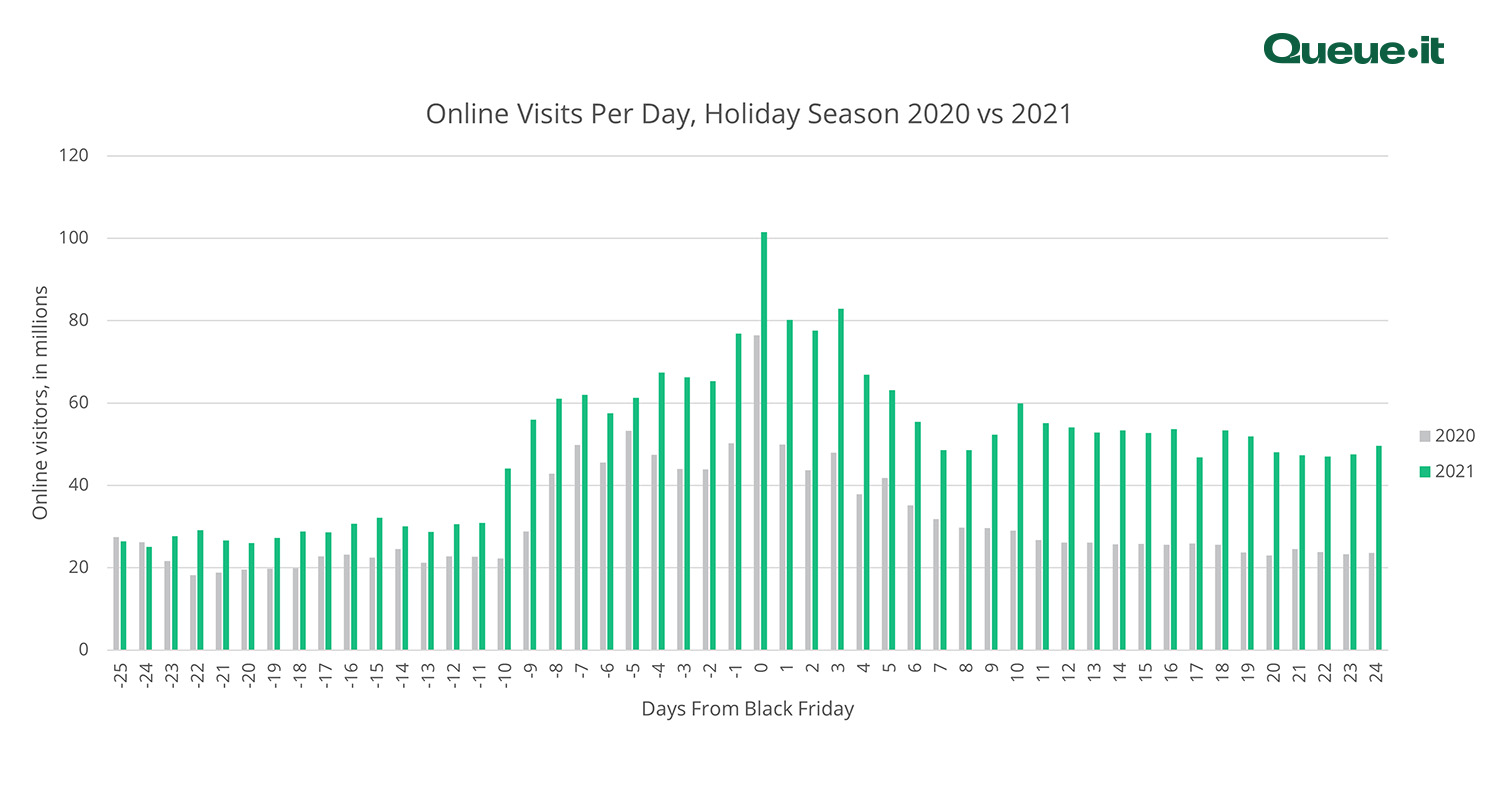 This growth matches many of the predictions we've seen elsewhere, which forecast that while 2020 was a massive year for online shopping, it wasn't a temporary aberration.


A recent Shopkick survey found 55% of consumers think the pandemic has changed the way they will shop forever. Many who turned to ecommerce in 2020 discovered its convenience, and many of those people will continue to shop online long after lockdowns and health risks are a thing of the past.
While the growth of ecommerce sales and traffic wasn't as dramatic as last year, it still grew in 2021, and eMarketer forecasts this growth to continue for years to come.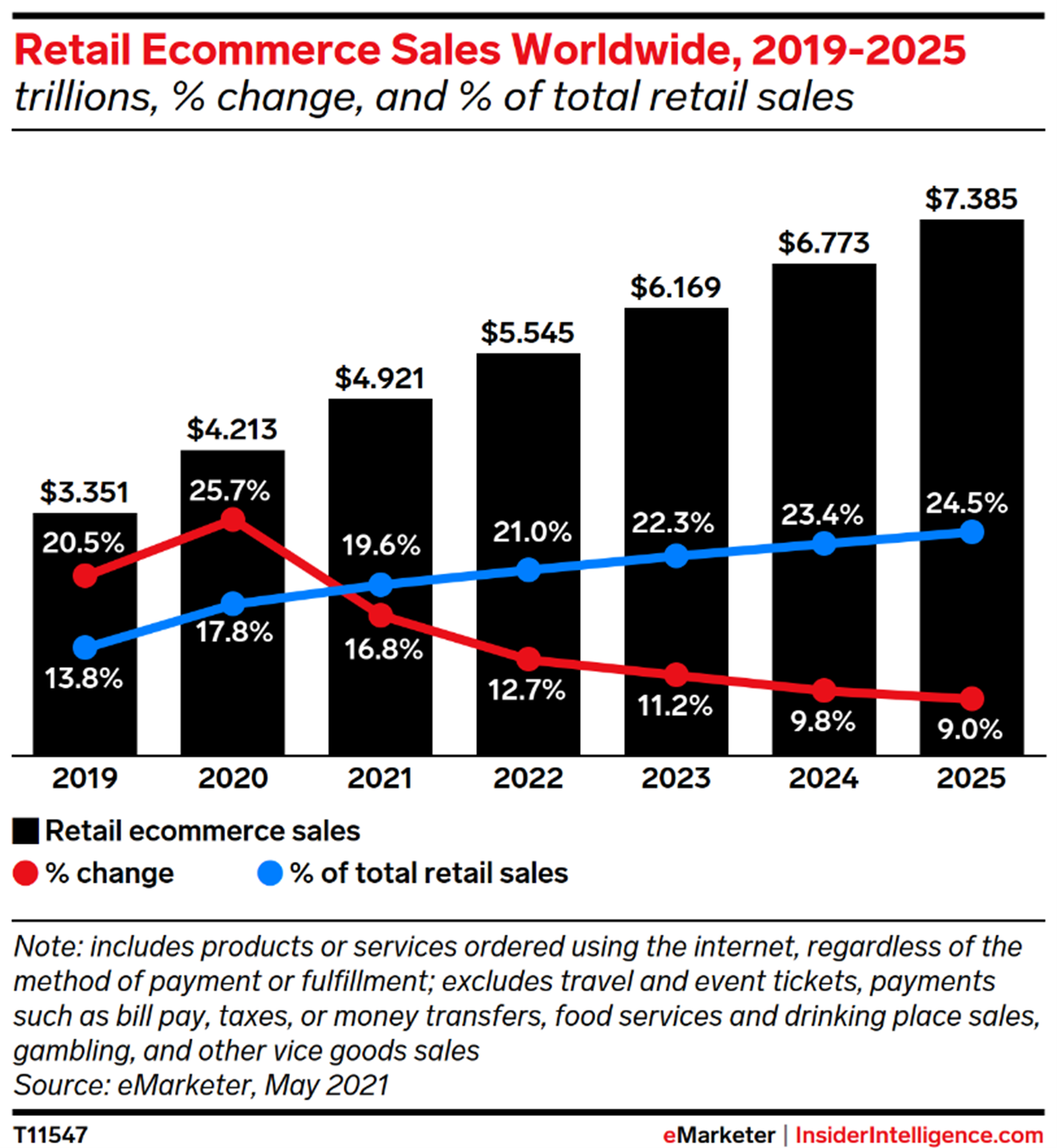 2. Electronics was highest in demand, followed by Health and beauty
Breaking down traffic into categories, electronics retailers took the clear lead in web traffic in 2021. This trend towards higher interest in electronics is not a new one, but its dominance is even larger this year, with web traffic for electronics retailers making up 54% of the traffic we monitored over the holiday season.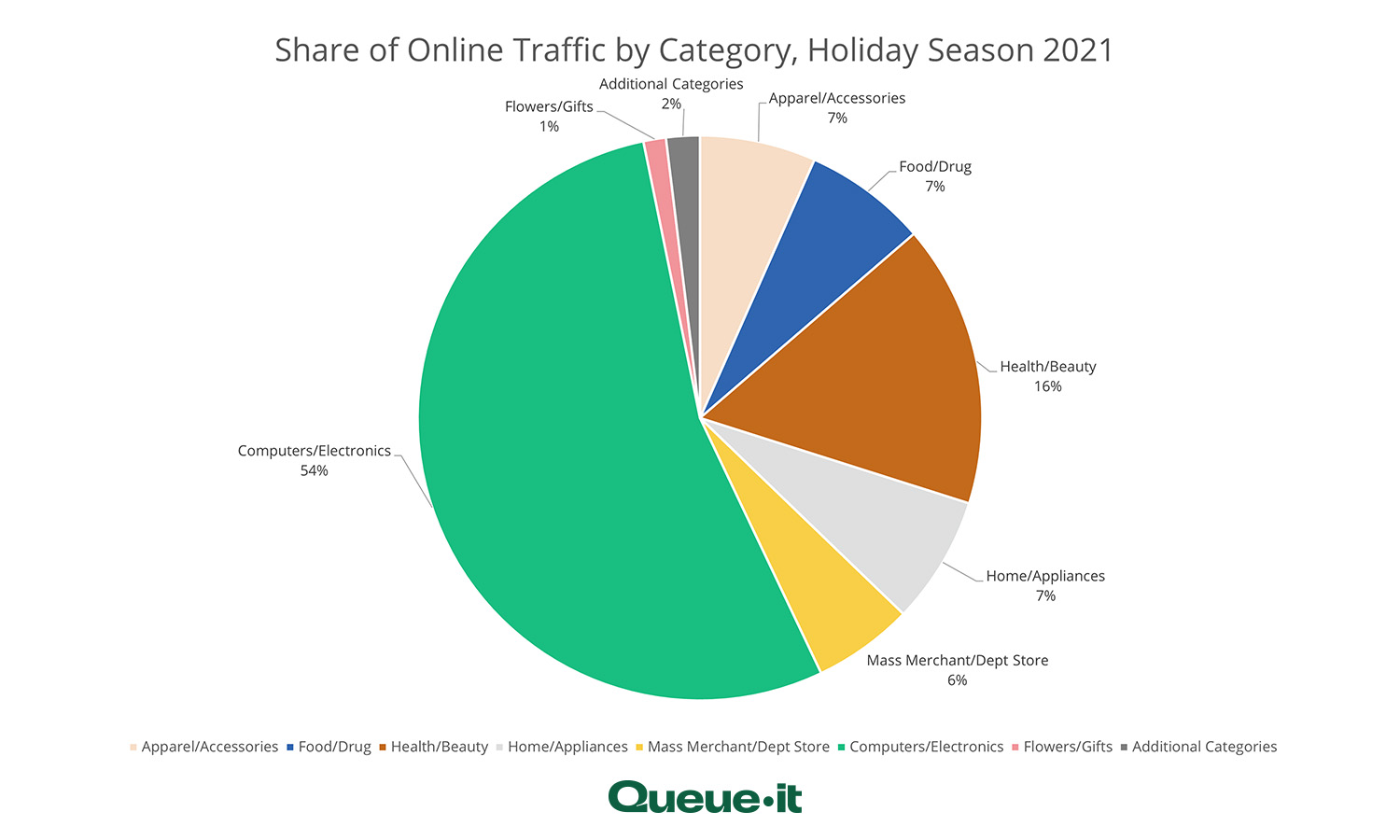 The electronics boom is mirrored in Adobe Analytics' data, which found the top products on major holiday season days included gaming consoles (PS5s, XBOXs, Switches, and Oculus Rifts), laptops, Amazon Echos, soundbars, video games, and AirPods.
Health and Beauty was the second largest category in our sample, making up an impressive 16% of monitored traffic, followed by home & appliances, food & drugs, and apparel & accessories all at 7%.

3. Supply chain shortages drive early holiday season shopping
If the 2020 holiday season was characterized by COVID-19, the 2021 holiday season was characterized by supply chain shortages.
Supply chain shortages sparked a push for customers to shop earlier for a better chance at available stock and on-time shipping. McKinsey found 45% of consumers planned to shop earlier in 2021 due to uncertainty. Of these, 51% were concerned about stock availability, 45% about long lead times in shipping, and 44% about unexpected challenges related to COVID-19.
But this push towards earlier shopping was driven by more than just consumer uncertainty. 59% of retail marketers started their holiday marketing before November. This is likely because shoppers who began shopping before Thanksgiving in 2020 expected to spend an average of $388 more than those who started after the holiday. What's more, 42% of Cyber Weekend purchases were made by repeat buyers. Retailers pushed early holiday season deals and discounts in 2021 to capture loyalty and repeat buyers at the start of the holiday shopping season.
What's the result? An extended holiday season.
Our statistics show the 2021 holiday shopping season was more drawn out than ever. When comparing the same 50 retailers we tracked in both 2020 and 2021, traffic rose far earlier this holiday season, and big shopping days like Black Friday were more muted, likely because of earlier spikes and many consumers having already completed their holiday shopping.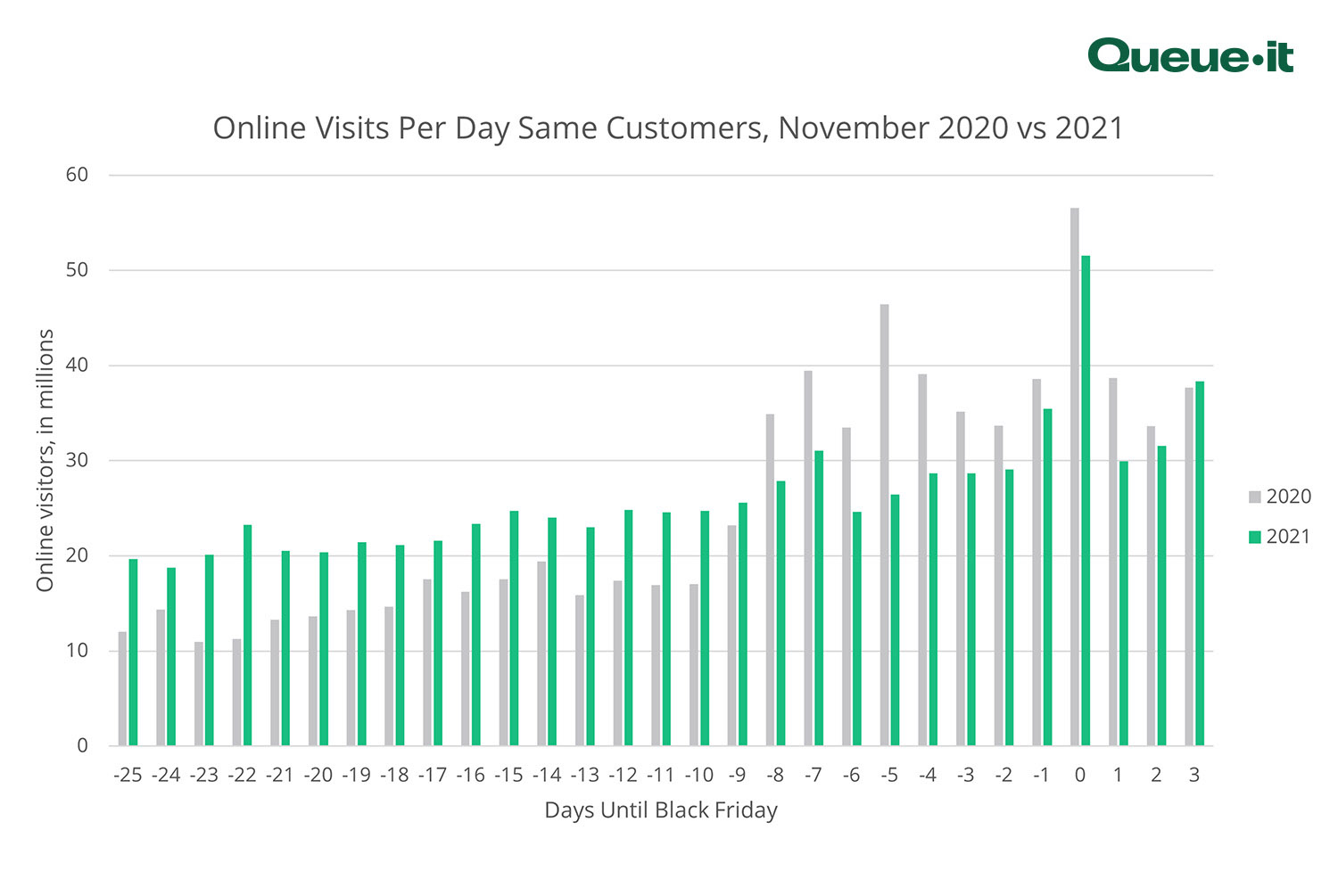 This mirrors data from Adobe Analytics which found spending on Cyber Five (Thanksgiving through to Cyber Monday) actually dropped 1.4% compared with last year, while spending in November was up 11.9% .
Despite this, Cyber Five still looms large, recording the highest traffic days for the entire holiday season period we tracked.
4. Cyber Monday makes gains
Looking at the same retailers we tracked both years, Cyber Monday was the only day in the Cyber Five which saw online traffic rise beyond 2020 levels in 2021. The rise was not massive, but it stands out as the only major shopping event which saw traffic increase among the same sample of retailers.
In the broader sample, too, Cyber Monday overtook Small Business Saturday this year for the second biggest shopping day of the season. Data from Akamai matches this, finding that Cyber Monday web traffic was up 5% YoY while Black Friday web traffic rose only 2%. But higher web traffic doesn't always equate to higher spending—Cyber Monday sales saw a slight drop of 1.4% from last year. Adobe attributes the decline to high out-of-stock messages, which were up 8% from the preceding week.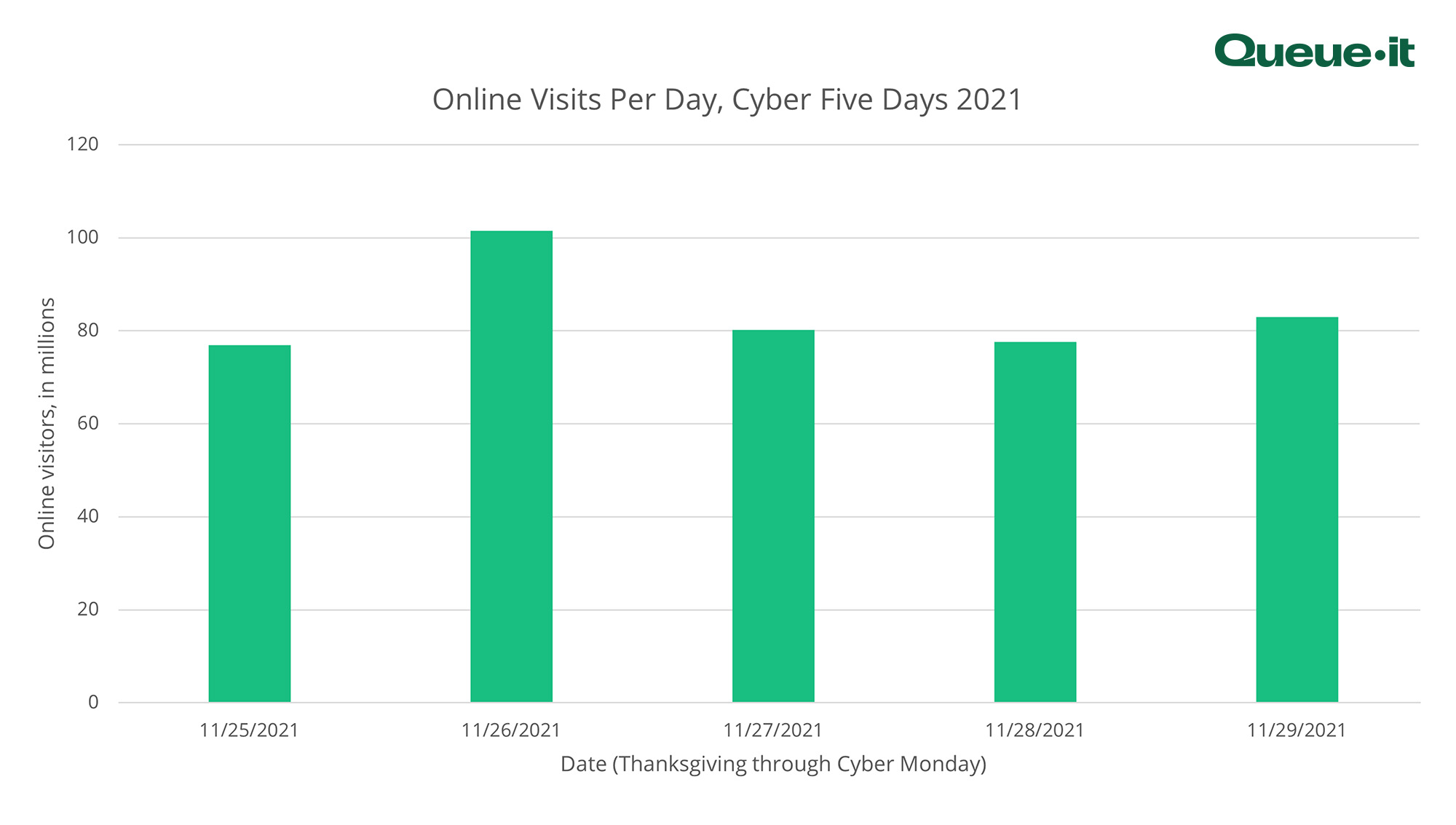 5. Black Friday remains on top
Despite Cyber Monday's gains, Black Friday remains the biggest day of the season, with traffic on the day from our broader sample reaching 100 million visitors. That's 22.4% higher than even the second biggest day of the holiday season (Cyber Monday), and almost quadruple traffic at the start of November.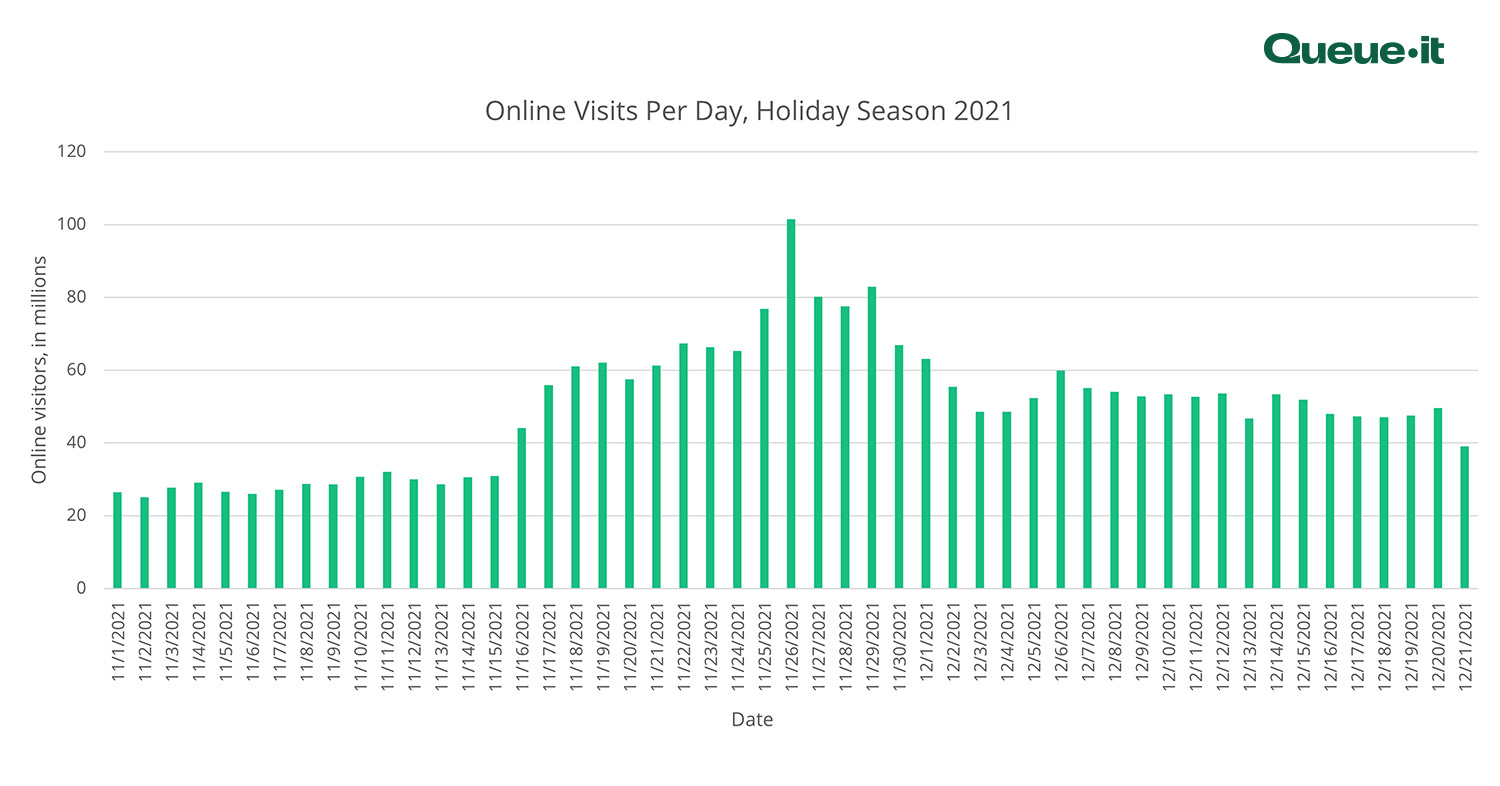 6. Traffic spikes extend into December
More than a week after Black Friday, traffic spiked again, jumping 23.2% from two days prior to reach almost 60 million on December 5th . This differs from our 2020 data in that traffic steadily declined following Black Friday in 2020.
So, what was different this year?
In early December, the Omicron COVID-19 variant made its way into the U.S. and Europe, sparking new fears of increased transmission and vulnerability even among the vaccinated. We can't trace a direct link, but data from Springboard saw footfall in U.K. retail decline by 1.1% in London and 1.6% in regional cities in the week starting December 5th. This footfall decline matches our online traffic surge, potentially explaining the rise in web traffic starting December 5th.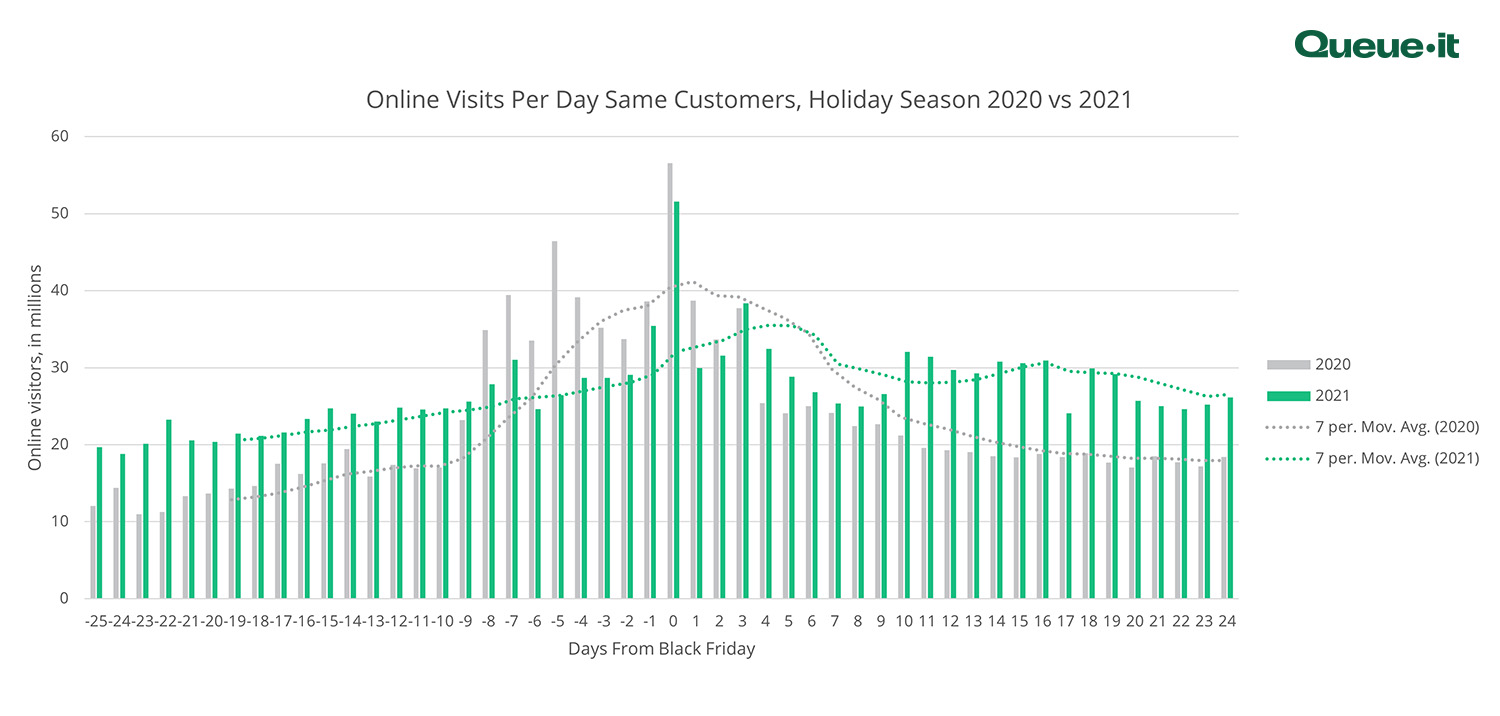 What this means for online retailers
The ecommerce boom isn't going anywhere: while last year's rise in online traffic was unprecedented, traffic rose yet again by 57% this year, showing shopping habits are still changing as more and more consumers switch to online shopping.


Provide great experiences and discounts early to capture repeat buyers: the holiday shopping season is clearly getting longer. But this extension isn't just being driven by supply chain challenges. With earlier customers being more likely to make repeat purchases and spend more, retailers are pushing holiday season deals and discounts earlier to capture customers before Cyber Five even begins. In 2022, retailers should focus on providing customers with great experiences early in the holiday season to capture loyalty and repeat purchases.


Cyber Five still looms large: while web traffic across Cyber Five was slightly lower in 2021 among the same sample of retail clients, those major shopping days remained the biggest drivers of holiday season web traffic. Consumer behavior is changing, and the holiday season is getting longer, but events like Black Friday and Cyber Monday are still hugely important for retail web traffic and sales. In 2022, you should prepare your website for high traffic throughout November, but Cyber Five will be the most crucial days to protect your site from traffic spikes and website crashes.


In unpredictable times, the digital store remains the flagship: retailers counting on a brick-and-mortar bounce back in the 2021 holiday season will be disappointed with the results. Those who put their efforts into improving their ecommerce stores likely reaped the rewards. We said it last year and we'll say it again: digital is the new flagship store for retailers. The second traffic spike seen in December just reiterates that point: when things are uncertain, customers turn to ecommerce.


Scarcity and product launches are major traffic drivers: many electronic goods were affected by shortages of computer chips, but this didn't see demand fall. On the contrary, demand for electronic goods was higher than ever, perhaps driven by the difficulty customers had getting goods like PS5s, phones, and laptops. The scarcity of electronic goods, combined with the hype around product drops and launches, likely contributed to the massive amounts of traffic we saw among electronics retailers in 2021. The same goes for health and beauty goods, which are increasingly moving towards influencer marketing and limited-release product drops. Retailers should leverage these insights for future holiday season sales and create events around their product drops.


Prepare for high traffic: While scarcity marketing and product drops are a great way to increase conversions and get customers excited about a product, they often come with traffic spikes that bring ecommerce websites crashing down. Many major product launches suffered this fate in 2021, with the Google store crashing on the release of Pixel 6 preorders, GAP crashing from its Yeezy GAP jackets drop, and the Chinese Apple store crashing from iPhone preorders. When leveraging the power of product launches to boost sales, retailers need to ensure their websites are prepared to handle the traffic surges.


Methodology
Our data is based on web traffic from a sample of 97 of our online retail customers. The retailers are based in 27 countries across 6 continents. All traffic date stamps are based on UTC. Year-over-year changes are normalized for a larger sample of retailers in 2021.