Discover how Tate, Britain's most popular museum group, tackled massive demand during the long-awaited reopening of their galleries after COVID—and how they've used the same tool to protect their biggest onsales ever since.
Tate operates several of Britain's largest and most popular art galleries, including Tate Modern and Tate Britain in London, as well as Tate Liverpool and Tate St Ives.
Tate's 4 museums hold the national British collection of art. Their mission is to increase the public's understanding and enjoyment of that collection.
With almost 9 million annual visitors (pre-COVID), and the world's largest arts membership scheme, it's safe to say Tate is fulfilling that mission.
But reopening the Tate galleries after months of COVID-19 lockdowns posed significant challenges. People were "starved" for the arts, says Jon Haworth, Tate's Sr. Commercial Systems Manager. And to make things more difficult, capacity restrictions meant access slots for Tate's museums were smaller than ever.
This combination of higher-than-ever demand and lower-than-ever supply was a recipe for unfair ticket onsales and frustrated customers. Discover how Tate used Queue-it to deliver a smooth experience and protect their website for reopening, and how the virtual waiting room solution became "an essential tool" during their biggest onsales.
The reopening of the Tate galleries in mid-2020 was a big deal. For months during COVID-19 lockdowns, Britian's national collection of art sat in Tate's galleries virtually untouched. It was art without anyone to appreciate it.
"When we reopened the doors after the lockdowns, loads of Tate staff came down by the entrance of Tate Britain at 10:00 in the morning," Haworth says. "We all felt we had to be there. It was such an incredible moment."
But this incredible moment didn't come without significant preparation. Lockdowns had eased, but public spaces still had strict capacity restrictions. And the pent-up demand after months of closure meant Tate galleries not only had smaller capacity, they also had much larger demand.
Just days before reopening, the Tate team watched as another major London gallery released tickets—and crashed—under extremely similar circumstances.
"They went on sale a couple days before us and their website just fell over right away. We started panicking," Haworth says. "At the time we had a very legacy ticketing system that would crash under any little burst in load. So we phoned our friends at this gallery and asked them 'What's going on? What kind of load are you seeing'. It quickly became obvious that there was no way we were going to be able to support our online sales."
They told us they connected with Queue-it and it kind of saved the day for them, because it was able to be set up so quickly. And so, we were like 'hey, maybe we need to talk to Queue-it as well.'"
Tate reached out to Queue-it and had a virtual waiting room set up in "about 24 hours" says Haworth.
"Queue-it really did a good job for us there. We were up very quickly. The integration was really easy. The guys on the team were really helpful when we had some problems. We put it in front of the booking flow when we reopened the gallery and it was great. Everything worked perfectly. It was a really good experience."'
When the tickets went live, Haworth watched in the GO Queue-it Platform as the traffic spiked, saying, "We quickly realized we 100% would have crashed had we not put Queue-it in place."
"The sense of relief we got from Queue-it was helpful because it was a very stressful time. And so to be able to take away one big worry is very nice. It's a testament Queue-it's onboarding team."
Jon Haworth, Sr. Commercial Systems Manager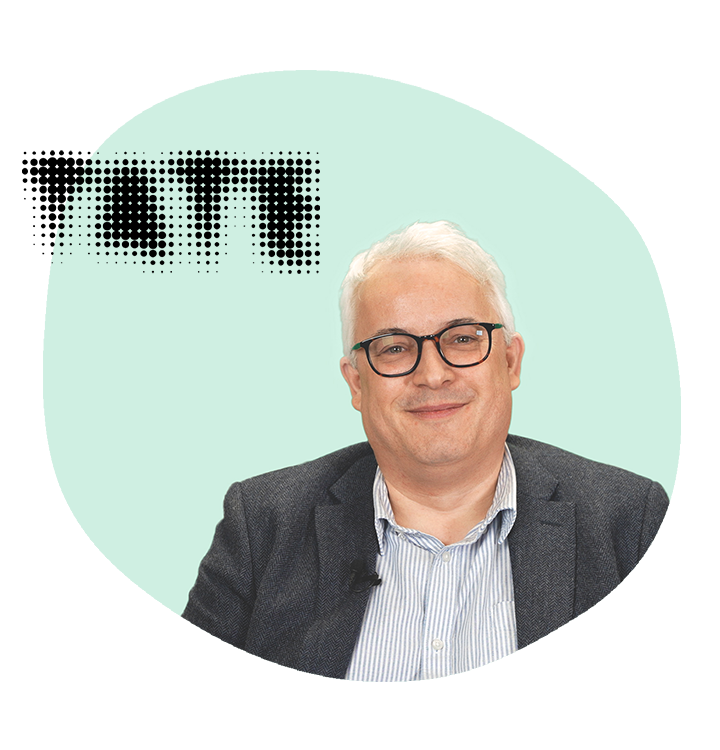 As COVID-19 restrictions eased, the Tate galleries transitioned back to non-ticketed entry. But their use of Queue-it didn't stop there.
"We actually have a waiting room running right now," Haworth told us when we sat down with him at Ticketing Professionals Conference in Birmingham.
"We're using Queue-it for the Kusama Infinity Mirror Rooms at Tate Modern, which is a really popular and unbelievably Instagrammable exhibition, where we release tickets in batches of 6 months."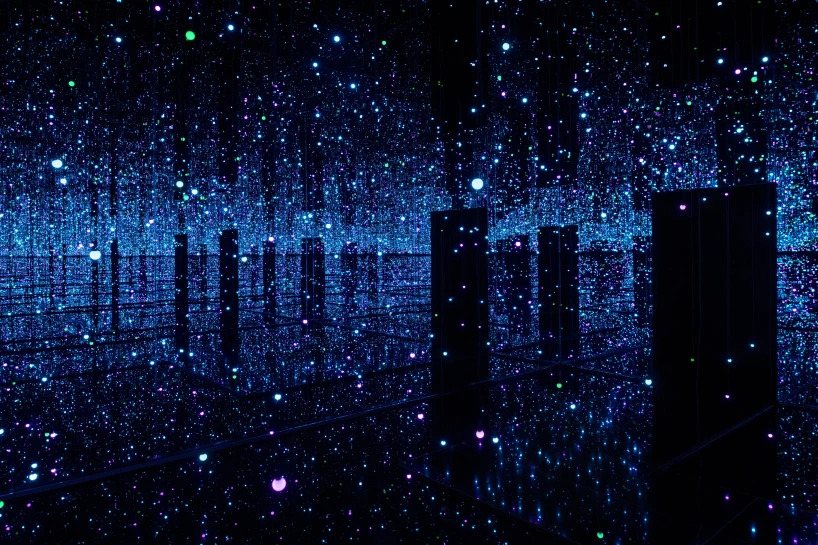 "There were 80,000 tickets on sale at 10:00 this morning. When they went on sale there were already 2,000 people waiting to get in the queue to buy those tickets. … I expect we'll sell all of them or nearly all of them today. But everybody gets a great experience in that sale because actually it feels like a kind of measured and controlled thing and the ticketing system doesn't crash."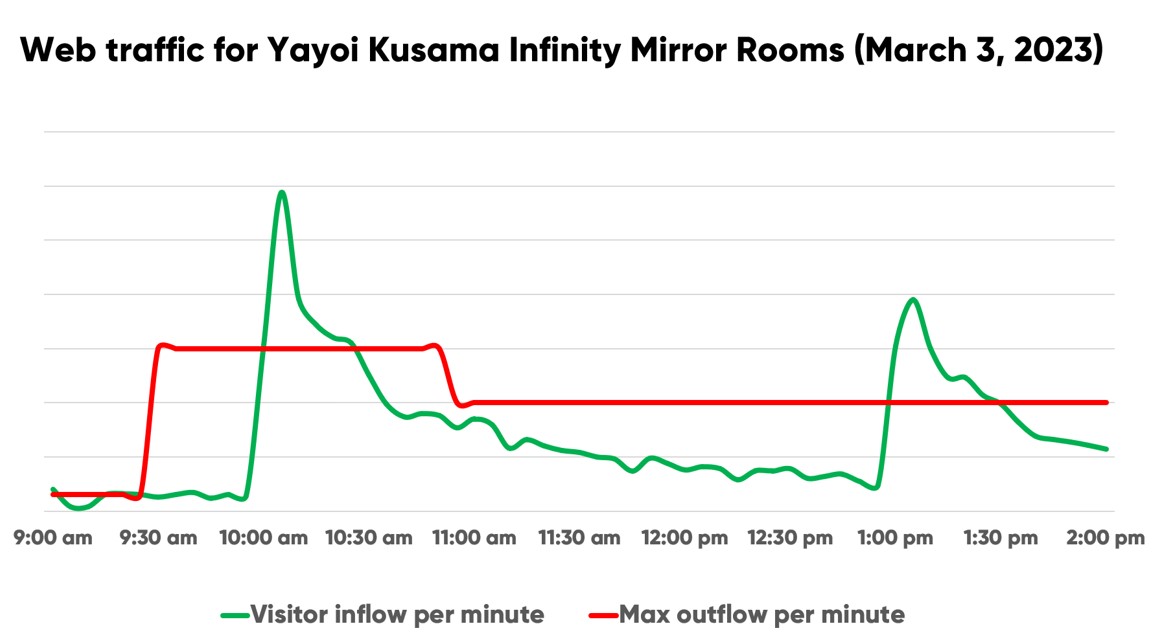 "One of the features that we really like is the ability to get the email when you get towards the front of the queue," Haworth says. "We see a lot of people using that because of course it means that if you see there's a 45 minute wait, you just pop your email in the form and 10 minutes before it's your turn, you get that notification."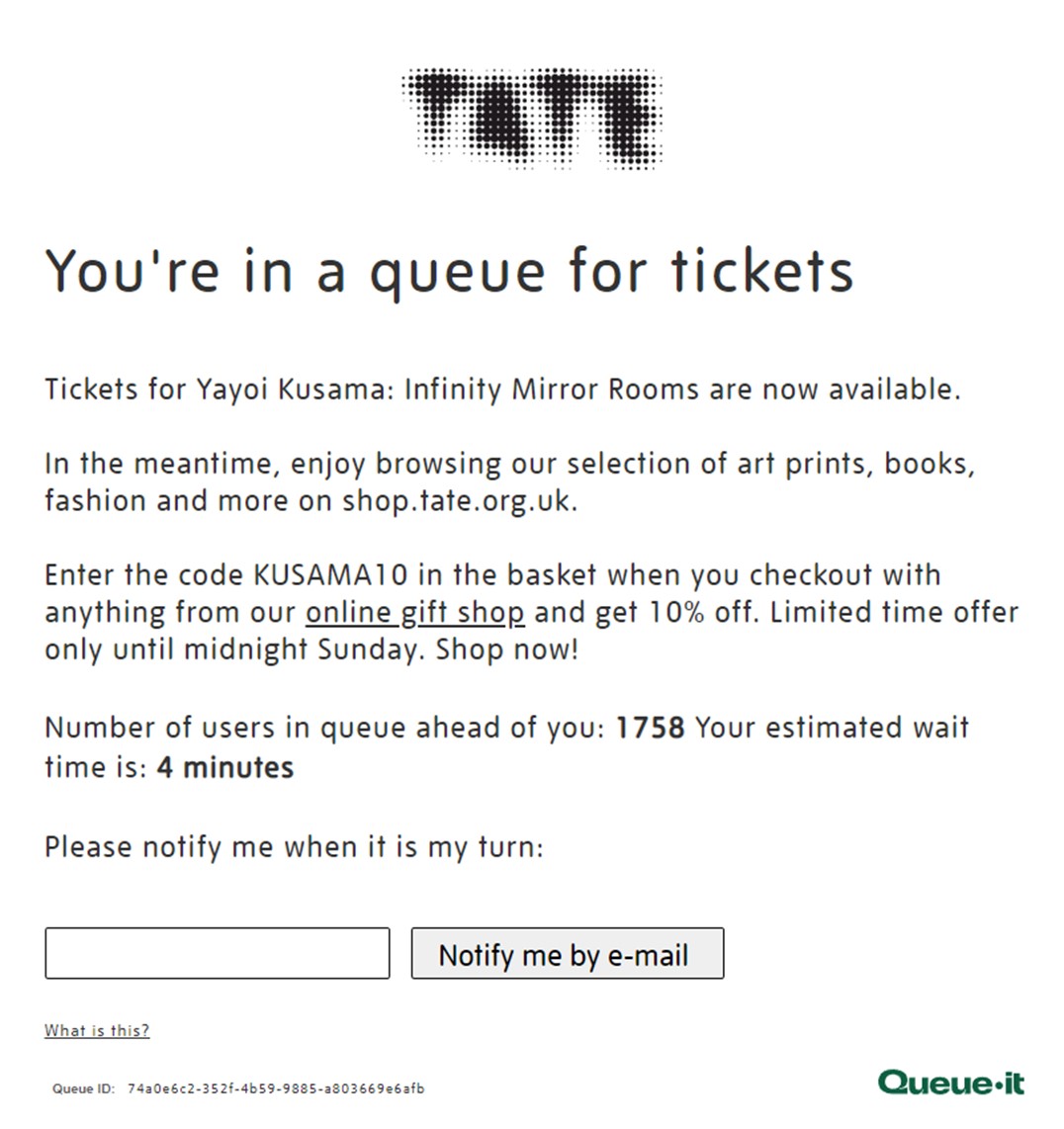 The waiting room itself gives Tate additional real estate to improve the experience, too. "We put a banner on the waiting room page that links you through to the shop website with the promo code … The uptake on that is really good and that's great for a customer because it's a little added bonus that they weren't expecting. That's great for us because it drives more revenue as well."
When asked what he'd miss most if he couldn't use Queue-it anymore, Haworth says there are two key things: (1) the benefits to the customer experience, and (2) the protection of the backend systems.
"Who wants a bad experience for people booking tickets?" he asks. "That's not what we do. That's not what our customers deserve. We want to give them the best experience possible. And [Queue-it] is one of the tools that we have in our arsenal to do that."
"The feedback on Queue-it has been kind of overwhelmingly positive. It's anecdotal, but I've seen tweets and emails from people that said 'Thanks, it was a really great experience.' Or, you know, 'I got the ticket I wanted and I loved the give us your email feature.'"
Jon Haworth, Sr. Commercial Systems Manager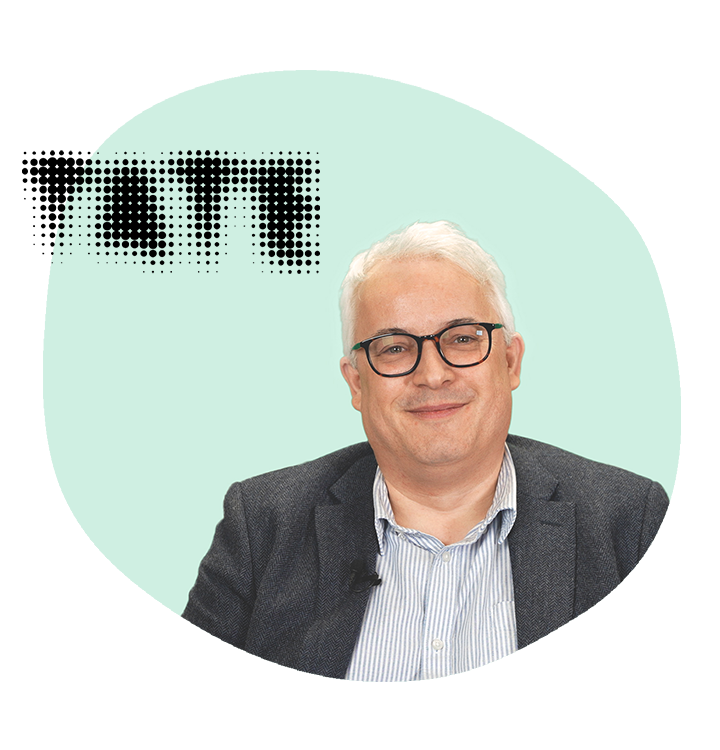 "And then obviously the thought of the backend systems not being able to hold up and then collapsing," Haworth continues. "And that making everybody's life difficult—not just customers but staff in the gallery as well."
"For me that's where Queue-it is kind of an essential tool for us—that it provides for both of those things."
From a cost-perspective, too, Haworth calls Queue-it "a really sensible approach; because it means we don't have to scale our systems to cope with the highest peak possible."
With an upgraded ticketing system and control over web traffic peaks, Haworth and Tate's digital teams are now focused on "trying to deepen someone's ability to have a great day out at Tate."
"For us it's all about making that experience better and deepening that engagement and making what we do even more meaningful to people. And offering a better online booking experience is a big part of that."