Queue-it & Carahsoft expand partnership to provide service to Federal Government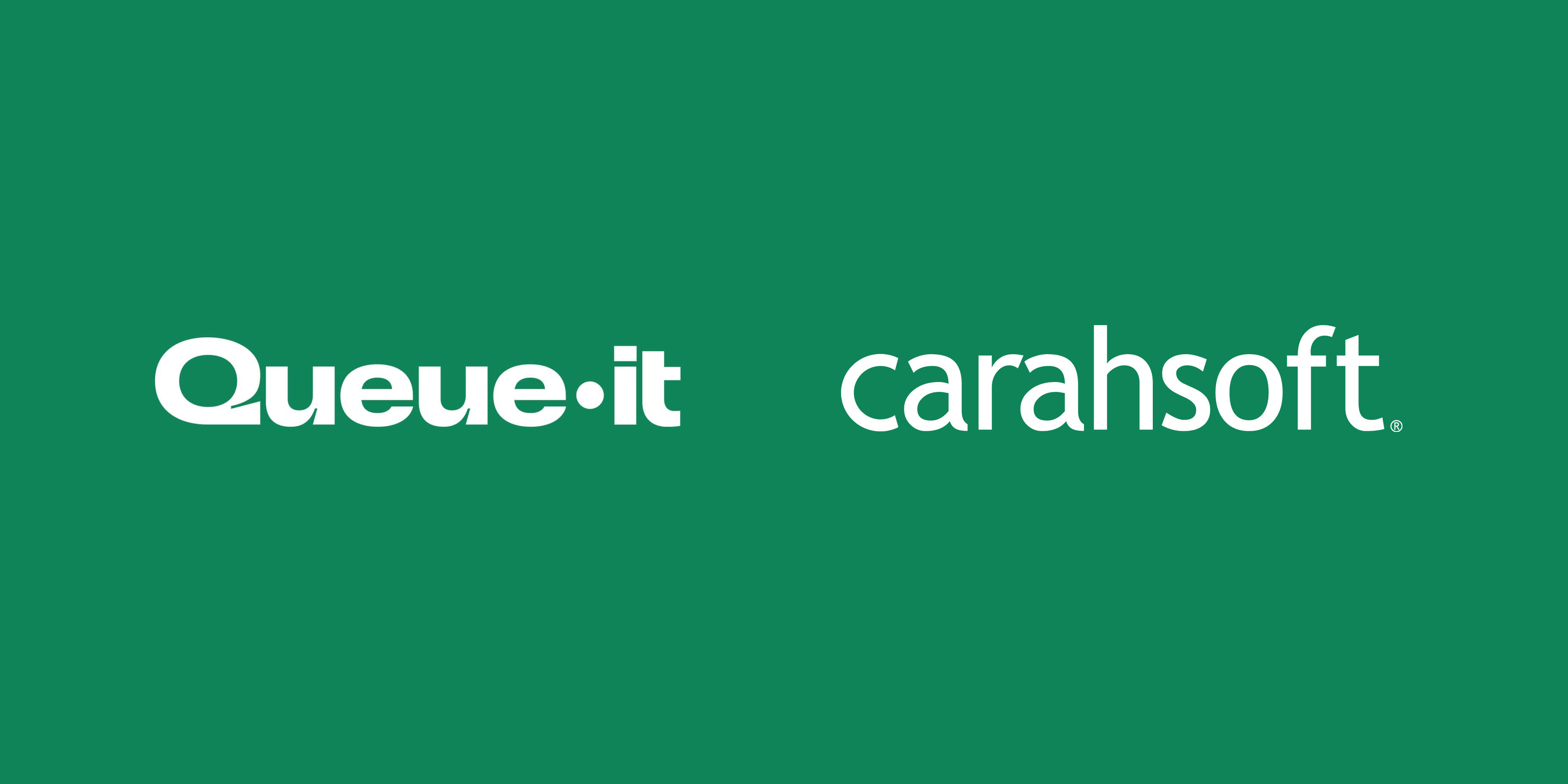 Agencies now have access to a powerful solution to deliver fair & reliable customer experience for in-demand digital public services.
MINNEAPOLIS, MN. and RESTON, Va. – June 20, 2023 –- Queue-it, the market leader in virtual waiting room software and services, and Carahsoft Technology Corp., The Trusted Government IT Solutions Provider®, today announce a partnership. Under the agreement, Carahsoft will serve as Queue-it's Master Government Aggregator® making the company's industry-leading virtual waiting room solution available to Federal agencies through Carahsoft's reseller partners and NASA Solutions for Enterprise-Wide Procurement (SEWP) V, and Information Technology Enterprise Solutions – Software 2 (ITES-SW2), and additional State and Local, and Educational contracts.
Queue-it's virtual waiting room solution helps Public Sector organizations prevent website crashes and outages due to high demand and deliver a fair and improved customer experience.
"As the U.S. Public Sector undergoes its citizen experience-focused digital transformation, it has become more important than ever that websites and apps work as they should," says Phil Hanson, the North American CEO of Queue-it. "We're excited to expand our partnership with Carahsoft to empower Federal agencies to safeguard their websites and digital public services from usage spikes to deliver a fairer, more reliable experience for customers."
Improving Federal services and customer experience is among the three top priorities for the White House Administration. Executive Order 14058, signed in 2021, directed 17 Federal agencies and 35 High-Impact Service Providers to modernize the way they deliver critical services to Americans, which included bringing many critical services online. The expanded partnership between Queue-it and Carahsoft makes it easier for Federal agencies to use the virtual waiting room to ensure their critical public services and websites remain online and available when citizens need them most.
"With the addition of Queue-it to these Federal contracts, we are now able to offer a trusted solution to help Federal agencies and High-Impact Service Providers deliver fair and reliable digital public services, no matter the demand," said Patrick Gallagher, Vice President who leads the Queue-it Team at Carahsoft. "We look forward to working with Queue-it and our reseller partners to help our customers improve their online services for citizens."
Queue-it's virtual waiting room has been used for over a decade by Public Sector agencies across the globe in scenarios where demand for digital public services is high, including filing taxes, registering for recreational activities, and applying for unemployment benefits or Government assistance. The waiting room became crucial for Government agencies across the U.S. and the world in recent years when many public services moved online and demand for services such as COVID-19 vaccination registrations and testing resulted in website crashes and unfair distribution of vaccination slots. Discover a selection of the Public Sector clients Queue-it works with at queue-it.com/success-stories/?category=public-sector.
Queue-it's software and services are now available through Carahsoft's SEWP V contracts NNG15SC03B and NNG15SC27B, ITES-SW2 contract W52P1J-20-D-0042 and additional State and Local, and Educational contracts. For more information, contact the Queue-it team at Carahsoft at (833) 478-1740 or QueueIT@Carahsoft.com.
Carahsoft's Customer Experience and Engagement solutions encompass a variety of industry-leading software and services that analyze and disseminate information to constituents, the public and the community. To learn more about Carahsoft's Customer Experience and Engagement solutions, visit www.carahsoft.com/solve/customer-experience-and-engagement.
About Queue-it
Queue-it is the leading developer of virtual waiting room services to control website and app traffic surges by offloading visitors to a waiting room. Its powerful SaaS platform enables enterprises and governments around the globe to keep their systems online and visitors informed, delivering fair and reliable customer experiences on their busiest days. The use of Queue-it has ensured online fairness during high-demand campaigns and activities for billions of users worldwide. The company is headquartered in Denmark and has offices in the U.S. and Australia. For more information, please visit https://queue-it.com. You can find our contact information at www.queue-it.com/press.


Contact:
Patrick Spring, VP of Marketing
M: +45 31 31 81 74


About Carahsoft

Carahsoft Technology Corp. is The Trusted Government IT Solutions Provider®, supporting Public Sector organizations across Federal, State and Local Government agencies and Education and Healthcare markets. As the Master Government Aggregator® for our vendor partners, we deliver solutions for Cybersecurity, MultiCloud, DevSecOps, Big Data, Artificial Intelligence, Open Source, Customer Experience and Engagement, and more. Working with resellers, systems integrators and consultants, our sales and marketing teams provide industry leading IT products, services and training through hundreds of contract vehicles. Visit us at www.carahsoft.com.


Contact:
Mary Lange
703-230-7434