Queue-it announces new CEO as company continues global growth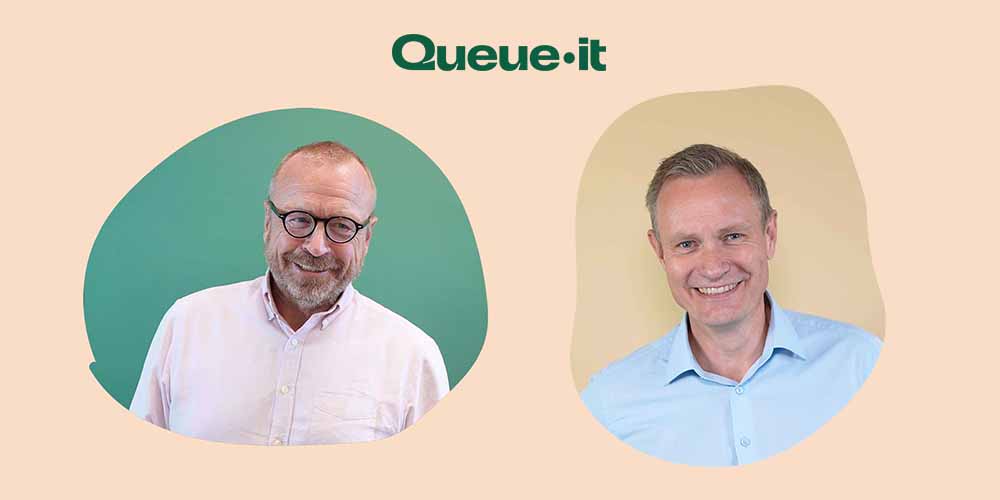 Jesper Essendrop takes over as new CEO with co-founder and longtime CEO Niels Henrik Sodemann staying on in new role.
Queue-it, a leader in virtual waiting room software and services, today announces Jesper Essendrop as its new CEO.
An experienced business leader, Essendrop will succeed co-founder and current CEO Niels Henrik Sodemann, joining October 10, 2022 as Deputy CEO and moving into the CEO role on January 1, 2023.
Essendrop has 25+ years of C-level experience in tech and business-to-business software companies. He brings a proven track record of driving growth and leading highly specialized teams with a focus on empowering organizations to transform through technology.
"I was immediately drawn to Queue-it because of their truly global reach, great company culture, and legacy of strong performance," says Essendrop. "Niels and the other co-founders have developed a market-leading product and first-rate support team, and I'm looking forward to continuing our growth journey in the years to come."
Under Sodemann's direction and bolstered by GRO Capital's acquisition in March 2020, the company grew from its inception to 200+ employees, opened offices in Denmark, the U.S., and Australia, and has delivered 40% compounded annual growth. After choosing to step aside as CEO, Sodemann will continue to stay involved in the business and support initiatives of strategic importance to Queue-it.
"Jesper joining the company will bring a new dynamic to the leadership team and let me focus on supporting our Queue-it community, driving product innovation, and working more closely with our customers," says Sodemann.
Essendrop joins Queue-it as the company enters a new phase of expansion after increased market awareness and revenue growth. The company has found global success, with 45% of revenue generated in the EMEA, 40% in U.S., and 15% in APAC.
"On behalf of the Board and GRO Capital, I am pleased to welcome Jesper to the Queue-it team," says Todd O'Neill, Chairman. "Jesper is a proven leader, whose experience in business-to-business software uniquely positions him to take us into the next phase of growth. It is a testament to the leadership of Niels that we are able to welcome Jesper, and the Board and I look forward to working with them both."
About Queue-it
Queue-it is the leading developer of virtual waiting room services to control website and app traffic surges by offloading visitors to a waiting room. Its powerful SaaS platform enables enterprises and governments around the globe to keep their systems online and visitors informed, capturing key sales and online activity on their most critical days. The use of Queue-it has ensured online fairness during high-demand campaigns and activities for billions of users worldwide. The company was founded in Copenhagen, Denmark in 2010 and saw GRO Capital join as majority stakeholder in 2020. Queue-it is headquartered in Denmark and has offices in the U.S. and Australia. For more information, please visit https://queue-it.com. You can find our contact information at www.queue-it.com/press.
Contacts:
Jesper Essendrop
M: +45 31 45 43 00