Solutions Architect
Location:

Copenhagen
Team:

Technology
Type:

Full-Time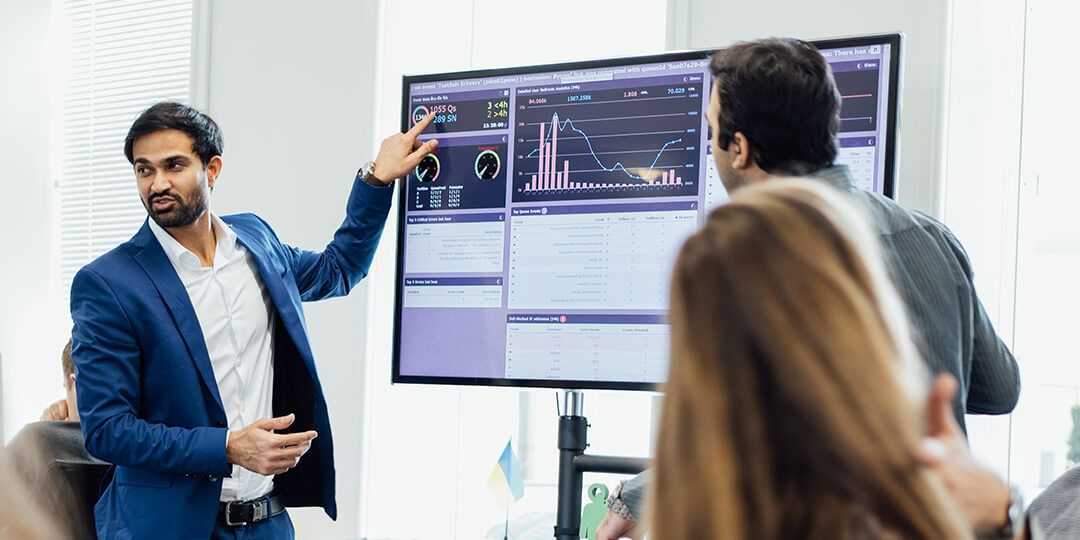 At Queue-it, we are looking for enthusiastic and motivated people who want to take ownership while also keeping the workday fun.
As a Solutions Architect at Queue-it, you are a key contributor to our growth by providing technical recommendations to Queue-it's enterprise-level customers.
Applying your knowledge of our product and matching it to our customers' web application architectures, use cases, and business challenges you will guide them to the ideal implementation of Queue-it. With your help completing a successful integration of our virtual waiting room system, our enterprise customer' advanced tech setups will stay online for their most important high-demand events.
We guarantee that no two days are the same. If you are ready to have a high degree of influence and responsibility in executing tasks and are excited about delivering online fairness together with a passionate team of Designers, Developers, Solutions Engineers and Account Executives, then join us!
What you get to do:
Guide and educate customers with technical recommendations on integrating and using the product
Introduce customers to the product and its capabilities through demo and technical Q&A
Translate complex use cases and apply understanding of various technology platforms and languages to prescribe the best integration strategy for our customers
Collaborate with customers and external technology partners, as well as our team of Solutions Architects, Designers, Developers, and Account Executives to ensure successful delivery and integration of our product.
Take advantage of a flexible workday, in line with our customers' needs, where you plan and manage your own time and tasks so you can enjoy a work-life balance
What you bring to the team:
Bachelor's degree or equivalent education or experience
10+ years' of working with extensive web application development or architecture
Experience with programming frameworks in general is preferred. Specifically, JavaScript and .NET, JAVA or PHP skills will be an advantage
Experience with ecommerce platforms, such as SAP Hybris, Magento, Shopify etc. and/or ticketing technology considered a plus
In-depth knowledge of high-performance website optimization techniques commonly used in ecommerce platforms and/or ticketing software, such as caching, load balancing, etc.
Ability to interface at all levels in an organization
Great troubleshooting and analytical skills
Project Management skills and proficiency in handling multiple projects and customers simultaneously
Genuinely excited to help customers and solve problems
Natural collaborator who values delivering a world-class customer experience with a first-class product
Excellent communication skills in English, both written and verbal as the company language is English (Danish not required)
Other language skills as French, Spanish or Portuguese will be considered a plus
About Queue-it:
Queue-it is a fast-growing technology company with a strong focus on changing how high-demand online events are handled. We take great pride in always being on top of the situation with our customers, and we love that we deliver online fairness to billions of end-users globally. Our culture is open, multicultural, flexible, and dynamic, with opportunities for great individual development, responsibility, and initiative. This role will be perfect for someone interested in joining a growth-stage tech company, as you will be able to truly make a difference by applying your unique talent. Queue-it is located in The Camp by Talent Garden, which is a great co-working space for tech companies, in Ballerup, near Copenhagen, Denmark.
The position is full time and starts as soon as possible.
If you have any questions related to this position, please do not hesitate to contact VP of Technical Engagement Management, Michael Rasmussen at mira@queue-it.com.
To apply, e-mail your CV and application to our HR team at hr@queue-it.com and tell us how you will contribute to our team and growth.
Queue-it is committed to employing a diverse staff. Qualified applicants will receive consideration without regard to race, color, religion, sex, national origin, age, sexual orientation, gender identity, gender expression, veteran status, or disability.