Custom themes use CSS-files, HTML iframes, and/or JavaScript to customize and design the look and feel of the waiting room pages your visitors see when in your waiting rooms. Customizing the waiting room lets you control your visitors' visual experience and incorporate your brand's identity, giving your visitors a seamless user experience from waiting room to checkout.
---
Custom themes use CSS-files, HTML iframes, and/or JavaScript to customize and design the look and feel of the waiting room pages that your visitors will see while they are in your waiting rooms.
You manage your waiting room themes in the GO Queue-it Platform, our web-based admin console, where you're able to upload the designed HTML pages and assets.
Your visitors will see a different page depending on your waiting room's phase. The distinct waiting room pages that you can customize are as follows:
Pre-queue View: The page displayed before the waiting room start time
Queue View: The page displayed while the waiting room is running
Post-queue View: The page displayed after the waiting room end time
Error View: The page displayed in case of errors
You can design the waiting room page as if it were a part of your website, giving your customers a seamless and branded journey from waiting room to checkout. You can:
Upload your own background image, including animations
Add your logo
Use your company's font and colors
Customize the progress bar
Select which wait information is shown
Have the waiting room page appear in multiple languages
Embed videos, links, photo galleries, Twitter feeds, and/or games
We have several UI experts on our team who can guide you in the HTML/CSS design. Your business can generate the custom theme, or if you prefer Queue-it can create one for you in 1-2 business days.
Watch the video below for a visual tour of possible customizations of your waiting room.
To see examples from our customers, visit our waiting room gallery.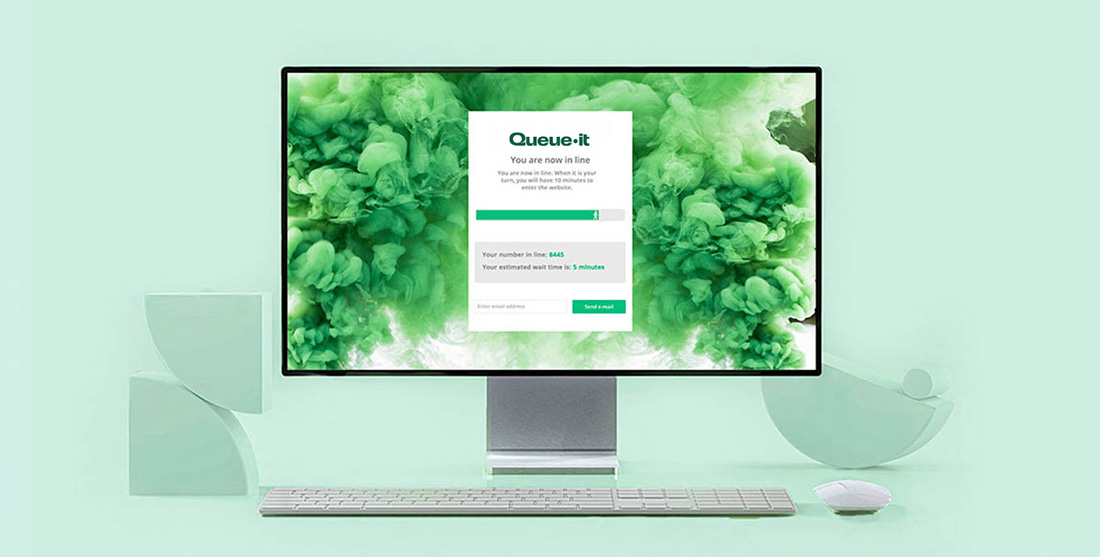 ---
Academic studies on queue psychology show how people feel when they wait matters far more than how long they wait. When designing your custom theme it's important to follow the 6 proven rules of queue psychology to help to provide a good experience.
When displaying progress on your waiting room theme you have the option to show either or both:
progress bar
number of users ahead
Additional options to display/hide on your waiting room theme include: showing the
queue number
logo
language selector
absolute expected service time
relative expected service time
dynamic message
email notification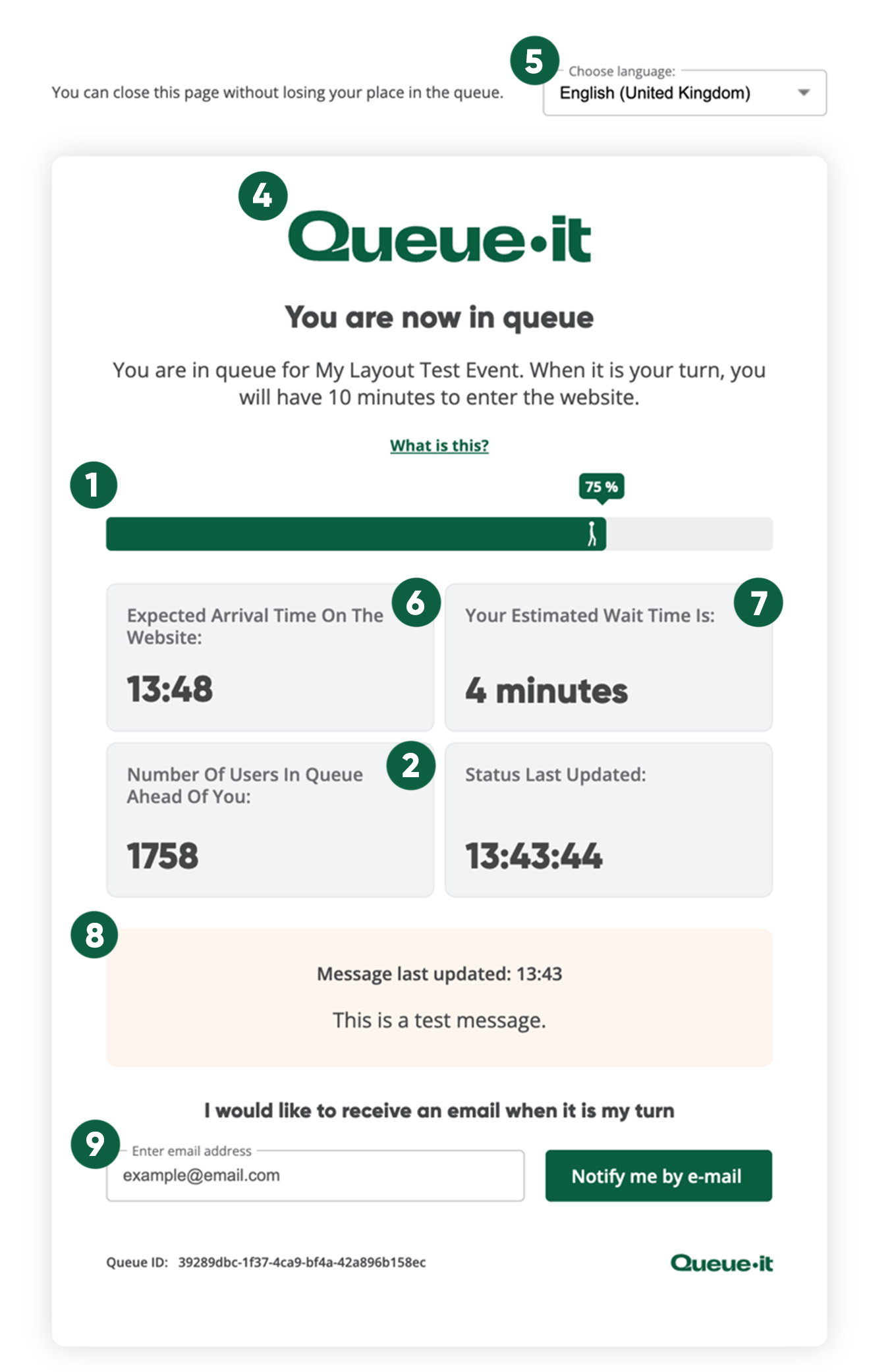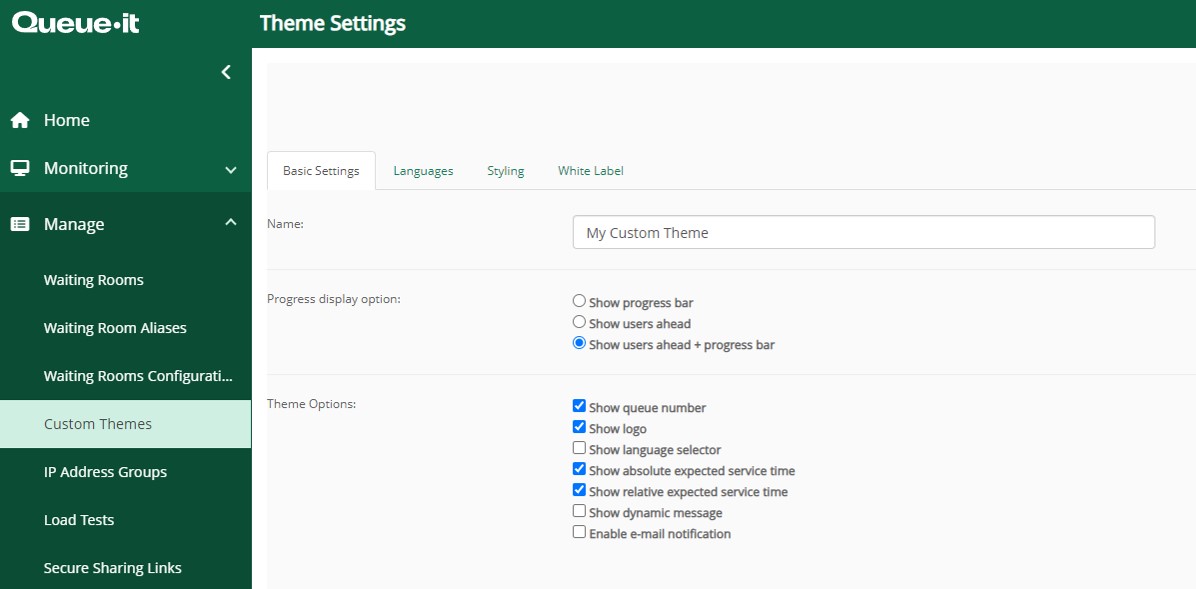 You may be tempted to remove wait information, but we strongly recommend displaying as much wait information as possible. Showing your visitors transparent wait information, like estimated wait time and position in queue, keeps them informed and reduces anxiety by showing the line is indeed moving. Knowing approximately how long the wait will take also frees people to do other things while they wait, which also makes the wait go by faster. And the progress bar reinforces a discrete start and end, so waiting becomes re-conceptualized as progress.
Queue-it can notify your visitors by email when it's their turn in line, freeing them up to do other things while they wait. Visitors can start in the waiting room on their desktop and later open the email from their mobile device to claim their place in line, giving an added level of flexibility to their wait experience.
To show email notifications, you tick the box on your waiting room layout that says "Enable email notification" (see screenshot in "Show wait info").
For more information on Queue-it best practices, get our Queue-it Best Practices: Your Questions Answered guide.
Queue-it lets you embed files, links, and videos about your products on the waiting room page, so visitors feel like they've started the buying process.
Embedding videos or games also serves as an important distraction, making the wait feel much shorter.
To learn more about embedding content in your waiting room theme, get the Custom Queue Pages white paper.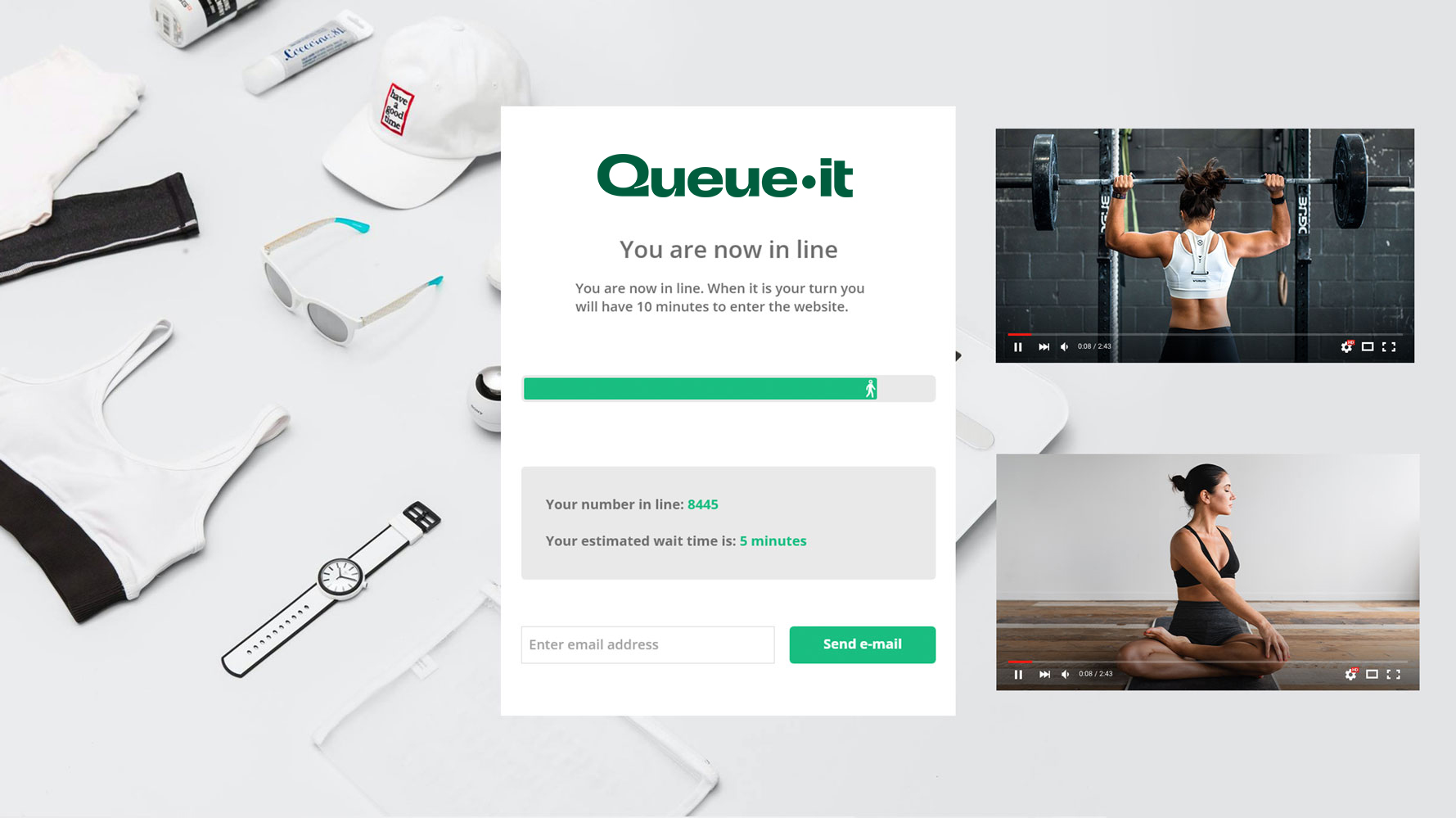 ---
We've put together a sample custom waiting room theme for you to download and plug into your GO Queue-it account. The .ZIP file below has an HTML example with CSS files included, and a ReadMe document with instructions.