How does online streaming fit into the future of ticketing and live entertainment? Industry insiders Niels Henrik Sodemann, Ian Nuttall, and Nicholas Triantafyllou bring their experience to bear in imagining the future of online streaming and ticketing, including a case study from London's prestigious Royal National Theatre.
"What's a more exciting place to be than the ticketing industry?"
Those were the words with which we began a February 2020 expert roundup blog, based on interviews from January's INTIX 2020 conference.
But we can all acknowledge the meaning of "exciting" has changed in recent months.
At the time, the global ticketing market was booming, with online event ticketing projected to grow at 4.8% annually over the next five years. The "experience economy" into which ticketing fits so perfectly was growing 4 times faster than spending on goods, according to a report from McKinsey. "Exciting" described an opportunity to double-down on tried and true business strategies to take part in the expanding ticketing market.
Now, after a pandemic shut down live entertainment across the globe, exciting takes on new meaning, with a new sense of urgency. The moment demands agility, creativity,  openness to experimentation, and potentially a pivot from longstanding business models.
Online streaming has emerged as a creative and promising solution to the shutdown of physical events. But a switch to online streaming raises several questions:
What does an online streaming business model look like?
Is it reasonable to expect online streaming revenue to replace revenue from physical events?
What new insights do you get into audiences, and what do you lose?
How do key ticketing industry players like promoters and venues figure into an online streaming ecosystem?
To tackle these questions and understand where the future of the ticketing industry is headed, we ran a webinar with three industry insiders: Queue-it CEO Niels Henrik Sodemann, National Theatre Director of IT Nicholas Triantafyllou, and TheTicketingBusiness Founder Ian Nuttall.
Related: [WEBINAR] The Future of Online Ticketing and Streaming
Let's dive into their insights:
Setting the scene: Traditional vs online streaming business models
Before we get into the shifts that could accompany an online streaming-based model, let's quickly review the key facets of the traditional ticketing business model, and then compare it to what an online streaming model might look like.
The traditional ticketing business model
The traditional ticketing business model is made up of several key players, as you can see in the diagram below.
The content moves from left to right, with the money in the system flowing back from right to left.
This is the model as we all know it in live entertainment.

Key facets of the model
It relies on money advances
This is a crucial element of the traditional ticketing model, especially when compared to other industries. Concertgoers pre-pay the promoter, who in turn pre-pays the artist. The promoter is like a lending institution. If the artists had to pre-fund a worldwide tour themselves, they would need a hefty loan from the bank.
So when fans purchase tickets months in advance, it adds crucial cash flow to the ecosystem from which everything else flows.
It focuses on capturing "lightning in a bottle"
As ticketing expert Dave Wakeman put it in an earlier blog,
"the truth is that every one of these experiences that any of us are helping sell tickets to or putting on or promoting or involved in is once-in-a-lifetime. You're never going to get that same group of people, in the same room, at the same time, with the same audience, ever again. It's live. Anything can happen. It's not going to be perfect. And that's the beauty of it. That's magic."
In the traditional ticketing model, each ticket is a unique commodity to a singular event—and can be priced as such.
It involves a monopoly on the experience
Whoever is setting up and running the event has a monopoly on the event in the given time and space where it's happening.
A band cannot be physically present on multiple stages at once, so if you want to see their concert on a given date and time, you have no choice but to visit the venue where they're performing and purchase your tickets through the chosen ticketing provider.
Its events can be repeated yet remain unique
A key element of the model, also tied to the "lightning in a bottle" idea above, is that the same live event can be repeated but still have the allure of a once-in-a-lifetime experience.
The Rolling Stones can have a world tour spanning several months and cities. But even if we assume they play the same set list, each experience will be unique—from the artists' interaction with the fans, to the composition of the audience, to the acoustics of the venue.
The online streaming business model (?)
A disclaimer: we're not entirely sure what the business model would look like (hence the "?"), so in this section we will raise some points we'll be elaborating on in the next section.
First, when compared to the traditional ticketing business model, the makeup of the online streaming ecosystem might be slimmer. If artists are streaming directly to fans, for example, the promoter, venue, and sponsor have a hard time fitting in.
In general, we feel that for the biggest acts, these stakeholders are still relevant and provide necessary infrastructural and logistical support. But the small- to mid-sized players may be squeezed in a business model founded on online streaming.

The biggest streaming events still need promoters, sponsors, and at times venues to get them up and running.
Two recent examples of huge streaming events include a concert by K-pop superstars BTS and country music star Garth Brooks.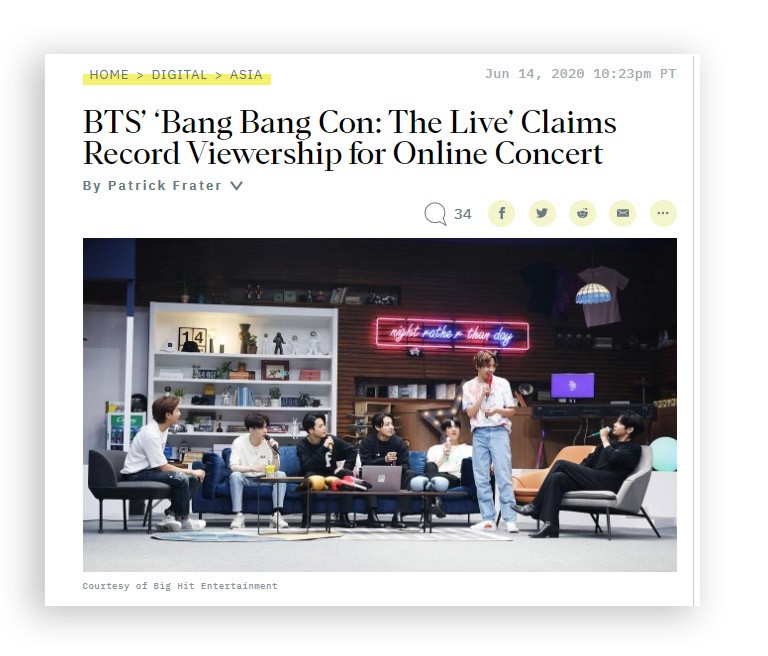 Source: Variety
The BTS event reached a record for a paid virtual concert of 756,000 concurrent fans across 107 countries and territories.
In other words, they (virtually) filled a 50,000-seat stadium 15 times over!
Big Hit Entertainment, the band's agent/promoter, was integral to the promotion and hosting of the event. And BTS was also able to leverage the organizing power of their unparalleled fan clubs to drive the hype.
Garth Brooks paired his stardom with fans' desire to safely go on a night out by screening a recorded concert at 300 drive-ins across the U.S.
Such a large-scale operation also still calls for coordination of promotion and booking venues.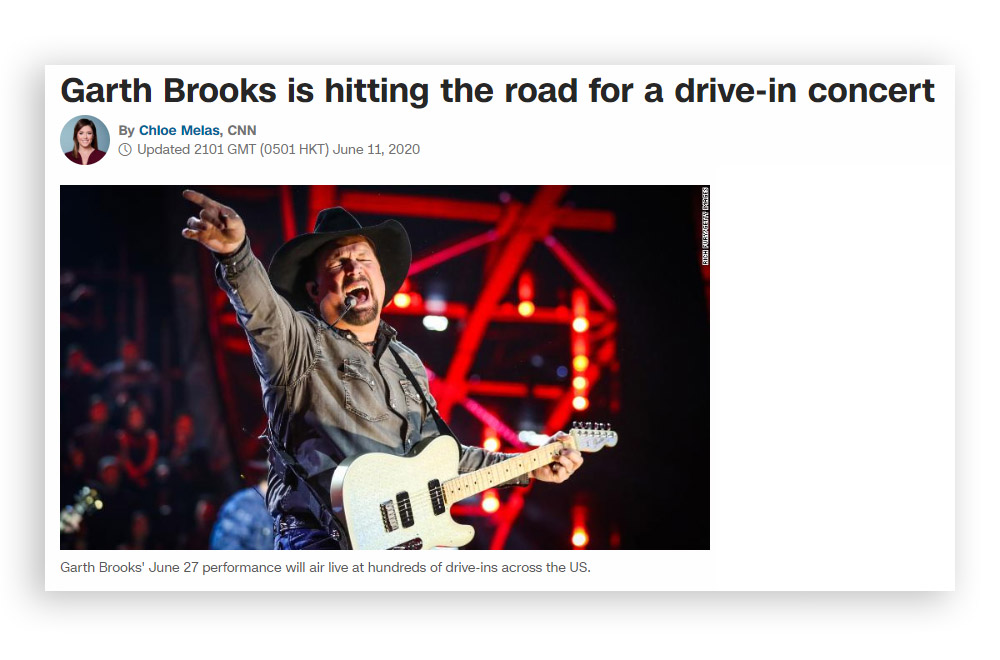 Source: CNN
Ticketmaster announced 50,000 tickets (with 1 ticket granting 1 vehicle entry) sold in the first two hours. One ballpark estimate suggested that nearly 500,000 people would watch the concert.
Key considerations for the model
Can events like the BTS and Garth Brooks concerts serve as a paradigm for the future in online streaming? Or are they a couple of successful outliers of a business model that's otherwise difficult to make sustainable?
Instead of key facets of the model, we propose some outstanding questions for online streaming to replace—either in part or in full—the traditional business model of live entertainment. These include:
If not, what's the goal?
Can you still claim a monopoly on the experience if digital copies can be saved and distributed, even for live shows?
Can you overcome the psychology of price sensitivity towards online products?
How can you get the same insights into audience behavior digitally as you do with a physical event?
Outstanding questions for the feasibility of online streaming
What's the goal of online streaming for your organization?
Before anything, you need to think of the "why" behind online streaming.
Is it to make money off ticket sales? Connect with members? Solicit donations? Generate revenue from advertising on a live stream? Reach a larger audience (maybe at the expense of revenue)? Drive streams, like the 20,000% increase in Marshmello's streams after his virtual concert in the Fortnite video game? Boost (virtual) merchandise sales?
Regardless of where your streaming capabilities are right now, it's going to require a significant investment (read more about the National Theatre's experience with NT at Home below).
Everything from your streaming platform to ticketing technology to camera setup could need an upgrade. Data shows that half of consumers would abandon a poor-quality stream in 90 seconds or less. As we'll discuss in a bit, you might need to adjust the style and format of content you produce to better fit an online streaming model.
With the pandemic, it would be great if we could flip a switch and cash in from online streaming in the same way as live events—but is that realistic?
Can you turn streaming into a reliable revenue stream?
The BTS and Garth Brooks concerts we mentioned earlier were a windfall for the groups.
The BTS concert cost between $26-35 (with preferential pricing for fan club members), and is said to have netted a minimum $18.1 million from ticket sales.
Garth Brooks charged an impressive $100 per vehicle (up to 6 people per vehicle) for his pre-recorded show, which had the potential to bring in $7 million in ticket sales (we couldn't find publicly-available info on the actual earnings).
But again, we must ask: is this realistic to expect from smaller acts?
The fact is, it's hard to turn streaming into a revenue stream.
It would take several hundred thousand streams to earn the monthly U.S. minimum wage. For music videos and recorded performances shown on YouTube, it's even worse—you'd need over 2.1 million streams per month to earn a minimum wage.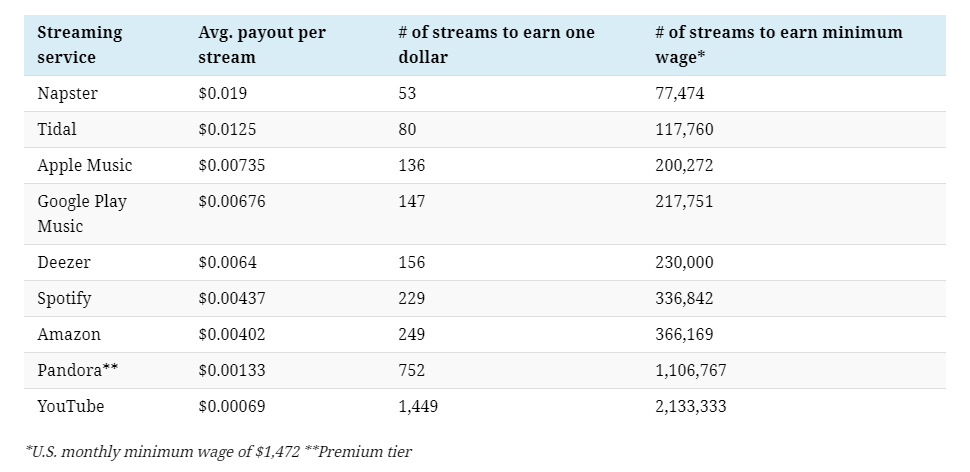 Source: Visual Capitalist
For even the biggest artists making a pretty penny on streaming, income from streaming makes up a small portion of their net income. Only 7 of the 40 top-earning musicians in 2018 earned over 20% of their income from streaming.
A central reason for this is that the payout from streaming is quite different than from live performances.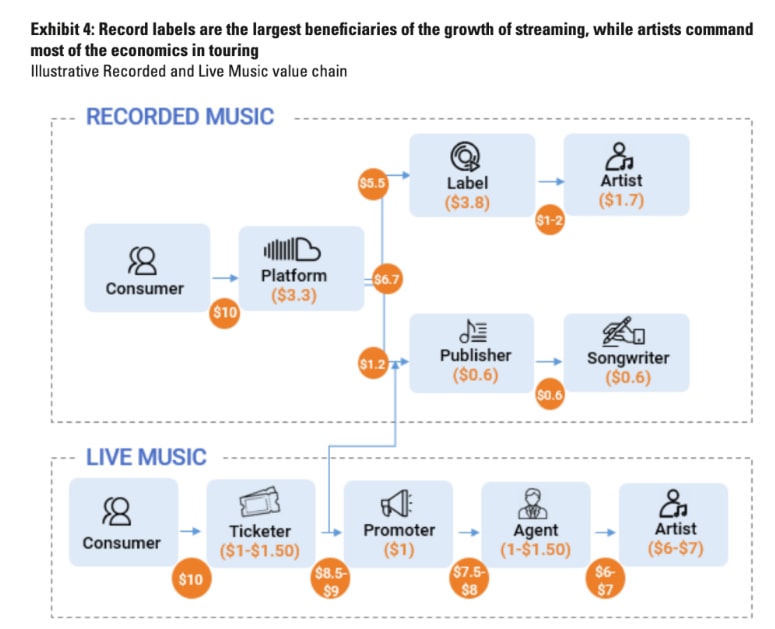 Source: Goldman Sachs Global Investment Research
Billboard even reflects this "less-than" view of streamed music by requiring 1,250 paid streams to equal one album sale for its charts—3,750 if the listener was streaming for free.
But wait, you say. Online streaming of recorded music is different than a limited-availability, ticketed online stream of live entertainment.
That's true, but as we'll see in the next topic, moving anything online entails a high degree of price sensitivity.
How do you overcome price sensitivity online?
The late 90s/early 00s were boom times for the recorded music industry. They were making more money than ever, driven by physical CD sales. So why did they switch to streaming?
They were forced.
Napster, Limewire, and other torrent programs made pirating music incredibly easy.
Since the beginning of the internet, there's been a huge cliff in terms of what people feel is reasonable to charge for online content—whether that be ebooks, hit singles, or the latest blockbuster movie. People tend to be hesitant to part with their cents online.
There is no easy solution to overcoming price sensitivity, but the more invested the audience is in advance, and the higher quality you can offer, the better the chances are people will be willing to part with their cash.
If you do try to charge for online content, you can bet that there will be bad actors trying to remove your monopoly on the event by mirroring the live stream on some other site, as is done every day for television programs. Remember you'll need to think through your platform and distribution choices carefully and will need to use resources to monitor for freeloaders trying to stream and even profit from your content.
How repeatable are online streaming performances?
Pay-per-view is probably the oldest form of paid online streaming out there. Take a pay-per-view boxing match. Hype is generated for a special event, viewers pay a fee to watch the performance, and the promoters rake in the money.
But a boxing match is different than a theater performance or concert in one crucial aspect: in a boxing match, the outcome is not known. No one knew who would win Floyd Mayweather vs. Conor McGregor in 2017. If you missed it, you'd see the outcome everywhere. It really was "lightning in a bottle".
Sure, a Hamilton performance might include different cast members. And a Rolling Stones tour might include distinct set lists. But how repeatable are these performances when streamed online? Would they be different enough to merit fans tuning in multiple times? As a fan, would it feel special if I saw the same online streaming concert tonight as my friend saw last week?
This also has implications in the ticketing industry food chain. If you normally run 30 shows of an opera live, but only record one or two versions of the performance for online streaming, how is that reflected in artist payment?
What implications are there for entertainment produced for live streaming?
Let's not mince words: the audience experience in online streaming is very different from a live show. So, it only makes sense that entertainment made for a live production would need to be repackaged to stay captivating for audiences watching on a flat screen.
A play with two or three sets would be much simpler to produce than a concert featuring dancers and musicians, for instance. So, entertainment produced for live streaming might have to be adjusted to fit the strengths and scope of this different medium.
Then there's also the distinction between pre-recorded content, like the Garth Brooks concert, or live content, like the BTS concert. On the one hand, pre-recorded content can result in a higher-quality finished product and potentially larger range of creativity. On the other hand, pre-recorded content doesn't have the same ability for engagement and participation from the audience as live content.
This doesn't mean that recorded content can't incorporate elements of engagement. Get creative!
A band streaming a pre-recorded concert could do a live Q&A with viewers. Or they could live stream a rehearsal or behind-the-scenes content before streaming the pre-recorded content.
How do audience insights compare between traditional and streaming?
Before you think about insights, think about your audience in general.
Who is your audience for online streaming? Is it the same audience that would attend a live show? Would that result in cannibalization of your audience once you're able to run live shows again? Or do you believe the audiences are mutually exclusive, so you're bringing in viewers who otherwise would never show up to a physical venue?
These are strategic questions you'll want to have thought through before embarking on an online streaming project. And if you move forward with it, you will want to leverage tools to understand who is actually showing up digitally.
The audience insights you get into online streaming audiences varies widely depending on the platform you choose. A platform like YouTube can give your content broad reach, but in the end, you'll get only basic demographic information like country and, if you're lucky, age and gender. Compare that with the name, address, email, phone number, and additional data you'd traditionally collect from ticketing.
To understand customer behavior, you'll need more control and better analytics. This won't come from a free platform like YouTube.
A case study from the National Theatre: NT at Home
When the Royal National Theatre in London closed to audiences in March 2020, they wanted to maintain a presence in people's lives during the lockdown and make a dent in their lost cash flow.
The National Theatre had streaming experience from their NT Live initiative, which streamed National Theatre live performances into cinemas around the U.K. So they decided to launch an online streaming initiative called NT at Home.
They were able to quickly clear rights with the artists and actors and leverage the performers as part of their promotion channel. They secured a partnership with YouTube for streaming, and Queue-it helped their infrastructure handle the massive online interest.
A truly collaborative effort across the National Theatre, NT at Home was called "one of the highlights of lockdown" by Time Out Magazine.
Here's where Director of IT Nicholas Triantafyllou's key lessons learned for other organizations thinking of doing something similar.
Goals of NT at Home
Staying relevant
The key driver behind NT at Home was to stay relevant in spite of the lockdown, and, in the words of Time Out, to be a "cultural savior and an escape from the humdrum of staying at home."
Raising much-needed income
But business objectives were also a big driver. Ticket sale income dropped to nothing overnight, as did income from the National Theatre's other enterprises like bars, restaurants, NT Live, and international touring.
The National Theatre wanted to be altruistic and fulfill their social mission and purpose. Charging for streams in the middle of a pandemic didn't feel right. Plus, they wanted to expand to other audiences and markets, and knew a paywall would hinder that. In the end, they felt free streaming with a donation option was the best business compromise.
The income raised didn't go near the income from traditional ticket sales, but the generous donations from around the world did serve as a much-appreciated financial boost for the National Theatre.
Experimenting with new digital formats
The National Theatre also wanted to experiment with digital formats. The digital format gives near-instant feedback. This allows for more agile testing of donation strategies (e.g. if asking for a donation at the start is more effective than 3 or 4 times during the performance).
NT at Home's technical challenges
How can we make this new experience live while everyone is working from home?
Not everyone had a speedy internet connection, and employees were logging on from different devices. Luckily, the organization had just rolled out Microsoft Teams, but a key takeaway was that internal communications are crucial to a successful online streaming production.
How do we get access to the digital master files and how do we upload and post-process them?
An exceptionally practical yet critical challenge was how to get access to 300 TB master files using a home internet connection of 15 MB download/upload line. They ended up making it work using physical hard drives and Uber rides, but it's critical to think this through.
Will the website be able to cope with a global audience?
The National Theatre had run some huge onsales, but the online activity during the lockdown broke all records on their website. They knew the website wouldn't be able to cope with such a huge audience, and they couldn't scale it up in such a short period of time without any testing.
Will the ticketing system be able to cope with an influx of donations?
National Theatre used Queue-it to throttle the traffic on the website in general, but also on the ticketing system, and experienced no issues during the entire period.  
How do we deliver this securely without becoming a target for hackers?
Raising your profile in general also raises your profile among hackers. Investing in security is important so they don't profit from your success.
How was NT at Home received by the audience?
Audience engagement & behavior changed in just a few weeks
NT at Home's first shows were released at 7pm and would run for one week. The first few weeks, everyone would log on at 7pm and drive a massive spike in traffic to the website and YouTube. Over time, people realized they could watch it later, at a time that fit them best. Visitors watched performances over the course of a week and came back to the content several times throughout the week.
Donations were a success
YouTube donations were quite effective (though only available in USD), but YouTube donations weren't available around the world. About 50% donations came from YouTube, and 50% from the National Theatre website. Text to donate was also more successful than anticipated.
YouTube subscriptions swelled
Subscribers increased from 250,000 to 670,000 during a few months, generating over 12 million views from all around the world.
Summing it all up
So, how does online streaming fit into the future of ticketing and live entertainment? The first thing to highlight is consumers are already streaming online. 50% of Brits, for instance, said they stream video on a daily basis.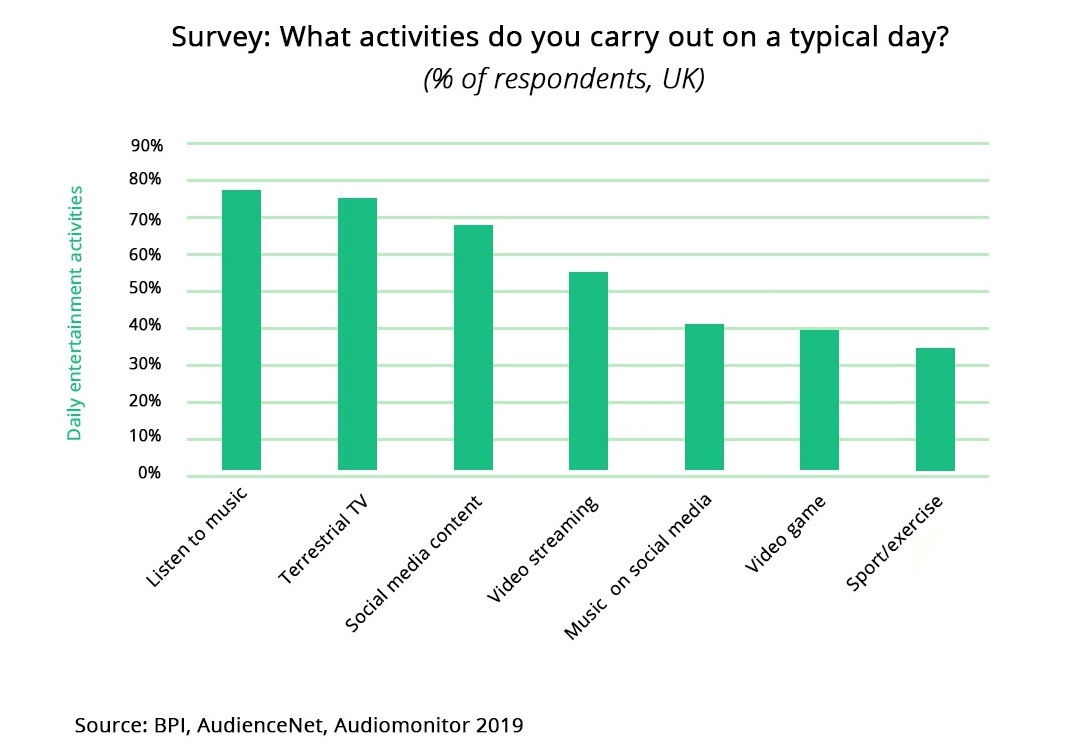 Goldman Sachs is bearish on online streaming, arguing in their 2020 "Music in the Air" report that:
"Livestream concerts are a bet on the future. Music promoters and artists will be able to monetize their shows by selling beyond the capacity of the venue, as well as expand their audience and get more presence. At the same time, fans can still see their favorite artist or band when they play in another city, when they have sold out all the tickets, or simply because they prefer this new plan."
However, as we've seen here, online streaming brings novel challenges related to revenue generation, audience insights, and sustainability of repeat showings, among others.
Is online streaming part of the larger ticketing and entertainment industries? Undoubtedly.
But as much as we'd like to flip a switch and swap online streaming with traditional ticketing and entertainment, especially in turbulent times, we don't think it's realistic.
Instead, we argue that the question should not be posed as "how can online streaming match and replace live entertainment", but rather "how can it temporarily replace and then complement traditional live entertainment"?
Use this time to experiment and see how online streaming can be part of your organization's larger strategy in the long term.