Next-generation ticket bots are more sophisticated and innovative than ever, and malicious users continue to shift tactics to stay one step ahead of legislators and businesses alike. They jam up inventory systems. Their traffic strains infrastructure. They frustrate customers by snatching up popular products. And they can carry out account and financial fraud that harms brand reputation. With Distil Networks' bot expertise and Queue-it's experience in handling high-demand online events, you can keep your customer data safe, provide a fair online experience, and carry out successful sales.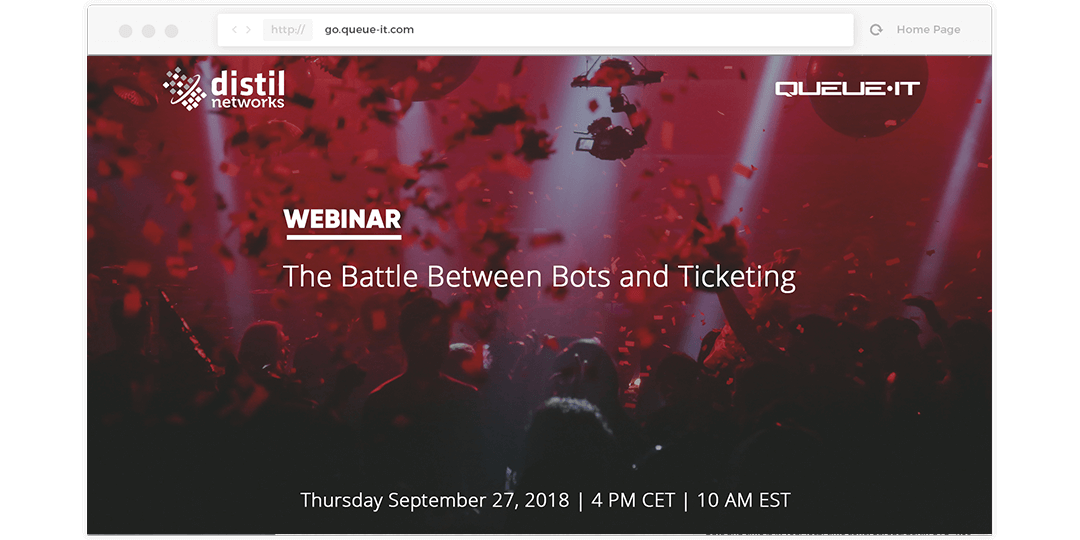 Distil Networks is the only proactive and precise way to identify and police malicious website traffic, blocking 99.9% of bad bots without impacting legitimate users.
Distil Networks and Queue-it's partnership offers products that compliment each other at key stages of an online purchase. Distil provides protection against account fraud that malicious users could use to purchase excess product. During the sale itself, Queue-it's virtual waiting room can accept users verified by Distil. The virtual waiting room neutralizes the speed and volume advantages of bots. When the customer is redirected to the site for payment, Distil can take over again, minimizing fraud during the purchase.
Distil Networks was founded in 2011 to defend websites, APIs and mobile apps against the rising threat posed by malicious bots. Distil Networks is purpose-built to defeat bad bots that circumvent traditional web application defenses like Web Application Firewalls (WAFs). Distil Networks is the Forrester-ranked global leader in bot detection and mitigation focused on stopping automated attacks to make the web more secure.