The future of ecommerce & webshop performance: Slow is the new downtime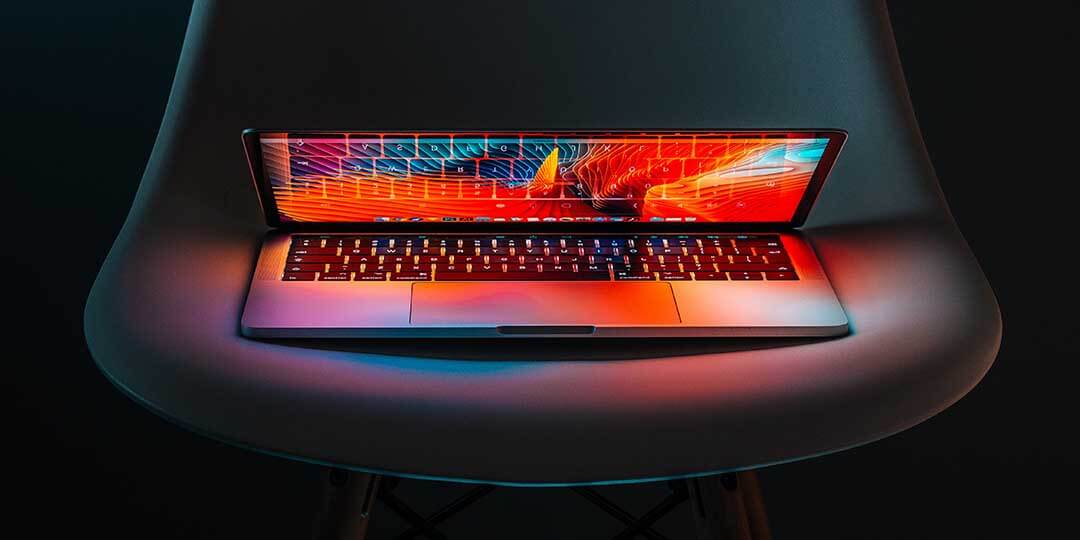 In a continuation of our discussion on web performance and online retail best practices, we'd like to discuss some interesting statistics recently shared with us at a presentation by Mark Lewis, Senior Account Representative at Dyn, at the Retail Business Technology Expo 2015 in London, UK.
From a global perspective, Mark emphasized an idea that we've all become aware of: the importance of avoiding downtime to increase consumer conversion and overall revenue. This is the basic principle that you should avoid webshop downtime at all costs and focus on attaining your best possible website performance, as 40% of online shoppers will bounce if they have to wait three seconds or more for a page to load, and a one second server delay resulted in both a 2.8% revenue decrease and a two second increase in time to click.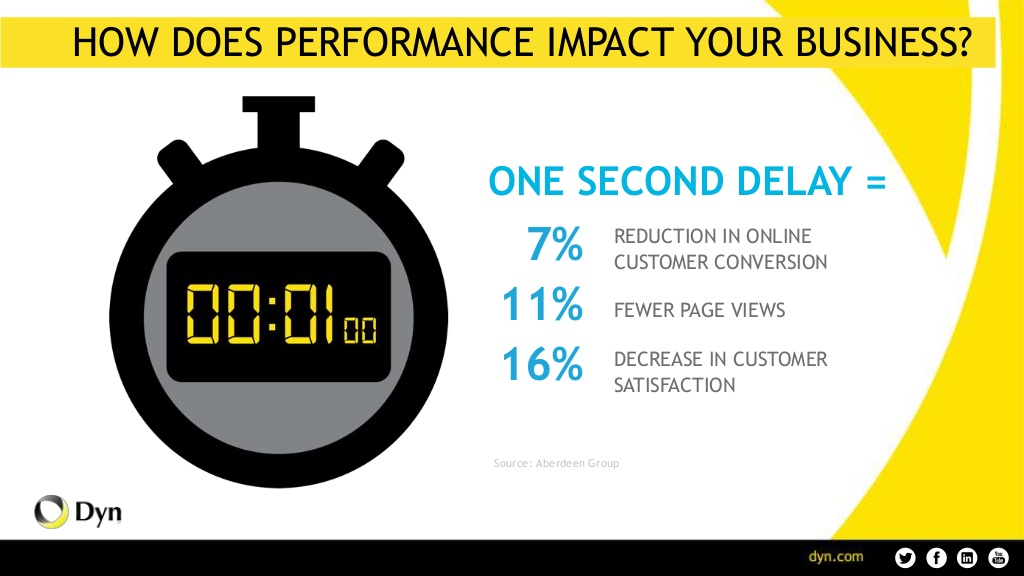 However, Mark stressed that downtime isn't the only major consumer turnoff anymore: simply having a slow webshop is viewed in the same negative light as having complete downtime on a webshop, and in 2015, "Slow is the new downtime" in the eyes of consumers.
This can be a scary concept for webshops, as the web performance focus should now be shared between preventing overall downtime as well as preventing major slowdowns. On a global scale, 62% of consumers have shopped online with retailers located in other countries in the last year, and 72% rated the experience no better than 'OK'. 85% would consider buying more often from retailers based in another country if it were faster and easier. So how can you improve your overall webshop performance?
We suggest planning ahead for major traffic spikes so that you are fully prepared for high interest in your webshop sales that can happen during major holiday campaigns such as Black Friday and Cyber Monday. Mark noted that having high traffic can be both a blessing and a curse and that having a 'multi-cloud' strategy for your site is becoming the new standard for webshop protection. Also, you can monitor your performance and analyze the entire consumer journey, as well as any third party content or fourth party calls your site handles that may be causing webshop slowdowns. Mark suggested that you work with providers that have scale, as well as technical and contractual flexibility. Don't be one of the many this year: Last year, 85% of the Internet Retailer 500 had an outage.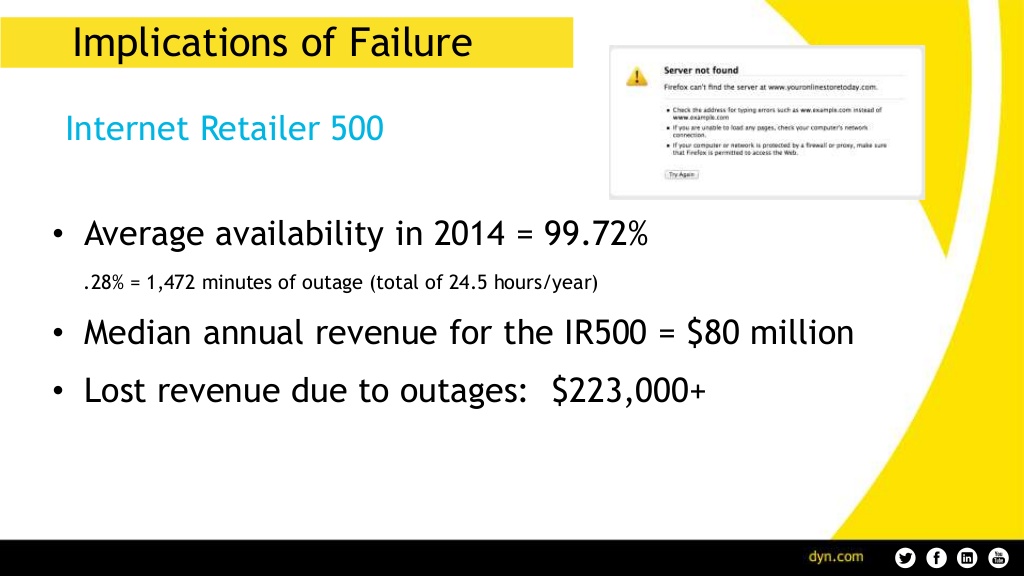 While you're probably well aware of the need for a solid web performance strategy when tackling global e-commerce amidst major traffic spikes, here are some new statistics on the last business year that should reinforce your goals for the next holiday season:
The online retail market revenue in 2014 was $1.5 trillion, with £100 billion UK sales growing at 14% each year. During the holiday season, £21.6 billion was spent in the UK during the Christmas online sales. Holiday season sales include big campaigns like Black Friday, Cyber Monday, and Singles' Day in China, which means that your webshop should be catered to a global audience and prepared for high traffic at all times. While Europe previously overtook the U.S. as the biggest B2C e-commerce market in the world, 40% of global internet users are based in the Asia-Pacific region. Chinese consumers shop online 8.4 times each month, while U.S. consumers shop online 5.2 times each month.
With this overwhelming international e-commerce growth, make sure you plan well ahead for your 2015-2016 holiday season sales campaigns by following our suggestions and Mark's best practices to ensure your maximum consumer turnover and revenue. For more information or expert tips, contact us or download your free holiday guide for retail here.