A round-up of our experience at #MWC18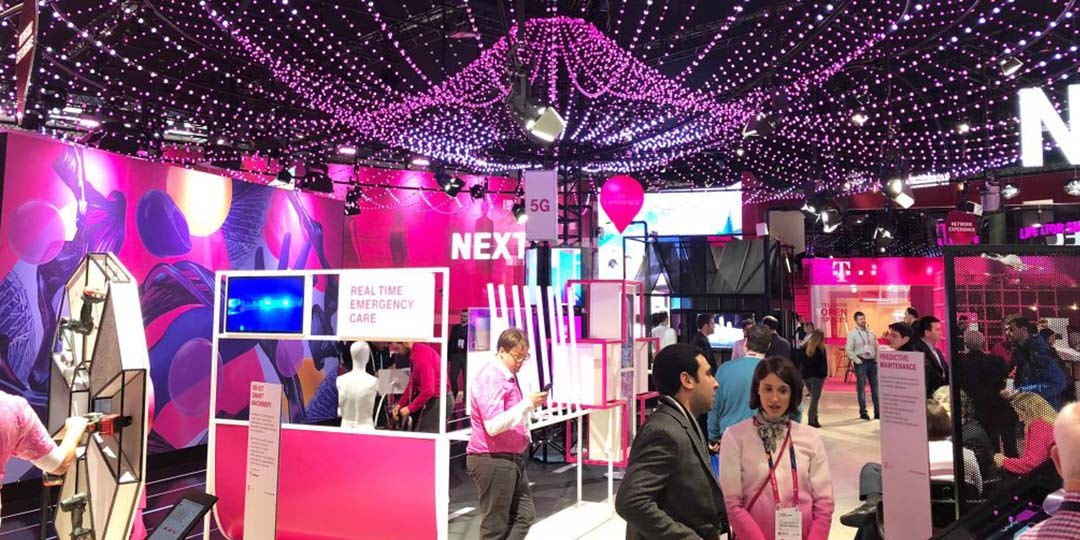 2018 was our first time exhibiting at Mobile World Congress, the world's biggest mobile technology show. Here is a quick roundup of the exciting technology that's just around the corner and a few thoughts based on our experience at the conference.
Mobile World Congress blew us away from the minute we stepped in. Global CEOs and technology enthusiasts walked the eight halls, filled with more than 108.000 participants and 2,400 companies that showcased cutting-edge products and services.
AT&T, China Mobile, Deutsche Telekom, Ericsson, Lenovo, LG, HTC, Huawei, Nokia, Orange, Samsung, Sony Mobile, Telefónica and Vodafone were just a selected few telecommunications companies showcasing the future of mobile.
Things got off to a very exciting start the day before the show, with the launch of the Samsung Galaxy S9 and Samsung Galaxy S9 Plus. From our experience, each phone launch is a unique exercise in predicting the overall demand and web/mobile traffic associated with the launch, so it was great attending the conference and discussing key considerations in planning for upcoming mobile phone launches with other participants.
Besides IoT, AR, VR, connected cars and smart cities, the biggest thing coming out of the conference was 5G connectivity. With two-thirds of the world's mobile connections projected to be running on 4G or 5G networks by 2025, we expect managing traffic in mobile networks to be one of the key things for online businesses to consider. It looks like, 5G connectivity will not only shake up the data transfer industry considerably, but also it will enable new levels of mobile traffic growth and speed that are likely to put strain on mobile shops and apps.
For customers of any online business, 5G will foster an always-connected and seamless shopping experience, as devices connected through IoT will be able to remain connected and transfer data quickly, while latency rates will continue to get smaller, and the speed will continue to increase.
With 5G connectivity as an enabler of mobile traffic growth, a virtual waiting room can make a big difference during peak traffic in providing stability and a smooth user experience on your mobile sites and apps.
Queue-it exhibited together with other technology companies as part of the Danish Country Pavilion. It was a great experience being part of an official delegation – and we also enjoyed visiting a few of the other country pavilions that contributed to the uniqueness of the show.
During the conference we also had the privilege of meeting Denmark's Tech Ambassador, Casper Klynge and Mette Lundberg, Communications Director at IT-Branchen. We talked about their roles and responsibilities as technology supporters and got their input on key trends spotted at #MWC18.
Due to the size and pace of the conference, we recommend attending next year's MWC with a very targeted approach and initiatives set in place before the conference start date, to assure the maximum ROI and secure relevant discussions at the show.
In addition to meeting with a lot of interesting and inspiring people and companies, we enjoyed attending the brokerage event, a very interesting initiative organized by MWC, with the purpose of linking together different solution providers with new potential partners.
All in all, Mobile World Congress was an inspiring conference offering the opportunity to see some of the upcoming technologies, that will certainly challenge mobile performance in the near future.
Being at a conference that showcased the latest tech innovations, we were also happy to introduce Queue-it's virtual waiting room platform and to discuss best practices on preparing online businesses for mobile traffic surges during upcoming big campaign days, product launches, and collection releases.
If you are looking for an opportunity to meet tons on new connections, tech enthusiasts and get exposure to the latest cutting-edge technology in the mobile ecosystem, mark your calendars and plan to join the next Mobile World Congress.