4 innovative ecommerce trends to watch for in 2021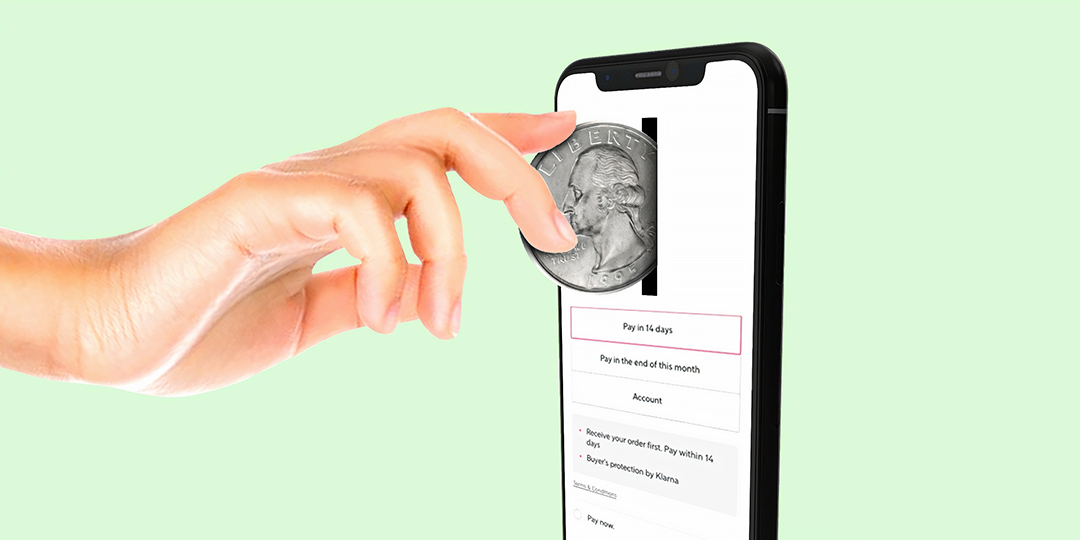 The past year has flipped all expectations in the retail industry, with shopping moving increasingly online. But what does the new retail experience look like? What ecommerce trends have gained momentum as a result?
The accelerated adoption of online shopping
Online retail has been on an upward trajectory, but in light of lockdown, it has skyrocketed – in sharp contrast to in-person shopping. According to eMarketer, while we could expect a 3% decrease in worldwide brick-and-mortar sales, ecommerce sales grew about 27.6% in 2020. For many retailers, that means added pressure to deliver stronger ecommerce results as online becomes the primary source for revenue growth.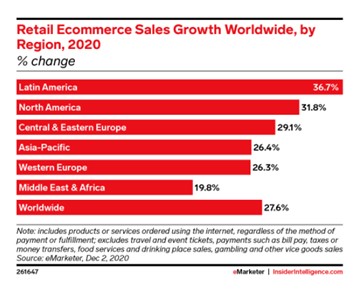 Although online shopping is on the rise worldwide, we also see some cultures are more receptive to the trend than others. According to eMarketer, 41.2% of all annual retail sales in China will take place online, in comparison to only 14.5% of all retail sales in the U.S. While some cultures have embraced online shopping quicker than others, there's still a growing interest worldwide in ecommerce.
As a result, we've seen certain ecommerce trends gain momentum in the past year, including livestreaming, augmented reality, social commerce, and virtual waiting rooms.
Creating connection with livestreaming 
In the era of social distancing, customers are using digital methods to connect, shop, and be entertained. As a result, retailers are increasingly turning to trends in ecommerce like livestreaming as a way to appeal to consumers. Often, companies work with influencers or celebrities to take shoppers through the buying process, creating a feeling of connection and authenticity - the digital equivalent of shopping with friends.
Case in point: actress Emilia Clarke discussing her favorite products during a livestreamed chat on Instagram for beauty brand Clinique.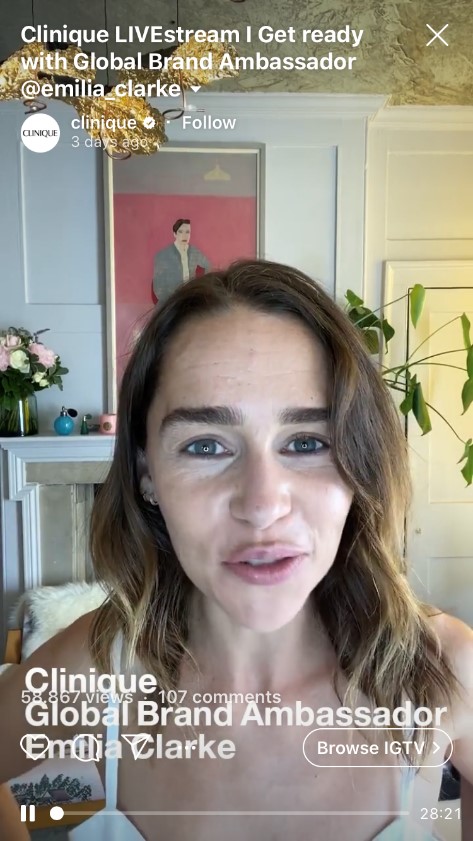 Countries with strong online adoption, like China, have already been enthusiastic participants in livestreaming. Over 100 million Chinese viewers watch a live video event every month and livestreaming is estimated to have raked in USD $4.4 billion in 2018. A sizeable portion of those billions come in during the holiday shopping season, generating about USD $2.9 billion in revenue on Singles' Day in 2019.
With Singles' Day becoming increasingly international, livestreaming is also finding an audience around the world. Over 100,000 brands and sellers are using livestreaming to promote their products, including retailers like M.A.C., Levi's, Ralph Lauren, and Burberry. To advertise her KKW Beauty perfume, Kim Kardashian West partnered with famous Chinese livestreamer Viya. Their joint session drew over 12 million viewers and all 15,000 bottles of perfume available sold out in minutes.
However, livestreaming isn't just for high-end retailers. Discount megaretailer Walmart recently made a splash with a first-of-its-kind shoppable livestream on Tiktok. During the one-hour live show, mobile users could shop for items featured by select Tiktok creators without leaving the app, linking video content directly to sales.
Livestreaming is lucrative, appealing to audiences wanting to connect with influencers and brands. It won't be a surprise if more social media platforms open up to livestream shopping in 2021. Even as in-person stores open up again, this ecommerce trend will be here to stay.
Replicating the in-person experience online 
Seeing what fits with augmented reality 
Augmented reality (AR) is the virtual solution to trying things on. It has become an especially relevant ecommerce trend as stores have either closed or prevented customers from trying on items in store for safety reasons. Prior to lockdown, brands like Adidas, Burberry, Gucci, Nike, Puma and cosmetics brand Too Faced had already begun incorporating AR into their marketing efforts.
AR also found an audience during lockdown. For example, Ulta's virtual try-on beauty tool GLAMlab saw a surge in usage with engagement increasing seven-fold, and more than 50 million shades of foundation swatched digitally with the app.
And this is a trend that will continue to expand as more shoppers move online and brands look to create a unique ecommerce experience.
Social media companies have also taken notice and are increasingly focusing on AR to get users to try out products and potentially buy through their platforms. Snapchat, in particular, is in a uniquely favorable position. Its platform is built around a younger, digitally native audience and a sophisticated AR lens. In fact, high-end brand Gucci even unveiled its first global shoe try-on through Snapchat.
However, Snapchat isn't the only platform moving into AR. Instagram also allows for virtual makeup and sunglass try-ons. Pinterest added a make-up try-on option in January, and Tiktok is likely to offer an AR ad format to compete with other tech companies.
In the upcoming year, we'll also see AR become a more gamified social experience. Burberry, for example, recently partnered with Snapchat on an in-store AR game. And we can expect more brands to follow suit as a way to entertain and connect with consumers.
With AR try-on options becoming more sophisticated and "life-like", it's only logical that we will see social media platforms use them to promote brands and their products. Not because this will be the safest way to try out new products, but because it allows shoppers to have a high degree of personalization. They can see how clothes and personal goods would appear on them, how furniture would actually look in their own living spaces without commitment.
Not only that, AR allows brands to reach a wider, younger audience. One that embraces a fully digital experience and is on track to becoming the largest generation of consumers.
Letting shoppers buy where they are with social commerce
With mobile becoming an increasingly popular way to online shop, mobile-native tech companies are looking to get a slice of the ecommerce pie. And so far, they're succeeding.
Social commerce is currently a USD $89.4 billion market, expected to grow to USD $604.5 billion in the next seven years. Plus 87% of consumers already believe social media helps them make buying decisions, and 81% research products on Facebook and Instagram. So why not give them what they're looking for in-app?
Social commerce is pushing the boundaries and expanding how online shopping works. For instance, Snapchat will launch its first shoppable fashion show on the platform, focusing on streetwear collaborations with celebrities and designers, where users can buy directly on the platform. Tiktok has also begun adding shopping ads to its platform while integrating its creators along the way. Consumers are even able to shop online in groups using video calling platforms, such as Zoom or WhatsApp.
However, the biggest standout in social commerce has been Instagram's new Checkout feature. Launched a year ago and working alongside 20 brands like Adidas and H&M, the feature has expanded to include new retailers, most recently big-name beauty brand Sephora.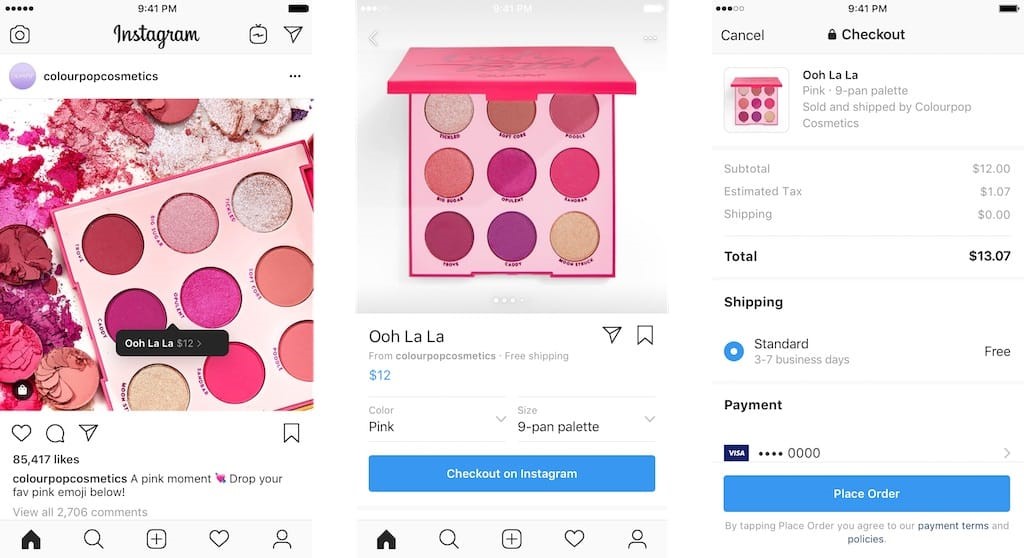 With consumers spending more time online and on apps, it's inevitable that social media companies will want to capitalize on that attention, entice users to stay on their platforms, and allow brands to hyper-target their prime audience. 
In the future, whether social media platforms choose to expand partnerships with popular retailers or encourage influencers to sell their latest collaborations through their apps, we can expect to see social commerce become an integral part of the ecommerce shopping experience.
Creating a fairer, more consistent user experience with virtual waiting rooms 
In the last year, many retailers have experienced spikes in sales and unprecedented demand as they've moved online. But this exponential growth has its downsides. Traffic spikes can end up overwhelming payment and inventory systems, and result in website slowdowns and crashes.
As a result, many ecommerce businesses have turned to virtual waiting rooms as a safety net solution during their biggest sales, constantly monitoring their sites and only queuing excess visitors. That way, retailers can keep systems up and visitors informed, capturing key revenue on their most business-critical days.
But there's more to virtual waiting rooms than just protecting ecommerce sites from crashing – although that's a huge benefit. The solution is flexible enough to protect the whole website or only where needed, pages that can experience bottlenecks like checkout and payment gateways.
What's more, virtual waiting rooms can help retailers protect their sites against bad bots, which enjoy a speed and volume advantage. That's more important than ever as malicious actors become increasingly sophisticated in their pursuit of popular products.  Bots that arrive before the sale starts are placed in a pre-queue together with real users. When the sales start, everyone in the pre-queue is randomized. This eliminates any advantage in bots hitting websites seconds after the start of the sale.
Retailers can require visitors to enter known data, such as an email address or a form of ID to access the virtual waiting room. This makes impersonating real shoppers exceptionally expensive and is a powerful way of combating bots' volume advantage.
As shoppers move online, online retailers are looking for solutions and trends in ecommerce to support their sites during peak traffic. This past year has seen virtual waiting rooms take center stage as ecommerce businesses see unprecedented demand.
RELATED: Everything you need to know about preventing sneaker bots
What do these trends mean for online retail? 
Online retail is becoming increasingly popular and in the age of lockdowns, it's gotten an even bigger boost. Ecommerce trends like livestreaming, augmented reality, and social commerce are being magnified as brands strive to create an authentic and safe shopping experience for customers.
And as circumstances remain uncertain, we expect online shopping to become a core focus of the retail sector. For many businesses, that means added pressure to deliver strong results online, as ecommerce becomes the primary driver of retail growth.
Retailers need to ensure their website infrastructure can support an influx of online visitors, even at a moment's notice. More than ever, a smooth ecommerce experience will be critical to retail success.