What's in store for the ecommerce experience in 2020?
This year has flipped all expectations in the retail industry with physical stores closing and many activities moving online, what does the new ecommerce experience look like? What trends have been magnified in lockdown?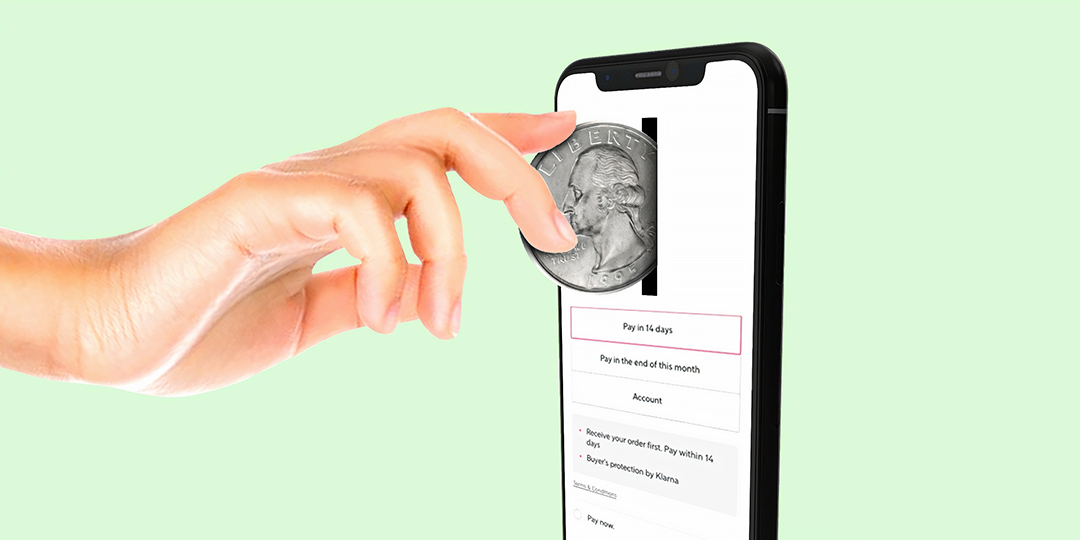 The accelerated adoption of online shopping
Online retail has been on an upward trajectory, but in light of the lockdown, it has skyrocketed – in sharp contrast to in-person shopping. According to eMarketer, while we can expect a 14% decrease in U.S. brick-and-mortar sales, ecommerce is expected to grow about 18% in 2020, compared to 14.9% in 2019. For many retailers, that means added pressure to deliver stronger ecommerce results as online becomes the primary source for revenue growth.
Although online shopping is on the rise worldwide, we are also seeing some cultures that are more receptive to the trend than others. According to eMarketer, 41.2% of all annual retail sales in China will take place online, in comparison to only 14.5% of all retail sales in the U.S. While some cultures have embraced online shopping quicker than others, there's still a growing interest worldwide in ecommerce . Especially as we move towards the holiday season, which is historically the busiest period of the year for retail sales.
Although holiday season shopping is still a few months away, recent surveys suggest major changes in shopper intent. According to industry insider, Scott Rankin, online shopping already accounted for 40% of Black Friday retail sales. This year, 51% of respondents expect to begin their holiday shopping earlier than normal and over three-quarters plan to buy most of their gifts online. And websites need to be prepared.
With retailers focusing in on ecommerce this year, other online shopping trends have also gathered momentum. In particular, we've seen an increase in livestreaming, augmented reality, and social commerce.
Creating connection with livestreaming 
In the era of social distancing, customers are using digital methods to connect, shop, and be entertained. As result, retailers are increasingly turning to livestreaming as a way of appealing to consumers. Often, companies work with influencers or celebrities to take shoppers through the buying process, creating a feeling of connection and authenticity - the digital equivalent of shopping with friends.
Case in point: actress Emilia Clarke discussing her favorite products during a livestreamed chat on Instagram for beauty brand Clinique.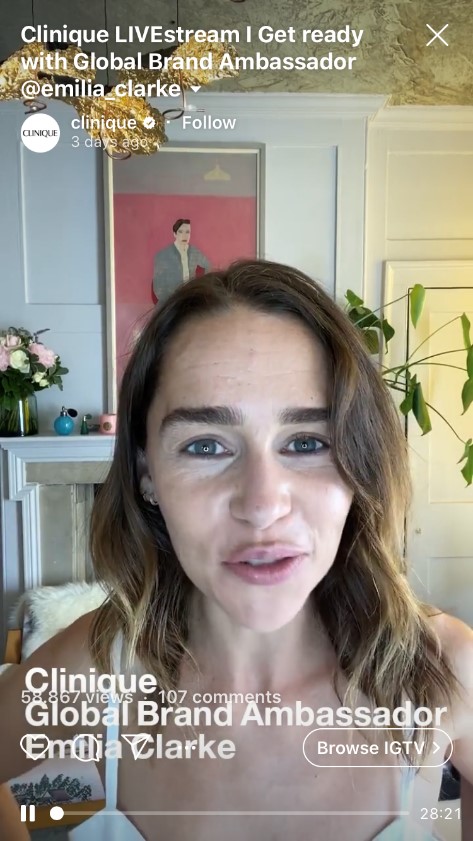 Countries with strong online adoption, like China, have already been enthusiastic participants in livestreaming. Over 100 million Chinese viewers watch a live video event every month and livestreaming is estimated to have raked in USD $4.4 billion in 2018. A sizeable portion of those billions come in during the holiday shopping season. Livestreaming also generated about USD $2.9 billion in revenue on Singles' Day in 2019.
With Singles' Day becoming increasingly international, livestreaming is also finding an audience around the world. Over 100,000 brands and sellers are using livestreaming to promote their products, including retailers like M.A.C., Levi's, Ralph Lauren, and Burberry. To advertise her KKW Beauty perfume, Kim Kardashian West partnered with famous Chinese livestreamer Viya. Their joint session drew over 12 million viewers and all 15,000 bottles of the perfume available sold out in minutes.
Livestreaming is lucrative, appealing to audiences wanting to connect with influencers and brands. As a result, social media platforms Facebook and Instagram are enabling livestreaming features on their sites. Instagram in particular enables livestreaming alongside its Checkout feature, which will allow shoppers to browse and buy without leaving the app (more on that trend later). It wouldn't be a surprise if the company opens its platform to livestream shopping in the future to streamline online shopping.
Replicate the in-person experience online 
Augmented reality 
Augmented reality (AR) is the virtual solution to trying things on. It has become an especially relevant ecommerce experience as stores have either closed or prevent customers from trying on items in store for safety reasons. Prior to lockdown, brands like Adidas, Burberry, Gucci, Nike, Puma and cosmetics brand Too Faced had already began incorporating AR into their marketing efforts. And this is a trend that will continue to expand as more shoppers move online and brands look to create a unique ecommerce experience.
Social media companies have also taken notice and are increasingly focusing in on AR to get users to try out products and potentially buy through social platform. Snapchat, in particular, is in a uniquely favorable position. Its platform is built around a younger, digitally native audience and a sophisticated AR lens. In fact, the high-end brand Gucci recently unveiled its first global shoe try-on through Snapchat.
However, Snapchat isn't the only platform moving into AR. Instagram also allows for virtual makeup and sunglass try-ons. Pinterest added a make-up try-on option in January, and Tiktok is likely to offer an AR ad format to compete with other tech companies.
As AR try-on options become more sophisticated and "life-like", it's only logical that we will continue seeing social media platforms use them to promote brands and their products for sale. Not because this will be the safest way to try out new products, but because this will allow brands to reach a wider, younger audience. One that embraces a fully digital experience and is on track to becoming the largest generation of consumers.
Social commerce
With mobile becoming increasingly popular for online shopping, mobile-native tech companies are looking to get a slice of the ecommerce pie. Currently, there are 1 in 4 business owners selling through Facebook and 30% of shoppers say they would make purchases directly through social media platforms. 87% already believe social media helps them making buying decisions. Buying in-app seems like a logical next step.
Social commerce is pushing the boundaries and expanding how online shopping works. Snapchat will launch its first shoppable fashion show on the platform, focusing on streetwear collaborations with celebrities and designers, where users can buy directly on the platform. Tiktok has also begun adding shopping ads to its platform while integrating its creators along the way. Consumers are even able to shop online in groups using video calling platforms, such as Zoom or WhatsApp.
However, the biggest standout in social commerce has been Instagram's new Checkout feature. Launched a year ago working alongside 20 brands like Adidas and H&M, the feature has expanded to include new retailers, most recently big-name beauty brand Sephora.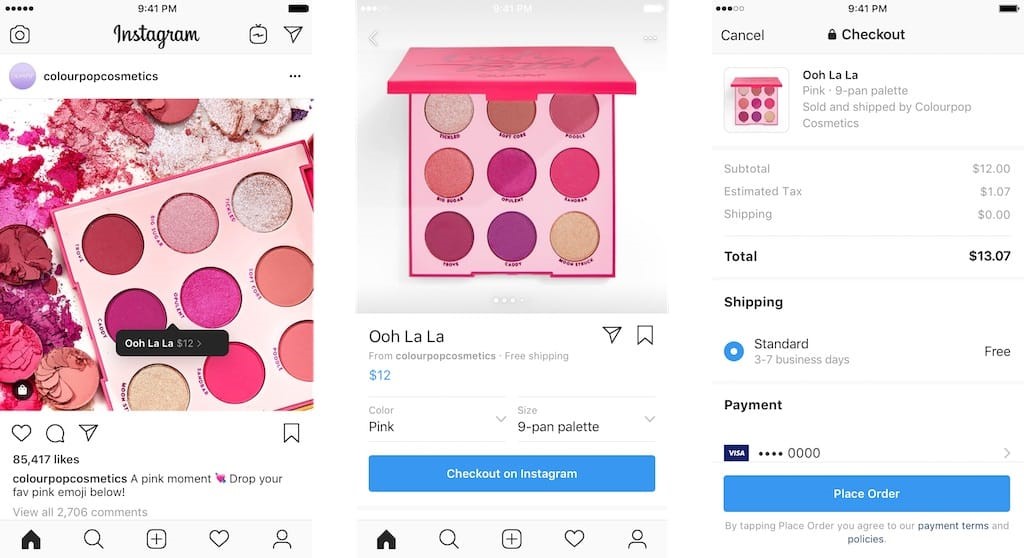 With consumers spending more time online and on apps, it's inevitable that social media companies will want to capitalize on that attention and entice users to stay on their platforms. Especially during key periods when shoppers are looking to spend, like the holiday season. In the future, whether social media platforms choose to expand partnerships with popular retailers or encourage influencers to sell their latest collaborations through their apps, we can expect to see social commerce become an integral part of the ecommerce shopping experience.
What do these trends mean for online retail? 
Online retail has become increasingly popular and in the age of lockdowns, it's gotten an even bigger boost. Trends like livestreaming, augmented reality, and social commerce are being magnified as brands strive to create an authentic and safe shopping experience for customers. And as circumstances remain uncertain, we expect online shopping to continue increasing as well as becoming a core focus of retail sector, especially as we move into the Holiday Season. For many businesses, that means added pressure to deliver strong results online, as ecommerce becomes the primary driver of retail growth.
With more holiday season shopping expected to take place online, retailers need to ensure their website infrastructure can support an influx of online visitors. And with sales expected to be spread out over more days this year, sites need to be ready for visitors at a moment's notice. Now more than ever, a smooth ecommerce experience will be critical to retail success.